Our readers support us. This post may contain affiliate links. We earn from qualifying purchases. Learn More
Every cowgirl needs a reliable pair of boots to keep her feet safe. When it comes to finding the best pair of cowboy boots for women, steel toe boots can be a great option.
Steel toe boots provide an extra measure of safety for your feet. They are commonly used on construction job sites, but can also be practical for farm work and horseback riding.
Steel toe boots protect your feet from falling objects, but they also help protect against punctures, cuts, and even slips.
Though steel toe boots are often associated with being clunky and heavy, many options are available that are lighter and more practical. They can even be an excellent option for everyday wear at the barn, as they will provide the ultimate protection for your feet.
Best Steel Toe Cowgirl Boots for Women
1. Ariat Krista Pull-on Steel Toe Cowgirl Boot
These leather pull-on work boots will keep your feet safe and comfortable for hours. The premium leather construction is built to last, while the mesh lining interior keeps your feet cool.
The innovative 4LR footbed offers support and cushioning, preventing your feet from becoming fatigued. The outsoles are made with Ariat's Duratread technology for maximum traction and wear resistance. The steel toe is safe enough for construction while still practical for horseback riding.
These boots also feature gorgeous western embroidery. The scalloped tops look good and make the boots easy to slide on and off.
Pros:
Comfortable and safe.
Ideal for construction, barn work, and horseback riding.
Features elegant western embroidery and scalloped tops.
Con:
Some reviewers found they took some time to break in.
2. Twisted X Women's Steel Toe Western Work Boot
These stylish leather cowgirl boots are an excellent light option to traditional clunky steel toe boots. They are ideal for barn chores, horseback riding, and construction work.
They feature a mesh lining to keep your feet cool during long workdays. The outsole is oil/slip-resistant so that you can be safe no matter your working conditions. The footbed provides superior comfort, is moisture-wicking, and is machine washable.
These boots provide top-notch stability and support with a full-length composite XSD insole. In addition to being comfortable, these boots are also stylish, as they feature traditional western stitching.
Pros:
Safe, comfortable, and practical.
Feature beautiful western stitching.
Include a full-length composite XSD insole.
3. Durango Women's RD3315 Western Boot
Durango Women's RD3315 are a durable and sturdy pair of western boots, whether for working or riding.
The mesh lining will help keep your feet cool even during hot summer days. In addition to having a protective steel toe, they also meet the Electrical Hazard Standard. The lightweight outsole offers excellent flexibility while also being resistant to abrasions.
For excellent support and stability, they feature a tempered steel shank. These boots have a classic western look, with elegant brown embroidery, and are made from genuine leather.
Pros:
Comfortable, practical, and safe.
Meet the Electrical Hazard Standard.
Include a tempered steel shank for support and stability.
Con:
Some reviewers find they run tight.
4. Ariat Fatboy Cowgirl Steel Toe Work Boots
These tough cowboy boots for women are the steel toe version of Ariat's popular Fatbaby boot. From horseback riding to construction and everything in between, these boots will keep your feet safe.
The 4LR footbed provides support and cushion for hours, preventing fatigue in your feet. The rugged Duratread outsole provides maximum traction on slippery, dangerous surfaces, keeping you safe no matter the environment. Designed for hard-working women, they provide flexibility and stability.
The elegant black and blue design stands out whether you are in the saddle or on a job site. With premium leather construction, they are designed to last.
Pros:
Stylish, safe, and comfortable.
Practical for riding or job sites.
Protect from electrical hazards by resisting the static buildup.
Con:
Some reviewers find that these boots run small.
These short steel toe cowgirl boots feature a relaxed fit without sacrificing safety. They are a versatile boot capable of meeting all your needs from the barn to work.
Thanks to the J-Flex Comfort System, they provide a covered cushioned insole and triple density insole board. They give lasting support to your feet in and out of the saddle. In addition to the steel toe protection, they also offer protection against electrical hazards.
The durable leather construction features subtle but elegant pink accents. With peek-a-boo cutouts on the diamond cut pull straps, they provide a touch of style while also being easy to slide on and off.
Pros:
Practical, safe, and comfortable.
Safe against electrical hazards.
Versatile and stylish while being easy to pull on and off.
Con:
Some reviewers find they run small.
Also read: 20 Best Cowgirl & Country Girl Gift Ideas
6. Durango Women's Lady Rebel DWRD022 Western Boot
These practical womens cowgirl boots are great for everyday wear and work. They are an excellent option for horseback riding, as they are not too bulky.
These boots feature a tough exterior and soft interior for safety and comfort. The inside features a mesh lining that will keep your feet cool and comfy. A Cushion Flex insole contours to your feet while also providing much-needed ventilation for hot days.
The dual-density rubber outsole provides superior traction and is resistant to dangerous spills. In addition to being safe and comfy, these leather boots are stylish, with a stunning turquoise shaft.
Pros:
Comfortable, versatile, and safe.
Features a tempered steel shank for stability and electrical hazard protection.
Stylish and practical for everyday wear, with convenient pull-on tabs.
7. Irish Setter Work Women's Marshall Steel Toe Pull-On Boot
These sturdy cowgirl boots will keep your feet dry and safe as you work. They include a steel toe, but they are also waterproof as well.
In addition to a waterproof exterior, the moisture-wicking lining provides dry, long-lasting comfort. The lightweight design reduces fatigue and keeps you going on your feet. The sturdy rubber outsoles provide traction and heat resistance up to 475 degrees Fahrenheit and are safe from electrical hazards.
Not only are these boots comfortable, but they are also fashion-forward. The shaft features a fun metallic teal shaft that will stand out no matter what you are doing.
Pros:
Comfortable, safe, and waterproof.
Safe from electrical hazards and heatproof.
Fun and fashionable.
Con:
Some reviewers find that they run narrow.
8. Justin Ladies Gypsy Tasha WP Steel Work Boots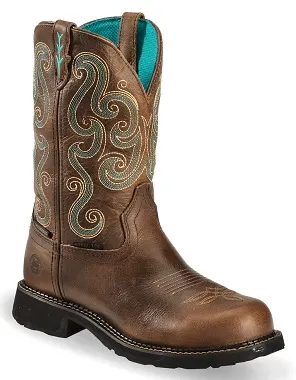 These classic western boots can withstand even the toughest of jobs. They are great for wearing to the barn, construction, or even daily.
These steel toe boots are waterproof, so your feet will stay dry and protected no matter the weather. The J-Flex Flexible Comfort System provides top-notch comfort and support as you work. The unique triple density insole board combines strength and flexibility for superior support.
Thanks to the sturdy rubber outsole, you will have much-needed traction even in the slickest of conditions. Made with quality leather, these boots feature beautiful traditional western stitching.
Pros:
Comfortable, stylish, and safe.
Waterproof exterior.
Versatile and fashionable.
Con:
Some reviewers find they run snug.
Also read: 10 Best Cheap Cowgirl Boots Under $50 & $100
FAQs
What is the Difference Between Steel Toe and Composite Toe?
Steel toe boots are made from steel reinforcement to protect against falling objects or compression. Composite toe boots are made from strong non-metal materials such as carbon fiber, plastic, or fiberglass.
Though steel toe boots offer better protection, composite toe boots provide better resistance. Composite boots tend to be about 30% lighter than steel toe boots. Specific job sites may require a particular style over another.
What are The Benefits of Steel Toe Boots?
The main benefit of steel toe cowboy boots is to protect your feet from falling objects and compression.
Steel toe boots are also beneficial in preventing slips and falls. They can also prevent burns, lacerations, cuts, and punctures. Steel toe boots can keep your feet safe from snake bites and horses stepping on them.