This post may contain affiliate links. We earn from qualifying purchases. Learn More
Many equestrians first got their start on rocking horses. These best spring rocking horses for young kids and older babies are a wonderful first step into the equine world.
Spring rocking horses are great for developing balance, coordination, imagination, and motor skills. They provide endless hours of entertainment as children will have a blast pretending they are galloping away. They have the ability to adjust as your child grows and they are also safe, making them a great toy to have.
Here are the seven best spring rocking horses for kids.
1. Rockin' Rider Legacy Grow-with-Me Pony
Legacy is the perfect first horse for your little one, as he grows along with your child. He even features a safety seat so that he can be transformed from bouncer to rocker to spring horse within minutes.
While they ride, kids can press Legacy's ears in order to hear him sing, talk and make sound effects. He can even move his mouth as he talks and sings, which little ones will adore. Young children will love that he is a soft plush that they can also hug and cuddle.
Legacy has two-position stirrups as well as easy-grip handles, making for safe riding. He is ideal for ages nine months to three years.
2. Rockin' Rider Lucky Spring Horse
Lucky is sure to be your child's new best friend. He has a soft, huggable plush coat, making him equally fun to hug as he is to ride.
While galloping along, children can press Lucky's ears to hear him sing, talk and make sound effects. His mouth will even magically move as he talks and sings. There are also three stirrup positions to guarantee the proper fit as your child grows, along with easy-grip handles for a secure ride.
The hardy spring frame and durable spring covers can take a toll, even with the roughest of riders. Lucky is ideal horse gift for kids aged 2 to 10 years old.
Also Read: 8 Best Ride On Horse Toys With Wheels for Kids
3. Happy Trails Spring Rocking Horse
Toddlers will absolutely love this beautiful pink horse with a purple mane and tail. The horse is soft and plush, making it wonderful to cuddle with.
While riding, kids can press its ear to hear galloping and neighing noises that sound just like a real horse. The stirrups have three different positions, so your child can keep riding as they grow. There are also sturdy wooden handles they can hold onto as they trot along.
The spring rocking horse has a durable build, outlasting even the toughest kids. It is ideal horse gift for young girls aged 3 to 6 years old.
4. Radio Flyer Spring Riding Horse
Included in our best rocking horses guide, this beautiful and well-crafted spring riding horse features a soft plush coat that is perfect for hugging. The horse responds to your child's motion with realistic sounds that are triggered by three levels of riding: walking, trotting, and galloping.
With an innovative steel 'X' frame with EZ climb steps, your child can easily and safely get on. When not riding, kids can brush its mane and tail and feed it a carrot. When the horse is fed the carrot, it even makes chewing noises.
This sturdy spring horse is capable of withstanding years of use. It is ideal for kids aged 2 to 6 years old.
5. Qaba Kids Spring Horse Rocker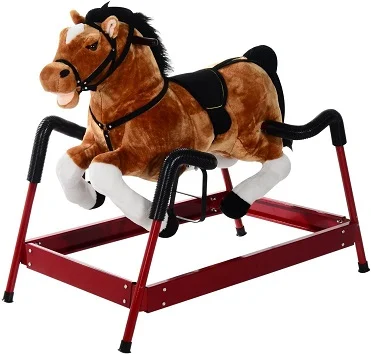 This beautiful bay horse features a soft coat, mane, and tail that kids will love to cuddle. Thanks to its soft and sturdy build, kids can enjoy hours of riding.
The horse even has a button on its ears that plays neighing and galloping noises, making for an authentic experience. There are three stirrup positions, making the horse perfect for the fast-growing kiddo. The hardy wooden handles allow kids to safely hold on as they gallop along.
The sturdy metal frame will last across years of wear. This rocking horse is ideal for kids aged 3 to 8 years old.
6. American Classic Clippety Clop Wonder Horse
This spring rocking horse has a classic look that will make parents and grandparents nostalgic. In fact, it is made from the original 1950s mold of the Wonder Horse rocker.
The horse even features motion-activated noises such as a whinny and neigh, along with trotting and galloping noises. The faster your child goes, the faster the horse will too.
It features a handlebar, footrest, and sturdy steel frame, so your child will be safe as they play. This classic rocking spring horse is ideal for children aged 3 to 10 years old.
7. Rockin' Rider Lacey Talking Spring Horse
Little girls and boys will be in awe of Lacey's beautiful pink coat and purple mane and tail. Her soft, plush coat is wonderful for giving hugs.
As they gallop along, kids can press Lacey's ears to hear her sing, talk and make noises. Kids will especially love that she moves her mouth as she talks and sings. Lacey also has easy to grip handles and three stirrup positions so children can keep riding as they grow.
With sturdy spring covers and a hardy steel frame, this toy is meant to last. Lacey the horse is ideal for ages 2-5.
Also Read: 20 Best Horse Toys for Toddlers