This post may contain affiliate links. We earn from qualifying purchases. Learn More
Based on the hit movie Spirit: Stallion of the Cimarron, Spirit Riding Free has become a fan-favorite show. If you have a kid who loves watching all the adventures of Spirit and the PALs, these Spirit Riding Free horse toys will make wonderful gifts.
From Playmobil to Breyer, there are some awesome Spirit Riding Free horse toys. They include plushies, playsets and model horses that will provide hours of entertainment. These toys will make a great birthday or Christmas present for the young cowgirl or cowboy in your life.
Here are the 20 best Spirit Riding Free horse toys for kids.
1. Soft Plush Spirit Snuggle Cuddle Pillow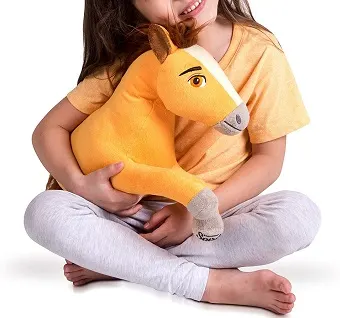 Adorable and soft, this Spirit pillow is perfect for cuddling. The beautiful details capture the Spirit's fun personality.
This high-quality plush is made from 100% microfiber. The eyes are beautifully embroidered on and the mane and tail are gorgeous faux fur. Spirit's coat is super soft, which is great for hugging.
2. Spirit Doll & Horse – Abigail & Boomerang
Join Abigail and her beautiful horse Boomerang for hours of fun. Kids will love taking this pair on new adventures.
This set features Boomerang wearing a matching red saddle and bridle. The Abigail doll is posable, so children can have her groom or ride her beloved horse. Boomerang even features a long mane and tail that kids can braid.
Abigail is five inches tall and Boomerang is 7 inches, making them a great toy to play with at home or pack along for a road trip.
3. Spirit and Lucky Doll Set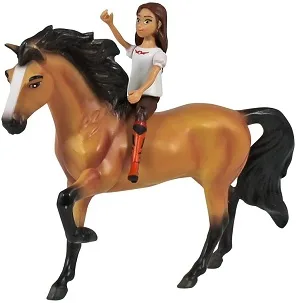 This adorable set features the stars of the show- Spirit and Lucy. Kids will love sending these two on their next big adventure.
Lucky is posable, allowing her to ride Spirit bareback. The Breyer model of Spirit has great attention to detail, which your kid will love. With Spirit at four inches tall and Lucky at three inches tall, they are the perfect size for packing on vacation.
4. Spirit Doll & Horse – Lucky & Spirit
This set is a must-have for all the Spirit and Lucky fans. It features a gorgeous model of Spirit along with a cute Lucky doll.
Lucky is posable, allowing her to ride her trusty steed, Spirit. True to the show, Lucky rides Spirit bareback. Spirit features a gorgeous long mane and tail that kids can brush and braid. Lucky stands at five inches tall and Spirit stands at seven inches tall.
5. Spirit Necklace Activity Set
If your kid wants to share their love of Spirit with their friends, look no further than this fun necklace set. Children can build their own necklace to wear and match with their friends.
This set features enough supplies to make five necklaces. Kids can get creative and mix and match the beads, necklaces and character charms. The necklaces are easy to make and there are so many combinations your child can design.
6. Spirit Untamed Minifigures Set
With this super cute blind box, your kid will be kept on their toes when they open it. Each box is a surprise and features a mini horse, a girl and three accessories.
All the sets come with a cute little barn that kids can play with along with the surprise toys. Kids can collect each set in order to complete the collection. Each stable connects with the other to create one big farm.
This fun and unique surprise box will make a great stocking stuffer for Christmas morning. Each horse is about two inches tall and as cute as can be.
7. Spirit Riding Free Horse Stall Playset
Help Lucky take care of Spirit in this stall playset. Kids will love caring for Spirit and making sure he is well-fed.
This set features a total of 57 pieces. This includes brushes for grooming, hay, water, a pitchfork, a shovel and a stall with a nameplate. Lucky can groom Spirit before hopping on him for a ride. Afterward, kids can feed and water Spirit.
8. Spirit Riding Free Barn Playset
Bring Spirit's world to your home with this action-packed barn playset. This awesome barn includes 24 pieces, all that will provide hours of fun.
Lucky and Spirit are included in this set along with a bridle, tack trunk, paddock, hay and trough. The barn includes three stalls, so you can get more horses to add to the stable. There is also a lounge upstairs for the PALs to hang out at. The two-sided barnyard features a sliding barn door that leads to three stalls.
9. Doll & Horse – PRU & Chica Linda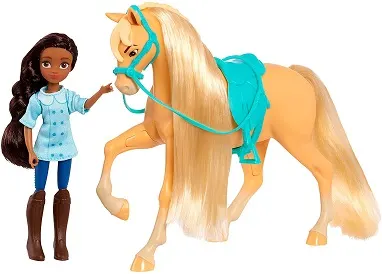 This charming set features Pru and her lovely horse Chica Linda. It is a great set for playing at home or taking to a friend's house.
The Pru doll is posable, so she can ride Chica Linda or groom her. Chica Linda features a luscious long mane and tail that kids brush or even braid. She even has a beautiful light blue saddle and bridle that match.
Kids can get all the horses and girls in the collection with their friends so the PALs can play together. Pru stands at five inches tall and Chica Linda stands at seven inches tall.
10. Spirit Styling Head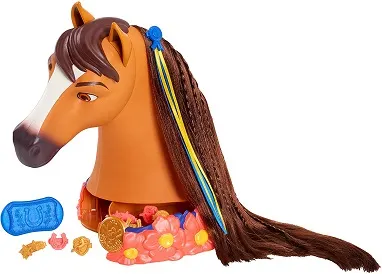 If your kid has always wanted to brush or braid Spirit's mane, this toy is perfect for them. Your child's imagination will run wild as they style Spirit's mane however they like.
This set features a brush, ribbon extension and seven barrettes. Kids can practice their favorite hairstyles on Spirit. His gorgeous mane will is perfect for styling in any way.
The bottom of Spirit's neck features a band of flowers. This also doubles as a drawer to keep all the accessories in when your kiddo isn't playing.
11. Lucky's Dad with Covered Wagon Toy
Travel along with Lucky's dad and his covered wagon as he heads out on his next great adventure. This fun set features a total of 54 pieces, providing lots of entertainment.
Kids can travel during the day with the two horses pulling the covered wagon. They can explore the frontier by letting their imaginations run wild. They can also set up camp with Lucky's dad, enjoying a bonfire while roasting a hotdog.
12. Barn with Lucky, PRU & Abigail
For the ultimate Spirit Riding Free experience, your kids will adore this barn set. Join the PALs as they care for and ride Sugarush.
This set features a total of 153 pieces. Lucky, Pru, and Abigail can all hang out at Mr. Granger's barn with his horse. Among the many accessories, this set has saddles, bridles, hay, a hammock, a wheelbarrow, and grooming supplies.
The PALs can groom Sugarush in his stall before going upstairs to the loft to hang out.
13. Spirit Competition Arena
For some fun competition, this toy is great for kids to share with their friends. Your child can saddle up and get jumping with this fun horse show set.
With over 50 pieces, you can bring home a piece of Spirit's world. This set includes two horses, jumps, grooming equipment, saddles, bridles, and treats. There are even trophies, so kids playing together can award a winner.
14. Spirit Riding Free Summer Campground
Your son or daughter can enjoy summer camp at any time with this charming campground playset. With a total of 130 pieces, it will provide an abundance of entertainment.
Kiddos can help Spirit and Lucky, as Lucky works to earn her badges to become a part of the Frontier Fillies. Ride, canoe, and play guitar with this action-filled set. There is even a campfire and tent to provide the full summer camp experience.
In addition, this set also features Bebe, a scout leader, another horse, a saddle, and four merit badges. There is even a bracelet your child can wear included in this set.
15. Spirit 2-Inch Mini Horse Collection
Bring the whole herd home with this cute and fun model horse set. Your child can now play with the horses of Palomino Bluffs Riding Academy at home.
Each horse features realistic details, as their personalities shine through. The horses stand at two inches tall. They are wonderful for both playing and displaying.
16. Breyer Spirit Traditional Horse Model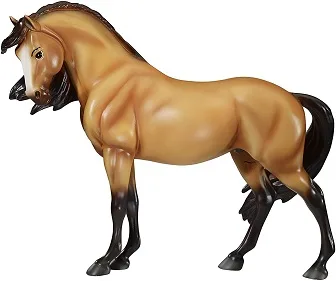 This classic Breyer model captures the beauty and personality of Spirit the mustang. Highly collectible and playable, this Spirit model is a must-have for any avid fan of the show.
This model has beautiful attention to detail, capturing the essence of Spirit. To make it even more special, every model is hand-painted. This would make a sincere birthday gift to the horse-crazy kid in your life.
17. Abigail's Vet Set
Your kid can share Abigail's passion for animals with this lovely vet set. Help her feed, care, and check-up on all the animals.
This set features a foal, dog, cat, and goose. There are also plenty of supplies to care for the animals, such as food, a stethoscope, an otoscope, and a syringe, along with a vet bag to store it in. Kids will love taking care of these animals to ensure they are feeling well.
18. Spirit Riding Free Outdoor Adventure
Venture off with Ursula and Abigail as they go horseback riding and test their archery skills. This adventure set features a total of 58 pieces.
Children can set up the obstacle course for the archery merit badge however they like. They can try from on horseback or on the ground, testing the girl's skills. The set features two horses, so both Ursula and Abigail can go riding at once.
This set even includes a bracelet your child can wear. This would be an exciting birthday present for your horse-loving kid.
19. Spirit 16″ Stuffed Animal Plush Toy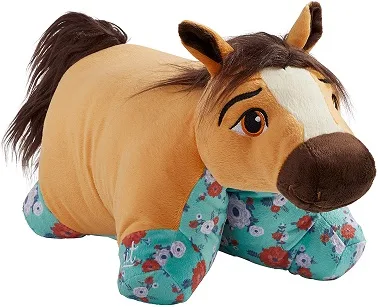 Soft, fun, and functional, this plush Spirit toy does it all. It is great for cuddling up with when traveling, sleeping, watching TV, and sleepovers.
This plush beautifully captures Spirit's personality. His coat is super soft and his mane and tail are extra fluffy. The bottom of this plush includes a beautiful floral pattern.
20. Playmobil Spirit Riding Free River Challenge
Head out with Daphne and Pru as they take on the exciting river challenge. This entertaining set includes a total of 78 pieces.
Your kid can help Daphne and Pru navigate obstacles while passing across the river aboard their horses. Accessories in this set include saddles, bridles, a water bird, logs, and trees. There is even a pretty bracelet in the set that your child can wear.