Electric fences are a popular choice for many horse owners as an effective way to keep their horses in the pasture and many people are now shifting towards solar chargers to keep them running.
We are listing the best solar electric fence chargers that you can get at an affordable price to keep your electric fence running smoothly.
Here are the solar electric fence chargers we think are the best and reviewed below:
Best Solar Electric Fence Chargers:
Zareba ESP5M-Z
With the ability to energize up to five miles of fence, this solar charger is ideal for small pastures. It includes a built-in mounting bracket that can fit T-posts, Y-posts, and round wood posts for convenient installation.
With a low impedance energizer that delivers 0.10 output joules, it is ideal to use for horses as well as other livestock in smaller pastures.
The panel is able to store the sun's energy for up to two weeks. The easy-grip screw-on terminal knobs help you safely connect the ground rods to the live wire fence. You can easily monitor the status of the fence by the convenient 'fence ok' light that shines when it is active.
What's to Love?
A built-in mounting bracket allows you to easily install on different fence types
Can store up to two weeks of the sun's energy
Includes 0.10 joules and a 6V battery
Parmak Solar-Pak 6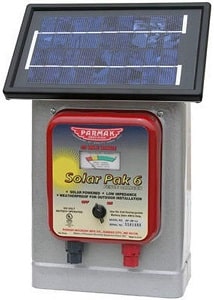 Even through wet weeds and brush, this solar charger works effectively to keep your electric fence running. With 25 miles of range, it can be used to secure horse and livestock pastures.
The low impedance design that allows for less battery drainage. With a built in performance meter allows you to easily monitor the status of your fence.
The powerful and sturdy build allows it to be long lasting, even in tough weather conditions. Its rechargeable battery allows it to keep running even over the course of several cloudy days.
What's to Love?
The 25-mile range and powerful build is ideal for medium pastures
Works through rough weather, wet weeds, and brush
Includes 1.4-joule output and a 6V battery
Zareba ESP10M-Z
This solar electric fence kit is capable of energizing up to 10 miles of pasture. Whether you have T-posts, Y-posts or round-wood posts, you can easily mount this unit thanks to its built-in mounting bracket.
Featuring a durable case, it has the ability to deliver 0.15 output joule. It is capable of running an electric fence for up to two weeks without a charge.
The easy-grip terminals and 'fence ok' features make it convenient to install and monitor. With an on/off button, you can simply turn it off whenever the weather gets extreme.
What's to Love?
Can easily be mounted onto different fence types
Includes 0.15 joule and a 6V battery
Can run for two weeks without charge and can easily be turned off during bad weather
Patriot Solar Guard
If you are looking for a portable solar charger for your electric fence, this is a great option. With a convenient handle, the compact design allows for easy installation on T-posts and wood posts.
The unique design includes incredible performance and storage capability, as it has the capacity to run for 21 days without receiving sun after charging.
It features 0.15 joule of energy and is appropriate for a small pasture. It comes complete with an advanced battery management system that enhances battery life.
What's to Love?
Easily portable with a convenient handle
Compact design is easy to mount
Includes 0.15 joule and 21 days of performance after a full charge
EFL 12-Volt Solar Fence Charger Kit
This solar fence charger is unique as the battery is not included inside the unit. Instead, it can work with any 12-volt battery, though a deep cycle or AGM battery is recommended.
Its strong build allows it to work in bad weather and areas with heavy weeding. With the quality output, it can power anywhere from one to 100 acres of pasture. It can easily be installed onto your fence and it even includes a lightning diverter for safe use.
What's to Love?
Can be used on any pasture between 1-100 acres
Holds up in the rain and heavy weeding
Includes 2 joules and a lightning diverter
Red Snap'r ESP6V-RSS Kit
The 100% steel case on this solar fence charger allows for maximum protection, which is fitting for all weather conditions.
The 6V battery with 0.2-joule output has the capability to power 15 miles or 30 acres.
The low impedance technology doesn't drain the battery but will offer a safe and effective shock. A handy indicator light is featured to display whether the unit is working or not. Poly wires can even be used with this unit, but will cut the range in half.
What's to Love?
100% steel case for maximum protection
Suitable for 15 miles or 30 acres of pasture
Includes 0.2 joules, a 6V battery, and a helpful light to indicate when it is working
Gallagher S10
Quick and easy to install, this solar electric fence charger has the capability to cover up to 15 acres of fenced pasture. The unique battery saving technology has the capability to work up to three weeks without the sun, for the protection you can count on.
The water-resistant case and built-in lightning protection allow it to withstand bad weather. It is easy to carry to different locations, thanks to the convenient handle. It has 0.1 joules and can be used with poly and turbo wire.
What's to Love?
Quick and easy installation with a handle for convenient use
Built with a water-resistant case and lightning protection
Includes 0.1 joules and 6V battery, with the capability to run up to three weeks with no sun
Parmak MAG12-SP Solar-Pak kit
Ideal for large pastures, this solar charger has a range of thirty miles. Weatherproof and portable, it is simple to set up and will hold up in harsh weather.
This powerful unit contains 3.1 joules and a 12V rechargeable battery. The built in performance meter allows you to easily monitor the status of the electric fence. With low impedance, the battery life is able to be long and powerful.
What's to Love?
Covers thirty miles of pasture
Includes 3.1 joules and a 12V rechargeable battery
Weatherproof and portable
Premier Solar IntelliShock
This portable energizer unit arrives ready to use with 0.30 joule and a 12V battery. Along with the charger, the kit includes a wireless fence tester, wiring harness, overcharge regulator, and a U-spike ground stake.
This unique unit can easily be adjusted for seasonal light availability and has a large capacity battery to keep it working when sunlight is at a minimum.
It has the ability to reduce energy demand when fewer weeds touch the fence which can lead to a higher voltage. A highly visible on/off light indicator is featured so you can effortlessly check the status of the fence.
What's to Love?
Features a wireless fence tester, wiring harness, overcharge regulator, and U-spike ground stake
Includes 0.30 joule and a 12V battery
Portable and can easily be adjusted by season
Zareba ESP30M-Z
With up to a 30 mile range, 0.5 joule and 12V battery, this powerful unit can work night and day for up to two weeks with no sunlight.
The durable build keeps it safe for extreme conditions that could potentially cause damage. Even in areas where it may come in contact with heavy weeds, the intuitive technology resists shorts.
The easy-grip terminals allow for smooth installation and a built in 'fence ok' light allows you to track the status of the fence. It can be used with steel/aluminum, poly wire/poly rope and poly tape fences.
What's to Love?
Durable and will work in areas with weeds
Includes 0.5 joule and 12V battery with 30 miles of range
Compatible with different fence types
Why Should I Buy Solar Electric Fence Charger?
Solar electric fence chargers are ideal for remote pastures where you don't have access to AC wiring. They are efficient and save you money over time thanks to their ability to provide power from the sun, which you don't have to pay for.
They are able to protect anywhere from less than one to 100 acres of land, depending on the size of your pasture and the type of charger. The different sizes factor into how much length and the size of the animal they will work on.
A low-powered fence charge is generally only effective on small animals, so a high-powered model is typically needed for horses and livestock.
Another advantage of solar chargers is that they will still work during power outages. The power from the charger that is stored gets transferred to the connected fences. They come with a distance range and output, so it is important you find a model that works with your fence length.
How Do Solar Electric Fence Chargers Work?
Solar chargers work by electrifying the fence and recharging the electric fence battery from sunlight during the daytime. They are generally easy to install and typically won't run out of energy. You don't have to worry about installing AC wires across pastures to hook them up.
If you've ever accidentally touched an electric fence, you know that it does not feel good.
Solar electric fence chargers, just like regular electric fence energizers, work by inflicting a short yet painful shock.
Though the shock may be uncomfortable, it is safe and won't cause physical damage to animals or people. Solar electric fence chargers work by collecting energy from the sun and turning it into an electric current that will cause a shock if touched.
How To Use a Solar Charger
Solar fence chargers are ideal for isolated areas in order to keep animals in or out of an area. They can range anywhere in size from keeping a rabbit out of a garden or keeping livestock in a large pasture.
Installing a solar electric fence charger is relatively easy, but it is important that you know what you are doing. You must properly set it up in order for the electric fence to be effective.
Charge the Battery
Before installing it into a pasture, you want to allow the battery to fully charge. Allow it to receive three to four days of sunlight in order to recharge. This will allow for optimal battery life.
Mount to a Fence
Once the battery is charged, it is time to mount it to the fence. Most solar chargers are designed with built in mounting brackets for easy installation. You want to make sure that it is mounted off the ground and in an area where it will receive plenty of sunlight.
Connect the Fence to the Charger
Once it is securely mounted, connect the ground wire to the ground terminal hook of the charger. After that, connect the wire to a ground rod system by using ground rod clips and insulated cords.
The fence wire then needs to be connected to the fence terminal in order for the charger to pass the current.
Turn on the Charger
After everything has been hooked up, it is time to turn it on. Most units will have a light to display if it is working. You can use a voltage checker on different parts of the fence to make sure it is successfully running.
Clean the Solar Panel
In order to keep the unit running properly, you have to regularly clean the solar panel. Make sure to clean off any debris that may get on the panel and trim any weeds that are interfering with its ability to get sunlight.
FAQs
What Voltage For Electric Fences is Recommended for Horses?
For horses, the recommended voltage is 2,000-3,000 volts in order to be effective.
What Are Joules?
Joules are a unit of energy that represents watts x seconds. A fence charger needs to have adequate joules in order to push the voltage down the fence line and through a load.
Can an Electric Fence Kill You?
An electric fence can not kill you, be debilitating or burn you if you touch it, but it can hurt for up to 10 minutes. Electric fences have low current and pulsates, which can not kill you or cause permanent damage.
How Many Ground Rounds Do I Need For an Electric Fence?
The general rule to follow is that you should install a minimum of three feet of ground round for every joule.
What Happens if You Don't Ground an Electric Fence?
If your electric fence is not properly grounded, this can cause the shock to not be powerful or even felt at all. Be sure to follow the instructions of your charger to make sure it is correctly installed.