This post may contain affiliate links. We earn from qualifying purchases. Learn More
Showjumping is an exhilarating sport that requires a horse to be athletic, agile, strong, and coordinated. The best showjumping horses of all time have proven to have all these skills and more, allowing them to shine in this competitive sport.
The best showjumping horses of all time include Snowman, Stroller, Huaso, Big Ben, Gem Twist, Milton, Snowbound, Hello Sanctos, Hickstead, and Idle Dice. These incredible horses have proven to be the best of the best among jumpers. They have been recognized on the international level for their talent and astonishing victories.
Here are the 11 best show jumping horses of all time.
1. Snowman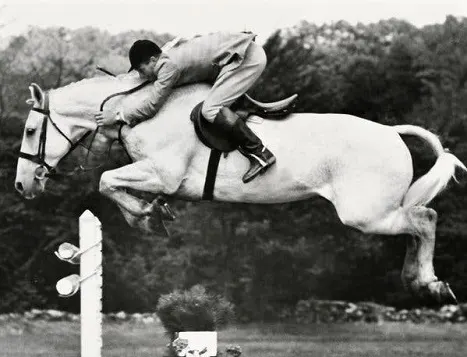 From rags to riches, Snowman's journey was truly inspiring. Snowman was a mixed breed flea-bitten gray gelding that went from being a plow horse to one of the best jumpers in the world.
In February 1956, Harry de Leyer bought Snowman from a slaughterhouse in New Holland, Pennsylvania. De Leyer bought the eight-year-old gelding for $80 as a lesson horse. After using him as a lesson horse for a short time, de Leyer sold him to his neighbor. However, Snowman kept jumping the neighbor's five-foot fence over and over again.
Recognizing his incredible talent, de Leyer took Snowman back and began training him as a jumper. The pair quickly took the equestrian world by storm, winning numerous championships.
In 1958, Snowman was named the United States Equestrian Federation Horse of the Year (formerly known as AHSA Horse of the Year), Professional Horseman's Association champion, and the Madison Square Garden's Diamond Jubilee champion.
Just the next year, Snowman returned to Madison Square Garden to be the first horse ever to win the Open Jumper Championship two years in a row.
He quickly rose to fame and appeared on media everyone, including The Tonight Show. In 1992, was inducted into the Show Jumping Hall of Fame, and in 2015, he was inducted into the Equus Foundation Horse Stars Hall of Fame. Snowman even has multiple books (see the books here on Amazon), a documentary, and his own Breyer horse model.
Also read our full-length article about the amazing story of Harry and Snowman.
2. Stroller
At 14.1 hands tall, Stroller was the only pony ever to compete at the Olympic Games in show jumping. The bay Thoroughbred and Connemara cross were small yet mighty, winning some of the biggest honors in show jumping.
The Coakes family bought 10-year-old Stroller in 1960 for their 13-year-old daughter, Marion. Coakes successfully competed with Stroller in the juniors division. When she was 16, her father sought to sell Stroller and have her move onto a bigger horse.
Coakes begged her father not to sell the gelding and after he agreed, the pair went on to compete in the open division. The dynamic duo quickly proved their worth, as at just 18-years-old, Coakes won the Hickstead Ladies Show Jumping World Championships in 1965 with Stroller.
That same year, they also won the Queen Elizabeth Cup at the Royal International, which they also won again six years later.
Together, they also went on to win the 1967 Hickstead Derby and the 1970 Hamburg Derby. In 1968, Coakes and Stroller took home individual silver in show jumping at the 1968 Olympic Games for Great Britain.
The pair went on to win an incredible 61 international competitions and Stroller is also a British Horse Society Hall of Fame Laureate.
3. Huaso
Originally named Faithful, Huaso began his career as a Thoroughbred racehorse. After an unsuccessful start in racing, Chilean Army captain Gaspar Lueje purchased the stallion in hopes he would be a dressage horse.
After an injury put him out of a dressage career, his owner began training Huaso for show jumping. One day, Captain Alberto Larraguibel saw the chestnut stallion jump a wall over six feet tall during a free training session. Impressed by his skills, Larraguibel bought the Thoroughbred.
For the next two years, Larraguibel trained Huaso trained to win the national record for jumping in Chile. His goals also included winning the South American title followed by the world title.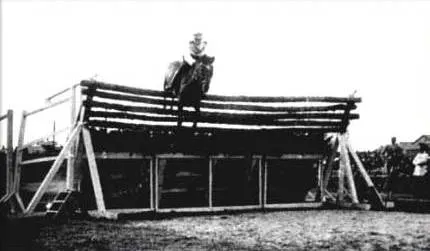 On February 5, 1949, Husao and Larraguibel set the world record for the highest jump ever by a horse in Viña del Mar, Santiago, Chile. Huaso jumped an astonishing 8 feet 1.25 inches at 16-years-old.
4. Big Ben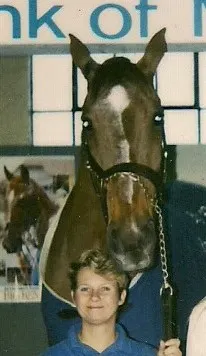 Originally known as Winston, Big Ben was born in Belgium and was purchased by Candian equestrian Ian Millar as a 7-year-old. At 17.3 hands tall the Dutch Warmblood was a force to be reckoned with in the show ring.
Millar and Big Ben quickly rose to success in show jumping. Just a year after purchasing him, Millar competed at the 1984 Olympic Games, coming in at a respective fourth place in team showjumping. From there, their success continued to grow.
Among their many wins, Millar and Big Ben won the team and individual gold at the Pan Am Games in 1987, and 1988. They also won the 1989 World Cup Final and the Masters Grand Prix at Spruce Meadows in 1987 and 1991.
The pair were also the Canadian National Show Jumping Champion in 1988, 1991, and 1993. During his career, Big Ben won over 40 Grand Prix titles, a truly incredible feat. He won over $1.5 million in prize money.
In 1996, Big Ben became only the second horse in history to be inducted into the Canadian Sports Hall of Fame.
5. Baloubet Du Rouet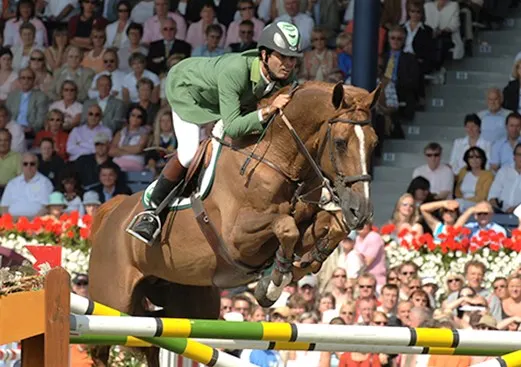 Baloubet Du Rouetwas a powerhouse in the jumping world during the 1990s and early 2000s. The chestnut Selle Francis stallion was born on May 8, 1989, in France and raised at Normandy's St Aubin de Terregatte farm.
As a three-year-old, he caught the interest of Nicole and Diego Coutinho Pereira of Portugal. Shortly after purchasing, they sent him to their friend Nelson Pessoa. Pessoa, a world-famous Brazilian equestrian began showing Baloubet on the French circuit. Together the pair was quite successful, with Baloubet winning the 7-year-old stallion test at Fontainebleau.
Baloubet's talent really blossomed after being paired with Nelson Pessoa's son, Rodrigo. Rodrigo was also one of the top show jumpers in the world at the time. The pair started their career out with a bang, winning the 1998 FEI Jumping World Cup Final.
Rodrigo and Baloubet went on to defend their World Cup Final title for the next two years. Baloubet became the first and only horse to win the World Cup Final in jumping three years in a row.
Baloubet's success continued on with Rodrigo, as they took home team bronze for Brazil at the 2000 Olympics. At the 2004 Olympics, the duo took home individual gold in jumping and that year Baloubet was also named 'Best Horse of the Year'.
After a successful career with multiple international victories, he retired in 2006 and began breeding in 2010. He was a very successful stud and lived out his later years in Portugal, before passing away on August 7, 2017.
6. Gem Twist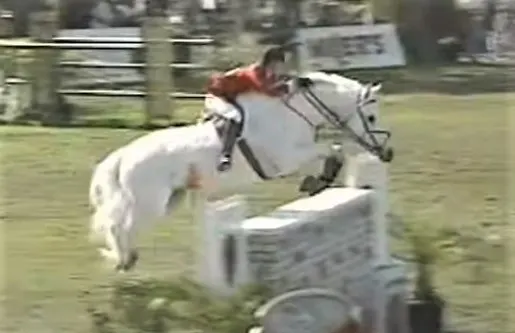 Considered by many to be the best showjumping horse America has produced, Gem Twist's career was legendary. The gray Thoroughbred gelding was bred and trained by equestrian Frank Chapot and was registered under the name Icey Twist.
During his career, Gem Twist's riders were Greg Best, Leslie Howard, and Laura Chapot. With Best, Gem Twist won many titles including a silver medal at the 1987 Pan Am Games, silver medals in individual and team show jumping at the 1988 Olympic Games. Howard and Gem Twist would go on to win the 1993 AGA Championship.
With Laura Chapot, Frank Chapot's daughter, Gem Twist went on to win numerous titles. Such victories included the World Cup class at the $100,000 Autumn Classic in 1995. The pair also took home the 1995 AGA Championship and the World Cup USA East League Championship.
Gem Twist won over $800,000 during his career. He was named the "World's Best Horse" at the 1990 World Equestrian Games and is the only horse ever to win the American Grand Prix Association Horse of the Year three times.
In 2002, Gem Twist was inducted into the United States Show Jumping Hall of Fame.
7. Milton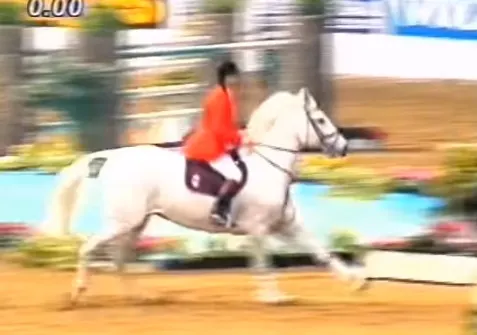 As the first horse to become a millionaire from jumping, Milton had quite the career. Marius Silver Jubilee, as he was officially known, was a Dutch Warmblood and Irish Draught cross.
Caroline Bradley rode Milton successfully on the international level, with her goal set to compete at the Olympics. Sadly, Bradley passed away and her parents took over ownership of the gray gelding. John Whitaker became Milton's new rider and together they achieved many international victories.
His many wins include the individual silver and team gold at the 1987 European Championships, individual and team gold at the 1989 European Championships, 1990 and 1991 1990 FEI World Cup Final. In addition, he also won individual silver and team bronze at the 1990 World Equestrian Games.
Despite his talent, his owners didn't let him travel to Seoul for the 1988 Olympics. They feared he would not handle the heat or long journey well.
8. Snowbound
Snowbound was the first horse to win a gold medal in show jumping for Team USA. The dark bay Thoroughbred made his start as a racehorse before his legendary career in jumping.
He was purchased by Hall of Fame showjumper Barbara Worth Oakford. However, due to two tendon injuries, she doubted he'd be a successful jumper. In 1964, Sir John Galvin saw him at a horse show and purchased him for the United States Equestrian Team. Snowbound then became the mount of Bill Steinkraus.
In 1965, the pair won four FEI Nations Cups, among many other titles. In the summer of 1968, Snowbound jumped clear in 15 out of 16 Nations Cup rounds. He went on to win individual gold at the 1968 Olympics with Steinkraus.
After his fantastic career, Snowbound was inducted into the Show Jumping Hall of Fame in 2005.
9. Hello Sanctos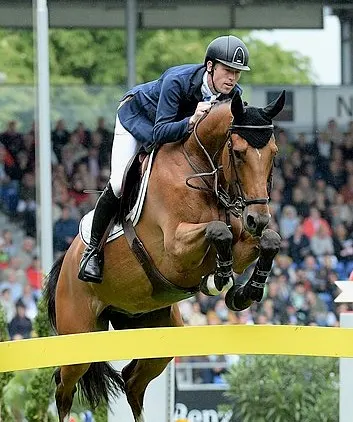 Hello Sanctos is a Belgian Sport horse who was born in Belgian. After being sent to Ukraine, he was acquired by Lord Kirkham and Lord Harris for British rider Scott Brash.
During their incredible career together, Brash and Hello Sanctos won Grand Prix events all around the world. Some of their major victories include winning team gold at the 2012 Olympics and team gold and individual bronze at the 2013 European Championships.
Hello Sanctos is the only horse ever to win the Rolex Grand Slam of Jumping. He achieved this by winning the Grand Prix of Geneva, Grand Prix of Aachen in 2014, and the 2015 Spruce Meadows Masters. From 2014 to 2015, he was named the best show jumping horse in the world.
10. Hickstead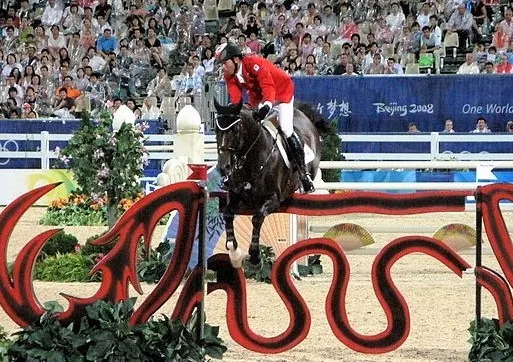 Born in Belgian, Hickstead was a Belgian Warmblood ridden by Canadian Eric Lamaze. During his successful jumping career, he amassed $4 million in earnings.
Hickstead and Lamaze's winning ways began in 2006 as they were members of the winning Nations Cup Team in Florida. In 2007, the bay stallion won the $1 million CN International at the Spruce Meadows Masters.
Hickstead set a record by winning four ATCO Power Queen Elizabeth II Cup titles at Spruce Meadows. Their success continued on, as the pair brought home team silver and individual bronze medals at the 2007 Pan Am Games.
In 2008, Hickstead and Lamaze won individual gold and team silver for Canada at the Olympics. Their gold medal was the first for Canada in an equestrian event at the Olympics.
At the 2010 Alltech FEI World Equestrian Games Hickstead was named 'Best Horse in the World'. In 2010, they were also the Rolex Grand Prix champions at the prestigious CHIO Aachen World Equestrian Festival. Then, in 2011 they won the $1 million CN International for a second time.
Sadly, Hicksteadpassed away during a competition in 2011.
11. Idle Dice
As the first horse inducted into the Show Jumping Hall of Fame, Idle Dice's career was one for the ages. The Thoroughbred got his start in racing but failed to impress.
Originally named Jonlyle, the Thoroughbred caught the eye of Bernie Traurig who was looking at another horse for sale at the time. However, Traurig opted to go with Jonlyle and changed the Thoroughbred's name to Idle Dice.
Traurig began showing Idle Dice in 1968 and the pair quickly caught the attention of people. Discovering his horse's potential, Traurig spent weeks begging legendary rider Rodney Jenkins to try him out. After agreeing to try him out, Jenkins and Idle Dice quickly became the perfect match.
During his career, Idle Dice won an incredible $400,000 from show jumping. He won an astonishing 31 Grand Prix victories. Some of his biggest wins include the Grand Prix at New York, Devon, Detroit, and Cleveland, along with the 1973-1975 American Gold Cup.
Idle Dice was the only horse to win the President's Cup at the Washington International Horse Show two times. He was also the 1977 Grand Prix Horse of the Year.