This post may contain affiliate links. We earn from qualifying purchases. Learn More
Many horse riders think that safety stirrups are for beginners and children, but the harsh reality is that none of us are safe from a fall.
At any moment we are subject to a fall, and getting a foot caught in a stirrup would make a bad situation worse.
Fortunately, there are several choices on the market for all ages and levels of equestrians.
How Do Safety Stirrups Work?
Should you fall off your horse (and let's face it we all do occasionally!), safety stirrups ensure that your foot will not get stuck in the stirrup.
They do this by either having a breakaway part to allow the foot to "fall" out of the stirrup; a flexible joint, covered toe or curved design to prevent your foot becoming stuck or an open side with magnets to keep your foot secure but releasing in the event of an unintended dismount!
There are several different variations of a safety stirrup that will either release the rider's foot or otherwise prevent it from getting stuck.
There is a multitude of styles for both English and western riders! Below we have created a list of the best safety stirrups you can buy.
What are the Benefits of Safety Stirrups?
They increase the safety and peace of mind that your feet won't get caught in the stirrups
They lower the chance of being dragged by the horse if you do fall off
There are now many options, styles and price ranges to suit your style, discipline and level of risk (dressage and endurance would generally be considered lower risk than eventing or racing)
Are There any Downsides?
High quality and hi-tech products come with a higher price tag than traditional stirrups
Curved edge and peacock stirrups can make it more difficult to maintain correct leg/foot position
Some types may not be approved for use in the show ring or under FEI rules
Fewer options available for Western riders
Read on for a brief overview of the different types of safety stirrup available in each category (peacock, breakaway, curved sided, magnetic, flexible joint, and covered toe) and their pros and cons.
Best Safety Stirrups for Adult Horse Riders
1. Ophena Magnetic Stirrup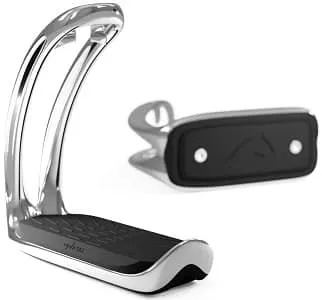 Ophena has developed a stirrup that is as beautiful as it is functional. The open design ensures that your foot will not get caught in the event of a fall and the magnetic system securely holds the foot in the proper place.
Ophena's revolutionary stirrup helps improve leg position and confidence. Compliant with FEI Showjumping, British Showjumping, USEF/USHJA Showjumping, and more.
Each pair comes with magnetic insoles that stop your foot sliding off the open side, and it also puts your foot in the correct place on the stirrup.
They also have a handy smart attach system that allows you to attach and detach the stirrups quickly and safely without having to completely remove the stirrup and leather from the saddle.
The Ophena is truly a one-off design that catches the eye and will have other riders wondering what they are. A good showpiece!
Why we like them:
The magnet helps the rider to keep their foot in the correct place on the stirrup but releases in case of a fall
Helps prevent rider "losing" a stirrup
Lightweight
A popular choice for jumpers and eventers
See more details here on the Ophena website. Also see our full Ophena review.
2. Tuff Rider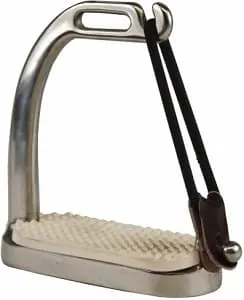 Peacock irons feature a large rubber band that is designed to release your foot in case of a fall. The rubber bands should be inspected before each ride and replaced at the first sign of dry rot or wear. These stirrups are affordable and the most popular choice.
Why we like them:
Rubber band will release in the case of an accident
Reasonably priced
Stainless steel
3. Venice by Tech Stirrups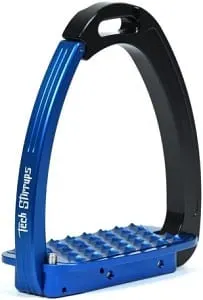 These stirrups use magnets to release a section of the stirrup and prevent being caught during a fall. Then a specialized spring ensures that the stirrup closes back to the original position. These stirrups come in an assortment of bright, stunning colors to match any tack.
Manufacturers have continued to improve the designs for breakaway stirrups so that they now "break" at a top or side joint when the rider's weight is forced against it.
Why we like them:
Release mechanism which allows the foot to slip out the stirrup in the event of a fall
Huge variety of design, materials and colours available for all disciplines
A wide selection of budget options
Generally lightweight
Popular with jumpers and eventers
4. Tough-1 EZ Out Western Safety Stirrup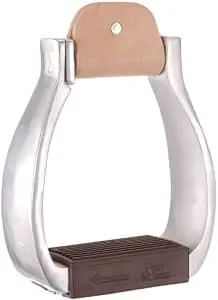 Western riders may have fewer options, but EZ Out Western Safety Stirrup is a fantastic choice. They are spring-loaded and designed to release when pressure is applied during a fall. These stylish, lightweight aluminum stirrups come in both youth and adult sizes.
Why we like them:
Rubber treads are stability and stop your feet from sliding around
Stylish Western look
5. Free Ride Western Safety Stirrup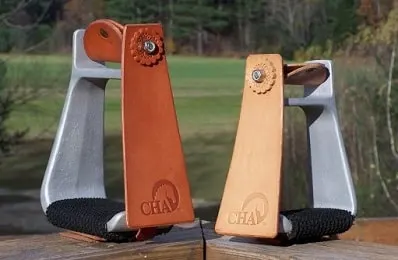 These stirrups were developed after a nasty fall left a rider injured and three miles away from the closest road.
Based on the Peacock irons, these stirrups are as functional as they are beautiful. Leather keepers and conchos over the rubber band provide a classic western look.
The keepers can also be customized! These western safety stirrups are also available in youth and adult sizes.
Why we like them:
Hang at a slight angle for better contact
Manufactured in the USA
6. Acavallo Arena Alupro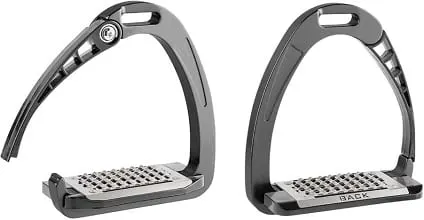 The Acavallo Arena Alupro features an articulated arm on the outside created with a high-tech combination of metal and polymer materials.
The extra-wide tread is suggested to provide support and relief to hip, knee, ankles, and calves. Available in a wide variety of colors.
Why we like them:
Stylish classic look
Stainless steel cheese grater stirrup base keeps your feet in place
An off-center footbed (intentional) relieves pressure on your leg joints
Very solid build that will stand the test of time
Comes in multiple color variants
7. FreeJump SOFT'UP PRO Irons
FreeJump SOFT'UP PRO Irons – FreeJump have a range of stirrups including ones designed for women (Soft'Up Classic) and young people with smaller feet size (Soft'Up Lite) – features a gap between the top and a flexible outer edge allowing the foot to slip out in an emergency.
Why we like them:
Superior leg position by pointing thee toe slightly inwards
Advanced tread grip will keep boots from slipping
Final Verdict
Being safe in the saddle should be every rider's top priority. Safety stirrups are a fantastic choice for beginners and advanced riders alike!
The stirrups on this list will help provide peace of mind while riding and will help keep a bad situation from getting worse.
If budget isn't an issue, then we think the Ophena stirrups are the best money can buy. Super stylish, perfectly designed, and a brilliant riding aid. If you're on more of a budget, Acavallo Arena Alupro Stirrup is a good mid-range alternative.
FAQs
What size safety stirrups do I need?
Your safety stirrups should be an inch wider than the ball of your foot. Too snug and it is easier for your foot to get caught or the safety mechanism to be triggered. Too wide and it will be harder to keep your foot in place while riding.
How do I choose which safety stirrup to use?
Not all models are alike, even when it comes to the level of safety they provide. The starting point is the level of safety you require. Showjumpers and eventers may prefer a lightweight, breakaway type of safety stirrup. Endurance riders may want to combine comfort over long distances as well as safety and dressage riders may prefer a more classic look.
Which way round do stirrups go?
Stirrups usually have an unlocking mechanism or an open/curved side. That side should always be pointing outward when your foot is in the stirrup.
Which type of safety stirrup is the most reliable?
There isn't any scientific research on safety stirrups yet. Breakaway stirrups are a good choice as they are designed to detach in the event of a fall to prevent the foot from getting stuck. However, if you have the budget the Ophena, with the open side means that your foot is free from the stirrup and removes any possibility of the breakaway mechanism failing or malfunctioning.
See the Ophena's here on their website: www.ophena.com