Our readers support us. This post may contain affiliate links. We earn from qualifying purchases. Learn More
The Western genre rose to popularity in the 20th century, taking Hollywood by storm. The 1950-60s gave us some of the most iconic Westerns including Gunsmoke, Bonanza, Wagon Train, and The Rifleman.
While the 1950-60s may have some classic Old Westens, there are plenty of Westerns today that are a must-watch.
We have gathered a list of the best modern Western TV shows for cowboy lovers that are a fan of this beloved genre.
From gunfights to bandits and cowboys, these TV shows provide hours of entertainment.
1. Yellowstone (2018-present)
With cowboys, politics, and family drama, Yellowstone has it all. After watching the first episode you will be sucked into this modern-day Western.
John Dutton, along with his children, runs the formidable Yellowstone Dutton Ranch in Montana. However, their precious land is highly sought after, leading to conflicts with a bordering cattle ranch, an Indian reservation, and land developers.
The Dutton family does whatever it takes to keep their land through a ruthless combination of power, politics, and violence.
Yellowstone has strong characters and captivating storylines that will keep you on the edge of your seat every episode.
Yellowstone has an IMDB rating of 8.7. Also, read our guide on where to watch Yellowstone.
2. 1883 (2021- )
If you are looking for a riveting Western drama, then 1883 is a must-watch for you. A prequel series to Yellowstone, 1883 shows the journey of how the Dutton family got their land.
1883 begins with the Dutton family fleeing poverty in Tennessee to start a new life. James Dutton, his wife Margaret, and children Elsa and John, join a European immigrant wagon train headed from Texas to Oregon.
The caravan is led by Shea Brennan, a Pinkerton Agency employee and former Union Army captain, along with his crew.
The journey is full of hardships, as the caravan faces struggles including bandits, disease, and formidable conditions.
1883 has an IMDB rating of 8.8 and is available to watch on Paramount+.
3. Westworld (2016- present)
Westworld combines the sci-fi and Western genres for a perfect mash-up of the two. As a dystopian science fiction neo-Western, it is truly one-of-a-kind.
Westworld follows a Wild-West-themed amusement park that is fictional and technologically advanced. The park is populated by android hosts, allowing rich visitors to live out their wildest fantasies. No matter what the guests' desires are, they are able to live them free of consequences.
The android hosts are designed not to harm the guests and can't be truly harmed themselves as they don't experience pain, or so the park says. However, things take a turn when the androids begin to think for themselves.
Westworld has an IMDb rating of 8.5 and is available to watch on HBO Max, Hulu, and Prime Video.
4. Wynonna Earp (2016-2021)
The Wild West meets the supernatural in the riveting series Wynonna Earp. The unique premise of the show makes it one-of-a-kind.
The show tells the story of Wynonna Earp, the great-great-granddaughter of legendary lawman Wyatt Earp. Wynonna inherits a special ability to send the reincarnated outlaws that Wyatt killed back to Hell. She uses a special gun known as the Peacemaker to fight off supernatural beings along the journey to break the curse plaguing her family.
This sci-fi series is a fun and modern twist on the traditional Western genre.
Wynonna Earp has an IMDB rating of 7.3 and is available to watch on Netflix and Prime Video.
5. Outer Range (2022- )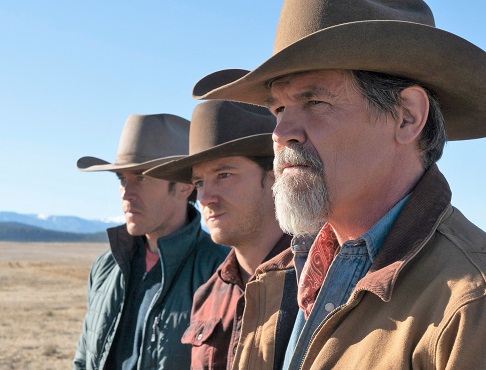 If you are seeking adventure, mystery, and sci-fi, Outer Range is a great show to add to your watch list. As a science fiction neo-Western, it is not your typical cowboy story.
As the Abbott family is fighting for their Wyoming ranch, Royal Abbott discovers a strange black void on the property. After this unnerving discovery, Abbott meets Autumn, a drifter with an unusual connection to the ranch.
While the Abbotts struggle with the disappearance of their daughter-in-law Rebecca, they must deal with their rivals, the Tillerson family. All this is going on while dealing with an unbelievable supernatural mystery on their ranch.
Outer Range has an IMDb rating of 7.1 and is available to watch on Prime Video.
6. Hell on Wheels (2011-2016)
Hell on Wheels takes place in post-Civil War America in the Wild West. Full of action, the show is a great choice for those who love historical fiction.
Cullen Bohannon is a former Confederate soldier searching for revenge as his wife was murdered at the hands of Union soldiers. He heads out West on the Union Pacific's construction of the first transcontinental railroad.
Bohannon's journey leads him to a lawless mobile encampment known as `Hell on Wheels.'
Along with Bohannon, the show follows those who lived and died working on the expansion of the railroad.
Hell on Wheels has an IMDB rating of 8.3 and is available to watch on Prime Video, Apple TV, and AMC Premiere.
7. Walker (2021-present)
Walker is the modern reboot of the beloved 1990s series Walker, Texas Ranger. Fans of the original show will enjoy this modern Western.
After being undercover for two years as a Texas Ranger, Cordell Walker finally returns to his home in Austin. Now that he is a widow with two children, he discovers that there is hard work that must be done at home. Walker has to learn to reconnect with his creative son and headstrong teenage daughter.
In addition to his other challenges, Walker must also navigate the clashes he has with his brother and parents. While gaining common ground with his partner, he grows suspicious surrounding the circumstances of his wife's death.
Walker has an IMDB rating of 6 and is available to watch on Prime Video, Apple TV, and HBO Max.
8. Godless (2017)
Unlike most classic Westerns, Godless is full of powerful, fearless women. This Western drama breaks ground in the prominently male-dominated genre.
Roy Goode is on the run from his former mentor Frank Griffin, who is a criminal, and his gang.
While on the run, Goode finds refuge in the town of La Belle, New Mexico, which is populated almost entirely by women. When the women hear that the vicious gang is headed their way, they band together to protect their town.
Godless has an IMDB rating of 8.3 and is available to watch on Netflix.
9. Deadwood (2004-2006)
A beloved series, Deadwood is a great choice for fans of Western period pieces. The show has many real-life historical figures including Seth Bullock, Al Swearengen, Wyatt Earp, and Calamity Jane.
Deadwood takes place in a mining town of South Dakota post-Civil War before it became a state, making it lawless. The town draws in all sorts of people, including those looking to get rich on gold and capitalize on the lack of law.
This riveting show provides hours of action-packed entertainment.
Deadwood has an IMDB rating of 8.6 and is available to watch on Hulu, HBO Max, and Prime Video.
10. Strange Empire (2014-2015)
Strange Empire is a Western drama that focuses on life in the west from a woman's point of view. It showcases the struggles women had to face living in the Wild West.
Three women band together after the death of their husbands in order to survive the brutality of the frontier.
The women live in Janestown, along the Alberta-Montana border, during the late 1800s and face many hardships. They have to fight off a mine owner named John Slotter who tries to force them into prostitution in a brothel he owns.
Strange Empire features several fierce and rebellious women characters in a time when such behaviors were discouraged.
Strange Empire has an IMDB rating of 6.2 and is available to watch on Prime Video and Apple TV.
11. Longmire (2012-2014)
If you are wanting to watch a modern Western crime drama, Longmire is the way to go. The hit series is based on the Walt Longmire Mysteries novels by Craig Johnson.
Walt Longmire is the devoted sheriff of Absaroka County, Wyoming. However, now that he is a widow, he must put on a brave face with a comedic side, though deep down he is suffering.
With the help of his daughter and best friend and confidant Henry Standing Bear, he is dedicated to getting himself back to normal.
Longmire has an IMDB rating of 8.3 and is available to watch on Netflix and Peacock.
12. The Son (2017-2019)
For fans of Western period pieces, The Son has you covered. The show is based on the 2013 novel by Philipp Meyer novel of the same name.
Upon being kidnapped and raised by Commanches, Eli McCullough grows up to be a powerful and relentless oil businessman. Though he faces many hardships, Eli works to keep his business empire in hopes to pass it on to his children and grandchildren.
While Eli can be a ruthless businessman and father, all the hard work he does is in hopes his business will stay in the family.
The Son has an IMDB rating of 7.4 and is available to watch on Prime Video and Hulu.
13. Hatfields & McCoys (2012)
Hatfields & McCoys tells the story of one of the most famous family feuds to happen in American history. The three-part mini-series dives into the real lives of the two families.
Once close friends, Devil Anse Hatfield and Randall McCoy form a bitter feud formed between their two families after the Civil War. With the Hatfields in Kentucky and McCoys in Virginia, tensions escalate, and misunderstandings rise.
As hostilities continue to grow, partially caused by a stolen pig, a war almost breaks out.
Hatfields & McCoys has an IMDB rating of 7.9 and is available to watch on Peacock and Prime Video.
14. Justified (2010-2015)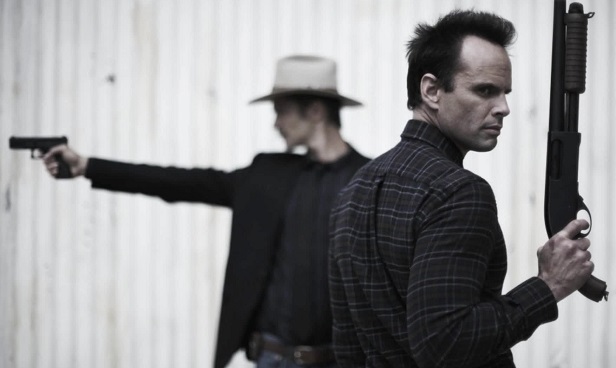 Justified is a Western crime drama that doesn't hold back on the action. The show is based on Elmore Leonard's character Raylan Givens, particularly from the story Fire in the Hole.
U.S. Marshal Raylan Givens is reassigned from Miami to Kentucky following an incident. The district he is assigned to is where he grew up as a child, which consists of the poor, rural coal mining towns of eastern Kentucky.
Much to the dismay of those around him, Givens prefers to use Wild West methods of upholding justice when dealing with criminals.
The show focuses on the residents and culture of the Appalachian mountains in Kentucky.
Justified has an IMDB rating of 8.6 and is available to watch on Hulu and Prime Video.
15. Wild West Chronicles (2020- )
Wild West Chronicles is a fresh take on classic old Westerns. It features some of the Wild West's greatest names, including Annie Oakley, Bass Reaves, and Butch Cassidy.
Legendary Bat Masterson, once a revered lawman, makes a career change from being a sheriff to a newspaper reporter. While traveling the frontier, he chronicles the fascinating true stories of the Wild West, bringing them to life once again.
Wild West Chronicles has an IMDB rating of 8.8 and is available to watch on Apple TV and Prime Video.
16. Heartland (2007- )
For those who particularly enjoy the horses and ranch life of Westerns, Heartland is the show for you. The series is based on the beloved Heartland book series by Lauren Brooke.
Amy Fleming and her older sister Lou live in Alberta at their family ranch, Heartland. After an unfortunate accident brings the family back together, Amy discovers she has her late mother's natural ability to work with horses. She works with many horses on the ranch while discovering herself.
While experiencing the ups and downs of life on the ranch, the family grows together as they bond.
Heartland has an IMDB rating of 8.4 and is available to watch on Netflix, Hulu, Peacock, and Prime Video.
17. Warrior (2019- )
Not your typical Western, Warrior brings together crime, drama, and martial arts in a period piece. The action-packed series is based on an original story by Bruce Lee.
Warrior takes place in San Fransico Chinatown in the late 19th century when brutal gang wars were happening.
Ah Sahm, a prodigy of martial arts, immigrates from China and becomes a hit man for a powerful organized crime family in Chinatown. Sahm gains the trust of brothel madam Ah Toy, while also searching for his missing sister.
Warrior has an IMDB rating of 8.4 and is available to watch on HBO Max, Hulu, and ESPN+.
18. The Ranch (2016-2020)
As a comedy/drama The Ranch is a unique take on the cowboy lifestyle. It will make you laugh and cry while giving you your fill of the Western genre.
In the small town of Garrison, Colorado, Colt Bennett returns home from his semi-pro football career to help run the family ranch. The Bennett family, which includes sons Colt and Rooster and their parents Maggie and Beau, is rather dysfunctional when it comes to getting stuff done.
While Beau runs the Iron River Ranch with Colt and Rooster, Maggie runs a local bar.
The Ranch has an IMDB rating of 7.5 and is available to watch on Netflix.
19. The Good Lord Bird (2020)
The Good Lord Bird is a historical abolitionist Western drama miniseries. It is based on the 2013 novel of the same name by James McBride.
Henry Shackleford, also known as Onion, is a newly freed slave who joins John Brown's crew of abolitionist soldiers during the time of Bleeding Kansas.
Onion finds himself participating in the famous 1859 raid on the Federal Armory at Harpers Ferry. Though Brown's raid failed to begin a slave revolt as he intended, it was one of the events that led to the beginning of the Civil War.
The Good Lord Bird has an IMDB rating of 7.6 and is available to watch on Hulu, Showtime, and Apple TV.
20. Broken Trail (2006)
Broken Trail is a beloved book by Alan Geoffrion that was made into a TV mini-series. The book includes two historic events: the British buying horses from the American West and Chinese immigrants being forced into prostitution.
Prentice "Prent" Ritter, an aging cowboy, and his nephew Tom Harte head out on a journey from Oregon to Wyoming to sell 500 horses. However, their travels take a turn of events when they save five Chinese girls from a life of prostitution.
After rescuing the women from an unsavory fate, they must keep them safe from bandits while trekking across the formidable frontier.
Broken Trail has an IMDB rating of 7.7 and is available to watch on Prime Video.
Also read: