Our readers support us. This post may contain affiliate links. We earn from qualifying purchases. Learn More
It is always sensible to wear a helmet while training, no matter what discipline you ride. We are sharing the best horse riding helmets for equestrians to protect their head while also being comfortable to wear.
Horseback riding is an exhilarating sport unlike any other, but the risk of injury comes with it. On average, between 24%-61% of injuries from horseback riding happen on the upper part of the body, including the skull.
No matter your experience level or how well trained your horse is, accidents can still happen, so wearing a helmet is always in your best interest.
Best Horse Riding Helmets
1. Troxel Spirit Horseback Riding Helmet
Reasonably priced, the Troxel Spirit is a versatile and popular horse riding helmet. The low-profile, full-coverage design offers reliable protection while being comfortable to wear.
Thanks to the unique DialFit technology, you can adjust it to fit your exact head shape for a secure fit. Vents are placed throughout to create maximum airflow to keep you cool while in the saddle. A FlipFold removable and washable headliner is included to provide thinner or thicker padding, depending on your needs.
Why We Recommend This Product:
ASTM/SEI-certified.
Low profile design with lots of ventilation.
Removable and washable FlipFold liner.
2. Tipperary Equestrian Sportage
The Sportage is a lightweight, low-profile helmet that offers excellent ventilation and comfort in hot weather. The unique contoured backdrop shell offers a cut-away design that provides a secure and safe fit.
The soft-touch leather harness chinstrap is reinforced with nylon for strength and security. A rear reflective strip enhances visibility, which is excellent for nighttime rides. Made from high-density ABS material on the exterior and a comfort foam interior, it provides superb protection.
Why We Recommend This Product:
ASTM/SEI certified.
Lightweight with a low profile.
Contoured backdrop shell with a soft-touch leather chinstrap.
3. Ovation Unisex Sync Riding Helmet
This sleek-looking helmet features a rubberized finish with reflective piping, which is excellent for riding outside. The lightweight and low-profile design with an easy-adjust dial allow for a cozy and safe fit.
The adjuster clip and buckle are positioned to the side for added comfort. High flow vents are positioned throughout to provide maximum airflow. The Coolmax liner is removable and washable to keep you comfy while you ride, and the breakaway visor can be removed if desired.
Why We Recommend This Product:
ASTM/SEI-certified.
Lightweight and low profile design.
Removable a Coolmax liner and high flow vents for maximum comfort.
4. Charles Owen Ayr8 Plus
Attractive and economical, this helmet exceeds the safety requirements in both America and Europe. The low-profile style is not only practical but gives a sleek appearance thanks to its weather-resistant microfiber suede.
The strong nylon harness is adjustable to create a secure and safe fit. Two ventilation holes at the back allow for a cooler ride, while the removable and washable liner provides antimicrobial protection.
The helmet comes in round and oval sizes to fit all head shapes.
Why We Recommend This Product:
Certified to meet multiple safety standards, including SEI and ASTM.
Low profile style and adjustable nylon harness.
5. IRH 4G Helmet
The IRH 4G Helmet is a stylish riding helmet suitable for training and showing. The low-profile design features rear and side ventilation to keep you cool and comfortable.
The unique comfort harness provides a secure fit with a quick release with a slight cutout to make room for ponytails. Included are two moisture-wicking liners that are of different thicknesses.
Why We Recommend This Product:
Exceeds ASTM/SEI certifications.
Low profile design and a comfortable harness with a cutout for ponytails.
6. Ovation Women's Protege Riding Helmet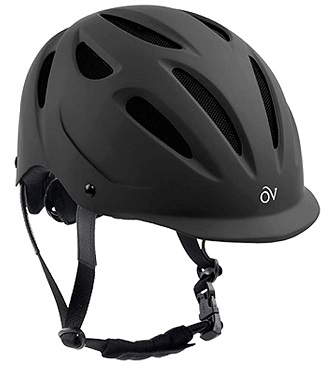 The Ovation Protege's low-profile design offers extra protection thanks to the extended back shell. The several high-flow vents that include a mesh lining keep your head cool even on hot summer days.
An adjustable dial allows you to personalize the fit no matter your head shape for a secure fit. A removable mesh liner allows for cozy and cool wear no matter the season.
Why We Recommend This Product:
ASTM/SEI certified.
Plentiful airflow with several vents.
Low profile with an adjustable back shell.
7. Troxel Liberty Horseback Riding Helmet
The Troxel Liberty is a stylish, low-profile helmet that is lightweight and durable. The DialFit system allows for a secure fit to your exact head shape.
Six mesh-covered vents are featured throughout the to allow better airflow and a more comfortable ride. With the removable and washable FlipFold system, you can customize the amount of padding you need for a secure fit.
Why We Recommend This Product:
ASTM/SEI certified.
Low profile style with a lightweight design.
Removable and washable FlipFold system.
8. Ovation Schooler Deluxe Riding Helmet
Lightweight and low profile, this horse riding safety hat features a rubberized finish for a chic, sturdy look at a budget-friendly price. An adjustable dial allows you to get just the right fit.
The removable liner keeps you comfy and refreshed as you ride. High flow vents allow airflow as you ride to avoid getting too hot. The adjuster clip and buckle on the chinstrap are designed to stay off your face.
Why We Recommend This Product:
ASTM/SEI certified.
Lightweight and very comfortable.
Removable visor.
9. Troxel Sierra Horseback Riding Helmet
The Troxel Sierra horse riding helmet features a nylon and leather finish for a rugged look that protects from scratches. The mesh-covered vents and a moisture-wicking air-channel headliner provide superior airflow and comfort, especially great for outdoor riding.
The SureFit Pro system provides a stable and cozy fit thanks to the elastic straps that adjust to your head shape and size with ultra-plush padding. With the removable and washable FlipFold system, you can adjust the padding in the headliner to fit your head and hairstyle.
Why We Recommend This Product:
ASTM/SEI certified.
Mesh-covered vents and air-channel keep you cool.
10. IRH Equi-Pro Helmet
This chic low-profile helmet is lightweight while providing ventilation for those hot summer days. The dial-fit system allows you to securely adjust it to just the right size for your head.
There is no need to worry about sweating, as the removable and washable Cool-on lining is moisture-wicking and antimicrobial while also fast drying. The simple chinstrap provides security while not being bulky.
Why We Recommend This Product:
ASTM/SEI certified.
Dial-fit system allows you to adjust to your head shape.
What to Look for in a Horseback Riding Hat
When it comes to getting a horse riding helmet, look for ones that are American Society of Testing Materials (ASTM) and Safety Equipment Institute (SEI) approved. Helmets with this certification have passed several safety tests.
A good helmet will have a plastic or fiberglass outer casing, internal fabric lining, internal foam padding, and styrofoam or polystyrene liner. These components make a quality helmet that is safe, sturdy, and comfortable.
How To Choose the Helmet That is Right For You
When choosing a horse riding helmet, several factors can influence which helmet is right for you.
Sizing
You want to make sure that the helmet you wear fits you snuggly. It is too loose if you can feel the helmet move while you roll your head in a circular motion. To find your helmet size, measure around your head one inch above your eyebrow.
Style
Helmets come in many different styles and finishes. There are five main types of helmets: premium, jockey skull, polo, velvet hats, and kids. There are many finishes within those styles, such as matte, gloss, velvet, suede, pinstripe, leather-like, sparkly, and different colors.
For showing, read the show rules to ensure you are wearing an appropriate helmet for your discipline.
Ventilation
A good helmet will offer adequate ventilation to keep your head cool. Some models provide more ventilation than others for those who live in warmer climates. However, avoid styles with excessive or large ventilation holes that have no lining or covering beneath, as they will lack proper protection against sharp objects.
Material
A proper horseback riding helmet will have an exterior made of plastic or fiberglass. The inside should feature foam padding and a styrofoam or polystyrene liner for protection, with a fabric lining designed to be comfortable.
Some models will even feature a removable lining to help wick away moisture and keep you cool, great for summer riding.
FAQs
How Do You Clean a Riding Helmet?
Dirt, sweat, and makeup can cause a helmet to become dirty. Many helmets feature a removable liner that you can use either hand wash or machine wash to clean.
Cleaning the exterior of the helmet will depend on the material. Helmets with a plastic, rubberized, or any smooth finish can be cleaned with a damp cloth. Use a soft brush or a vacuum attachment for suede and velvet.
How Long Do Riding Helmets Last?
Most helmets expire five years after the manufacturing date. However, there are other factors such as UV rays, sweat, and damage that can shorten the life of a helmet.
Continuous exposure to UV rays over time can weaken the materials over time, especially the shell. A build of sweat without regular cleaning can damage the materials and excessive moisture can even lead to mold. In addition, if your helmet receives any damage that is not cosmetic, you should replace it.
Can You Use a Bike Helmet for Horseback Riding?
Bike helmets are not recommended to be used for horseback riding. Unlike horseback riding helmets, bike helmets are not designed to protect your head when falling off a horse.
Since horse riders fall from a higher height that can be from any direction, they need a helmet that is designed specifically for horseback riding. It is important to use the proper attire when riding horses for safety reasons.
Should I Replace My Helmet After Falling?
Yes, you should always replace your riding helmet after falling if your head came in contact with the ground. Even if you don't notice any damage, there still could be interior damage that you can't see.
If you ride with a helmet that has damage, you run the risk of receiving a head injury if you fall off. It is always best to err on the side of caution, as your safety is paramount.