This post may contain affiliate links. We earn from qualifying purchases. Learn More
As equestrians, we love to look back on those special moments we shared with our horses. Therefore, a quality camera that's portable and easy to use is a must-have companion of every modern horse rider.
However, with so many different types of cameras on the market, how do you know which one to choose?
In this article, we bring you the best cameras of each type to help you make an informed decision for the future!
Why Invest in a Horse Riding Camera?
There are various reasons why a horse riding camera would make a great investment for you and your horse.
The most obvious one is that you can easily capture and share your rides with family and friends. You might also want to record your schooling sessions to analyze them later and improve your riding.
Perhaps you spend a lot of time riding on the roads, in which case a safety camera can give you extra reassurance. If something happens, you will have video evidence to show the authorities and support your case. Informing drivers about your camera can also help prevent road incidents.
What's more, monitoring cameras can come in handy when you're expecting a foal or traveling to a show. There are some great ones out there that will give you peace of mind that your beloved equines are safe and well.
Best Overall Horse Riding Cameras
Without further ado, here's a summary of the best horse riding cameras in 2022:
| | |
| --- | --- |
| Camera | Category |
| Pivo Pod | Best Auto Follow Camera for Horse Riding |
| GoPro HERO8 Black | Best Horse Riding Action Camera |
| Cambox | Best Horse Riding Helmet Camera |
| Canon Vixia HF R800 | Best Horse Riding Video Cameras |
| Drift Ghost XL Action Camera | Best Horse Riding Safety Camera |
| Reolink Go | Best Horse Riding Monitoring Camera |
| Canon 7D Mark II | Best Photography Cameras for Horse Riders |
In the following sections, we'll take a closer look at each camera's key features, pros, and cons. We'll also give you great alternatives that suit every budget.
Best Auto Follow Cameras for Horse Riding
Cameras with motion tracking features are great for recording your ride when you don't have a helper available. They are equipped with proven technology that keeps you in the frame wherever you ride!
Pixio & Pixem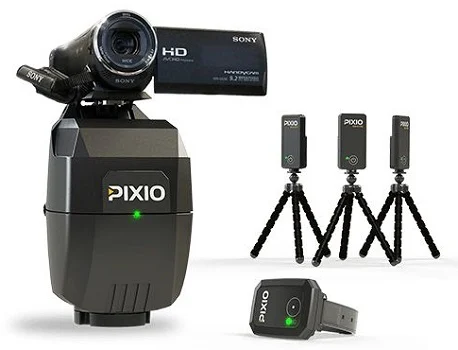 Pixio & Pixem from Move 'N See are high-end tracking devices that have everything you could want in a cameraman. They work both indoors and outdoors within a range of 100 m (330 ft), have automatic zoom, and offer live streaming through the free MOVE 'N APP.
While the Pixio mount is compatible with most video cameras, Pixem is designed for smartphones and tablets. Among the users of Pixio are FEI Dressage and US Equestrian, which gives the product solid credibility.
Thanks to helpful guides on YouTube, anyone can easily learn how to set up and use the camera mounts. Although Pixio & Pixem are only water-resistant, you can simply pull a plastic bag over the units to continue using them in wet weather.
Pivo Pod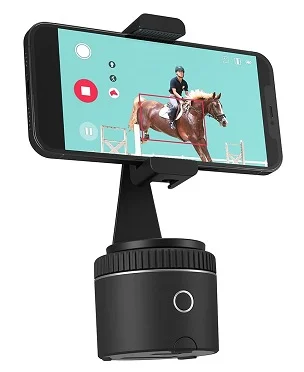 Pivo is a popular auto-follow camera mount among equestrians due to its quality tracking and affordability. The product was designed with horse riders in mind and has gained a considerable social media following over the past few years.
The Pivo Pod is compatible with most smartphones and can rotate 360 degrees in horse riding mode. Although its tracking is not as smooth as Pixio & Pixem's, it will keep you in the frame without fail.
Plain and simple, Pivo is the best budget motion tracking camera mount for equestrians. It's a great training tool with many useful features, including voice control, live streaming, auto-zoom, and photography.
Also, use the coupon code GETPIVO10OFF to get 10% off! Visit the Pivo website here.
Best Horse Riding Action Cameras
The best action cameras will let you record Ultra HD footage of your rides without having to worry about the weather. You can also play around with the angles by mounting them on your helmet, chest, wrist, or even your horse's tack.
GoPro HERO8 Black
The GoPro HERO8 Black is the ultimate action camera for anyone who loves sports and the great outdoors. It has many awesome features that justify its slightly higher price compared to other action cameras.
The HERO8 can record in 4K 60fps and offers three fields of view from Linear to SuperView. Like all GoPros, it has the classic fisheye lens that allows you to film in ultra-wide-angle.
This horse riding camera features are voice control, image stabilization, live streaming, time warp, and live burst shooting. The camera is also waterproof to a depth of 60 m (196 ft) and shockproof, which is a big plus when using it around horses.
AKASO V50 Elite Action Camera
The AKASO V50 Elite makes for a superb first-time action camera if you're not ready for a major commitment yet. It offers most features of the HERO 8 for less than half the price.
The AKASO V50 Elite camera is waterproof up to 40 m (131 ft) deep and is compatible with most action camera mounts. In fact, a helmet accessories kit is included in your order so you can take the camera on your ride straight away.
Like the GoPro HERO8, the AKASO V50 Elite also films in 4K/60fps, has remote and voice control, image stabilization, and adjustable view angle. What's more, an 8X optical zoom makes this action camera great value.
Also read: 24 Best Gifts for Horse Lovers
Best Horse Riding Helmet Cameras
Sometimes, all you want is a discreet camera to film your rides without you noticing. Luckily, the best helmet cameras on the market offer exactly that! Lightweight, wide-angle, and super easy to mount, these gadgets will satisfy your every need.
Cambox
Cambox is as discreet as it gets with its lightweight and innovative design. Its unique shape allows the camera to fit neatly under your riding helmet, making it superior to other helmet cameras.
Cambox attaches with easy-to-install velcro fittings that can be adjusted to different visor shapes. The camera can record up to 80 minutes of 1080p video with a single charge. It also connects to your phone through WiFi, allowing you to easily transfer files and adjust the settings of the camera.
Unfortunately, Cambox doesn't have 4K video mode or image stabilization, making it unsuitable for filming bumpy rides. However, if you look past these drawbacks, you've got the perfect helmet camera at hand!
Insta360 GO 2
Although more expensive than our other helmet camera options, Insta360 GO 2 offers many advantages to horse riders.
Despite its small size, the camera incorporates image stabilization, is waterproof up to 1 m (13 ft) deep, and is able to film in 1440p. It comes with magnetic mounting accessories, a handy lens guard, and 32GB of internal storage.
A brilliant aspect of this helmet camera is its pocket-size case, which is also a charger, tripod, and remote control all in one! While the camera only runs for 30 minutes at a time, you can extend its battery life to 150 minutes by charging it in its case.
Techalogic DC-1.DUAL Lens Camera
This unique helmet camera has one lens at both the front and rear end. Although a bigger unit than the previous two cameras, it weighs only 104 g and won't bother you when you ride.
Both lenses can record in 1080p and have a 140-degree field of vision. The camera is also equipped with a low-light sensor and makes great night-time videos.
Another advantage of the Techalogic DC-1.DUAL Lens Camera is a long battery life which can last for up to 2.5 hours. The unit is also weatherproof and can be controlled remotely through a free WiFi app.
Best Horse Riding Video Camera
They might seem a little old-fashioned, but video still comes in handy when you need something with good zoom. Not to mention they are super easy to use, unlike more complicated DSLR cameras.
Canon Vixia HF R800
A traditional video camera in every sense, the Canon Vixia HF R800 records full HD video with up to 32X optical zoom. It's an ideal choice for filming on shows and competitions where there is some distance between the camera and the subject.
Although the horse riding camera has decent image stabilization, the footage starts being a bit shaky from 8X zoom, according to Captureguide. Therefore, it might be a good idea to take a tripod along with you to keep the camera still.
Best Horse Riding Safety Cameras
Although riding on public roads presents various risks to both horse and rider, it is often unavoidable. Therefore, we must do everything we can to ensure our horse's safety as well as our own when riding in traffic. Safety cameras are an effective way of preventing accidents and inconsiderate driving.
Drift Ghost XL Action Camera
This compact action camera has a dashcam mode and a 9-hour battery life that makes it ideal for use on the road. It can be mounted on your body, tack, or helmet, using its universal clip that's compatible with most action camera mounts.
The Drift Ghost XL Action Camera has a 300-degree rotating lens that films in 1080p 30fps. Its fully waterproof and also able to film in low light, keeping you safe at any time of the day.
With the Drift Ghost XL Action Camera, you can live stream, create time-lapse videos, take photos and connect up to ten cameras via Bluetooth.
Best Horse Monitoring Cameras
There are many situations when you would want to keep an eye on your horse to make sure they are okay.
It's good practice to install a monitoring camera inside your trailer or in the stable of a pregnant mare due to foal in the next few weeks.
Rohent R12 Digital Wireless Backup Camera
This great value camera is perfect for installing in trailers and also works as a parking camera. It's weather-resistant and features a split-screen that lets you view two channels at once.
The camera also incorporates 12 infrared lights that make it suitable for recording during the night. Its 150-degree viewing angle gives you a good view of what's going on inside the trailer at all times.
The only complaints regarding this camera were about its inferior brightness and contrast adjustments.
Reolink Go Plus
Reolink Go is another wireless monitoring camera perfect for a stall or barn. The unit is battery-powered or solar-powered and works on the 3G/4G network that requires no internet.
With Reolink Go, you can easily monitor your horses through your phone, even without a WiFi network. The camera records high-quality 2kp video during the day and also features night vision, allowing 24-hour monitoring.
What's more, you can customize your alert messages and receive notifications when the camera detects motion. This is a handy feature for foaling season when you don't want to miss those precious moments of a foal being born.
Best Photography Cameras for Horse Riders
Most equestrians take photos of their horses on a daily bases. However, if you want to take your photography to the next level, you should consider upgrading to a horse riding camera better suited to the task.
Xiaomi Redmi Note 10 Pro
People often forget that modern phones also count as digital cameras and can be almost as good as a DSLR. The Xiaomi Redmi Note 10 Pro is currently considered the best budget phone for amateur photographers on the market.
Featuring a 108MP wide-angle lens and an ultra-wide-angle lens, telemacro lens, and depth sensor, this phone way outperforms its competition. It also offers improved light sensitivity and noise control for night photography and a pro time-lapse feature that will blow your mind.
But that's not all; the Xiaomi Redmi Note 10 Pro is also able to shoot 4K 30fps videos with its main camera lens. Not to mention it's a lot more portable than a DSLR, which means you can easily take it with you everywhere while still enjoying the benefits of a high-quality camera.
Canon 7D Mark II
On the other hand, if you've set your mind on a traditional camera, our recommendation is the Canon 7D Mark II. It's designed with wildlife photography in mind, featuring great battery life, weather sealing, as well as resistance to water and dust.
As expected, the Canon 7D Mark II won't let you down on the image quality front and can take up to 10 photos per second. It's also compatible with both SD and CF cards. The camera does have minor issues with its GPS and WiFi connection, but this shouldn't take away from the user experience.