Our readers support us. This post may contain affiliate links. We earn from qualifying purchases. Learn More
Horse racing is an exciting sport that tests the limits of both horse and rider. It is a thrilling experience to watch these powerful four-legged athletes race down the track, whether it's in real life or on the screen.
Playing horse racing games is a fun and inexpensive way to immerse yourself in this dynamic world.
Unfortunately, there isn't a wide variety of horse racing games on the market. Most games within the topic are either old with poor graphics or not available in English.
Luckily, there are a few horse racing games that stand out from the crowd and are truly enjoyable for players today.
In this guide, we bring you the best horse racing games out there at the time of writing. Many of these games have excellent graphics and an elaborate world where horse racing fans can thrive.
Whether you want to be a jockey, owner, trainer, or breeder, you can experience it all from the comfort of your home!
Here are the five best horse racing games
1. Phar Lap Horse Racing Challenge (Android, iOS, PlayStation, Xbox, Nintendo Switch)
Phar Lap Horse Racing Challenge is definitely one of the most elaborate horse racing games on the market. The game was developed by PikPok and released by Home Entertainment supplies. With both mobile and console versions available, you have the option to play it at home or on the go.
The horses and racing in Phar Lap are as realistic as it gets. The graphics of the game are superb and were created using motion capture to accurately represent the movements of the horse.
Horse racing fans will quickly grow fond of this game and might find themselves playing for long hours.
In Phar Lap, you can manage your own racing facility, create a schedule for your horses, control their training and even breed your own foals. Earn a reputation in the racing world by producing quality horses that live up to their promise.
You can also race against up to 8 players in real-time, making Phar Lap an awesome game to play with friends.
Find Phar Lap here on the Play Station Store, or here on Amazon.
2. Rival Stars Horse Racing (PC, Mac, Android, iOS, PlayStation)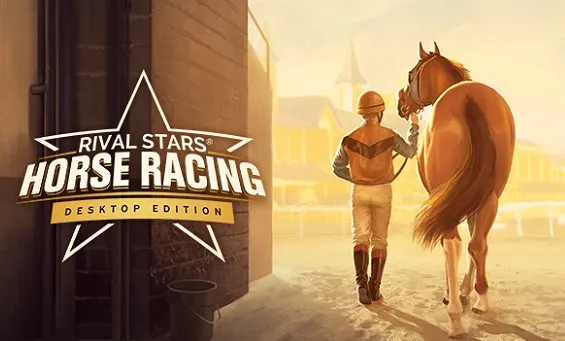 Developed by the same company as Phar Lap, Rival Stars Horse Racing is a fabulous game for enthusiasts of the sport. As the main character of the game, you inherit your grandfather's ranch which marks the beginning of your new life!
After receiving the keys, you have to decide what to do with the family homestead. There are several routes you can take, from working as a jockey to launching your own breeding operation or training facility.
Of course, your business will require funding that allows you to buy horses and pay your staff. There are various ways to earn money in the game, for example by working for others or placing virtual bets.
Realistic graphics and a wonderful background story make the game even more enjoyable to play. Travel to famous race tracks around the world, race against other players, and explore various professions within the industry with this elaborate horse racing game.
When you're not at the track training horses, why not venture out into the wilderness on your favorite horse?
Rival Stars Horse Racing allows you to live the life you always dreamed of within the confines of the game.
Find Rival Stars Horse Racing here on Steam or the Google Play Store.
3. Starters Orders 7 Horse Racing (PC, Mac, Android, iOS)
While the graphics in this game are not as crisp as in the previous two, Starters Orders 7 Horse Racing offers an enjoyable gaming experience. Developed by Strategic Designs Ltd., it is the latest version of the horse racing game series Starters Orders.
Like in most horse racing games, you can breed, train, and race horses on tracks around the globe. The game also allows you to build your own stables or build a career as a jockey if you wish.
Horse breeding is relatively complex in this game, and you can trace each horse's lineage back over a hundred years.
Match your horses wisely and you might produce a champion people will remember. To earn extra revenue, offer your best stallions for stud service and watch the cash flow in!
Updates of Starters Orders 7 include even more detailed breeding stats and pedigrees, newspaper-style race cards, realistic commentary, and much more.
Besides flat racing, you can enter your horse in jump races that present their own unique challenges.
The game can also be played with a VR headset for a truly realistic experience. Download Starters Orders 7 Horse Racing here on Steam.
Also Read: 15 Best Gifts for Horse Racing Fans
4. Champion Jockey: G1 Jockey and Gallop Racer (PlayStation, Xbox, Nintendo Switch, Wii)
Experience what it's like to be a real jockey with G1 Jockey and Gallop Racer! Unlike other horse racing games, the focus of this game is solely on the jockey's role in the industry.
Developed by the Japanese company Tecmo Koei, this game is more complex than it first appears. You start out as an apprentice jockey and collect Rider Points that will allow you to rid more prestigious horses.
To have the best chances of progressing in your career, you must strive to create good relationships with racing stables.
In G1 Jockey and Gallop Racer, you can ride your racehorse on 19 different tracks inspired by famous real-wold racecourses. You may choose to partake in flat or jump races only or do them simultaneously.
The console's motion controllers simulate the experience of holding the reins, using the whip, and shifting your body weight during a race, making the game even more authentic.
The purpose of the game is to win the Champion Jockey award, which is a near-impossible task that takes hard work and dedication. You need to master your profession to the highest level and get to know the horses you ride in order to become a champion. The game has single, two- or four-player options.
G1 Jockey and Gallop Racer was originally released in 2011 and might be a bit old-fashioned for some players. However, if you're passionate about horse racing, you will enjoy playing the game.
Find ey: G1 Jockey and Gallop Racer here on Amazon or your console's play store.
5. Glory Horse Racing (PC, Mac)
If you're in search of a simple horse racing game to enjoy on your PC, you will like Glory Horse Racing. There are 200 horses, 24 jockeys, and 9 nations at your disposal. Your task is to find the best combinations of horse, jockey, and racetrack that will take you to the next level.
While the game's graphics leave much to be desired, its fun features can make it addictive. You can build and manage your own stables, breed horses and train them to become champions.
You progress through the game by winning races that will unlock new ones in higher categories. The most prestigious race in the game is the Glory race, and you will receive extra bonuses if your horse is victorious.
In addition, each racehorse is unique in that they run better on certain terrain, race track, or under different weather conditions. During a race, you have full control of the jockey and the horse.
The biggest downside of Glory Horse Racing is the lack of a tutorial, which makes learning the game more difficult. However, once you get going, it is a fun little game that will entertain you for hours at a time.
You can download Glory Horse Racing here on Steam.
Also, read our list of the Best Horse Games on PC & Console.