This post may contain affiliate links. We earn from qualifying purchases. Learn More
Are you a horse lover looking for something to do on a cold, rainy day? Playing a good horse game is the perfect way to pass the time when the weather is too unforgiving to go out for a ride.
Luckily, plenty of fun horse-themed games have been launched in recent years. Whether you like English or Western riding, realism or fantasy, there's something out there for everyone.
Today's horse games are available on a range of devices so that you can enjoy the world of horses from virtually anywhere.
See our equestrian and horse racing game list below:
1. Star Stable (PC, Mac)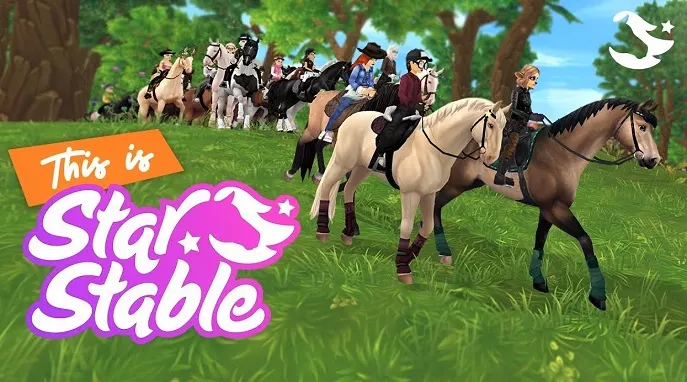 Star Stable is one of the most popular online horse games on the internet. This Massively Multiplayer Online game (MMO) has an open world where users from all over the world can interact and play together.
Equestrians love the game as there's always something to do and new adventures to go on with your online horses.
Throughout the game, you work towards leveling up both your character and horses. As you do this by completing quests, you will notice your horses' speed and abilities improve.
The game takes place on the picturesque island of Jorvik, where you can join a club, participate in competitions, or explore new places. You will come across equipment, outfits, treats, and other items to add to your inventory during your travels.
In Star Stable, you can own as many horses as you like. There's a wide variety of horse breeds to choose from, both real-life and fictional. Players of all ages can enjoy the game, and regular updates will keep you from getting bored.
Star Stable is free to play up to level 5, after which you will be unable to access new locations. You can either purchase a 1-months membership for $8.49, a 3-month membership for $20.99, or a lifetime membership for $74.99. Developers are also working on a mobile version of Star Stable.
2. Red Dead Redemption 2 (PC, Mac, PlayStation, Xbox)
While horses are not the main focus of this game, they play a big part in it. Red Dead Redemption 2 is an elaborate survival game that accurately portrays life across frontier America.
The developers of Red Dead Redemption 2 dedicated much attention and time to creating realistic horses. In the game, horses display accurate anatomy and movements, behave realistically, and seem to have unique personalities. This feature of Red Dead Redemption 2 has attracted many equestrians to the game.
As the main character Arthur Morgan, you will bond with your horses as you care for them daily. Gaining your horse's trust and respect will improve his skills and unlock new abilities. You can even catch and tame wild Mustangs as you please!
The downside of Red Dead Redemption 2's horse feature is that you can only own one horse at a time. You can work your way up from beginner to advanced horse breeds with unique looks and abilities. The game is recommended for mature players as it does include scenes of violence and gore.
If you're buying for console, Red Dead Redemption 2 will set you back at around $24.99. Red Dead Online has also been launched, and you can gain access for $19.99.
Find Red Dead Redemption 2 here on Amazon.
3. Horse Riding Tales (PC, Mac, Android, iOS)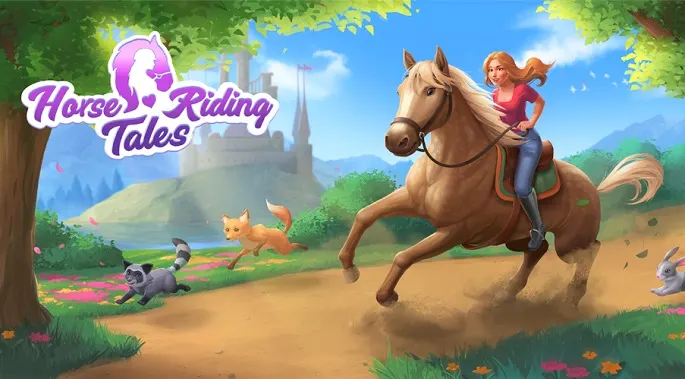 Horse Riding Tales is similar to Star Stable in many ways. It's a fun MMO adventure game that caters to both young and older horse lovers.
In Horse Riding Tales, your first task is to create horse taming orbs from various materials. This will enable you to catch your first horse. You can also build a stable and bring your horse in from the field.
Similar to Star Stable, you can own as many horses as you wish in this game. Each horse has a unique set of attributes and belongs to one of five categories: Common, Uncommon, Rare, Epic, and Fantasy.
Unlike in Star Stable, the playing environment is much more limited in Horse Riding Tales. Therefore, playing can get repetitive after a while, which older players might not enjoy. The game is suitable for 4-year-olds and up.
Horse Riding Tales is free to download by clicking here, although some map regions are only available to paid users. A lifetime subscription currently costs $79.99.
Alternatively, you can continue playing the free version, but it won't be easy to progress through the game without making purchases.
4. Rival Stars Horse Racing (PC, Mac, Android, iOS, PlayStation)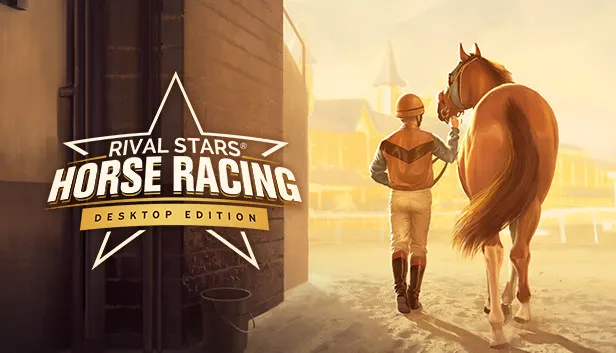 Similar to My Riding Stables, the character of this game inherits the family horse farm. Once your grandfather hands you the keys to the estate, it's up to you to decide what you'll make of the family legacy.
There are many ways to play this horse racing-themed game. You can work as a jockey or place bets on horses and use the money to upgrade your ranch. You even have the option to hire staff who can help you get your new business off the ground.
Overall, Rival Stars Horse Racing has an excellent background story and lovable characters that improve the gaming experience. You can breed your racehorses and dive into genetics to create the perfect champion.
Each horse has a unique combination of stats, colors, pedigree, and beautiful graphics, making the game more enjoyable.
You can also race against your friends and complete goals to become an even better jockey! Why not hit the trails on your favorite horse and explore the surrounding wilderness when you're not working. Rival Stars Horse Racing currently retails at $29.99.
Find Rival Stars Horse Racing here on the Google Play Store or here on Steam.
5. Howrse (PC, Mac, Android, iOS)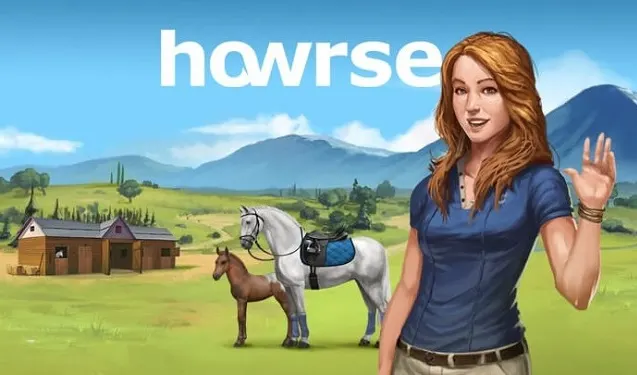 Howrse is a widely popular horse breeding browser game with over 60 million registered users. In Howrse, you can breed and raise your horses and train them to excel in certain horse riding disciplines.
You can choose from a variety of real-life and functional horse breeds in this free-to-play game. If you obtain a Golden Apple, you can customize your favorite horse and make him look truly unique. You can even submit designs of your own for the whole community to enjoy.
Other than breeding horses, you can also manage your equestrian facility, participate in competitions and play seasonal games for a chance to win bonuses and legendary horses.
In Howrse, you can choose to compete in five disciplines: dressage, showjumping, cross-country, trot, and gallop races.
So far, Howrse has won three Browser Game of the Year Awards. While the game is free to play, you do have the option to purchase items that will give your horse special abilities.
Click here to start playing Howrse!
6. The Elder Scrolls V: Skyrim (PC, Mac, PlayStation, Xbox)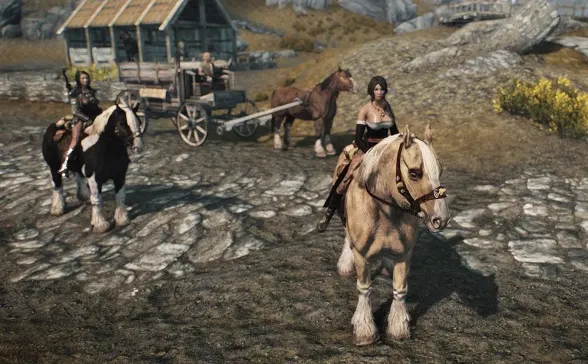 If you love fantasy and magic, you'll love this open-world action role-playing game. While not strictly an equestrian game, you do travel by horse through the lands of Skyrim.
Skyrim is a sequel to The Elder Scrolls IV: Oblivion and is set 200 years after the events of its predecessor. In the game, you are the Dragonborn destined to destroy a dragon called Alduin the World-Eater.
You make progress in the game by completing quests of the main storyline, and you can also enjoy side quests that take you on other adventures.
The game takes place in the province of Skyrim, a mountainous region located at the northern end of the continent Tamriel.
After earning enough money, you'll have the option to purchase your first horse. All basic horses in Skyrim are draft-type and can be found in the stables of major cities.
There are also unique horses with special abilities you can only obtain by completing a relevant quest. These are Shadowmere, Arvak, and Frost. All other horses differ in color only and have identical abilities.
In Skyrim, you can command your horse to canter, jump, rear, and fight your enemies. While Skyrim's horse graphics are not the most impressive, they don't take much away from this enjoyable game. The price range for The Elder Scrolls V: Skyrim is between $13.99 and $39.99.
Find The Elder Scrolls V: Skyrim here on Amazon.
7. Riding Club Championships (PC, Mac)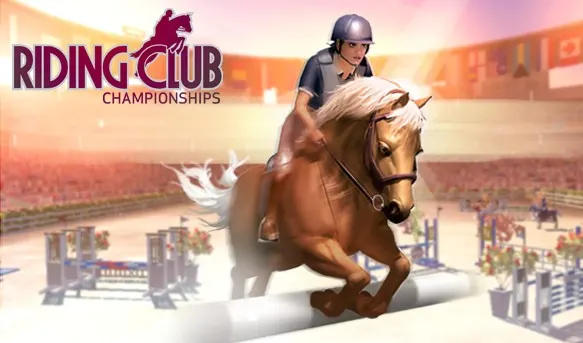 This MMO horse game closely resembles Horse Riding Tales, but it has far fewer features. You can still compete against other players, but you can only own one horse at a time. There're also no horse breeds to choose from in this game, only colors.
In Riding Club Championships, you can ride at one of three competition locations. You can care for your horse, compete against others, build and judge courses and collect riding equipment. While this is a much simpler horse game, younger players will still find it enjoyable.
One of the best things about Riding Club Championships is that it's entirely free to play! There are, of course, in-app purchases as well, but you can still enjoy the full game without spending money.
Play Riding Club Championship here on Steam.
8. My Riding Stables: A Life With Horses (PC, Mac, PlayStation, Xbox, Nintendo Switch, Wii)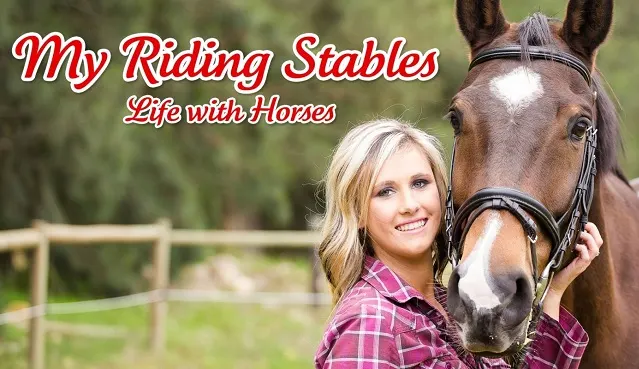 If you want to throw yourself into a horse game, My Riding Stables: A Life With Horses might be perfect for you! There is much to do in this complex game before you make any progress, which is why it's so realistic.
In this single-player game, your character inherits an old horse farm and a horse with it. Your task is to care for the horse and renovate the farm, after which you can invite guests to stay over and attract clients to rent your horses or board their own.
You can also turn your property into a breeding farm and raise your foals. Once they are old enough, you can begin training them and eventually sell them for profit.
Remember that My Riding Stables can become time-consuming. Therefore older players are more likely to enjoy it. The game is available on virtually any platform, and prices range from $14.99 to $34.99.
As of November 2020, My Riding Stables 2: A New Adventure is also available for purchase here on Amazon.
9. The Witcher 3: Wild Hunt (PC, Mac, PalyStation, Xbox)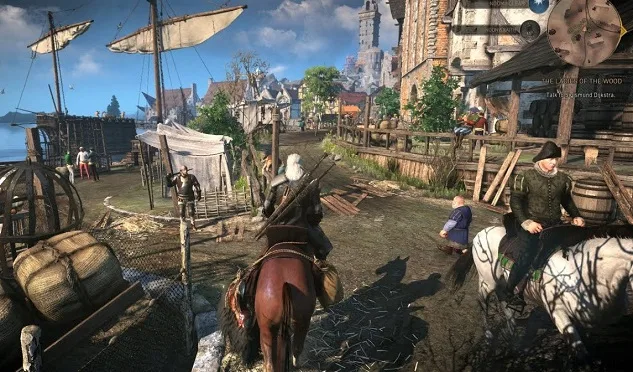 If you're a fan of Skyrim, you'll love The Witcher 3: Wild Hunt video game. It offers even more horse features for equestrians to enjoy, such as taming wild horses and upgrading your horse's tack.
The main character of The Witcher series is Geralt of Rivia, a magically enhanced warrior who hunts down evil monsters in return for gold. His brown horse Roach is indispensable to his travels and remains his loyal partner throughout the game.
As Geralt, you are responsible for the care and training of Roach. His main role in the game is to provide faster transport and carry your essential goods.
The Witcher 3: Wild Hunt is recommended for players 18 and over as it contains various mature themes. You can choose from four difficulty levels, starting with easy to incredibly hard. The game's price ranges from $14.99 to $39.99, depending on what device you want to play.
See The Witcher 3: Wild Hunt here on Amazon.
10. Windstorm: Ari's Arrival (PC, Mac, PlayStation, Nintendo Switch)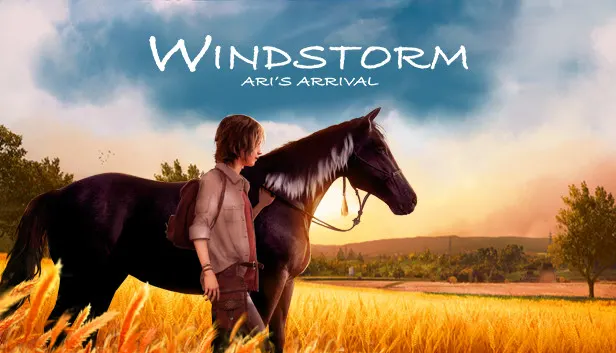 The Windstorm horse games are based on the movie franchise of the same name. The first of the three movies, Windstorm (2013), is a German adventure film that introduces the title giving horse. Windstorm is a beautiful black horse who's been locked in a stable by its owner Mrs. Kaltenbach.
When Kaltenbach's rebellious granddaughter Mika arrives at the stables, she sets the horse free. Using her special ability to connect with horses, Mika gains Windstorm's trust. She demonstrates what the horse is capable of and saves him from the slaughterhouse.
Included our best gifts for horse loving girls guide, Windstorm: Ari's Arrival is a sequel to Windstorm The Game and offers better graphics and features. In this single-player horse game, you have an open world to explore and various quests that make the game last for a long time.
The developers of the Windstorm game series also announced an upcoming horse game equestrians can look forward to. By purchasing Windstorm: Ari's Arrival for $20, you'll directly contribute to the development of this up-and-coming new game.
Find Windstorm for PC here on Steam.
11. Sims 3 Pets (PC, Mac, PlayStation, Xbox, Nintendo DS)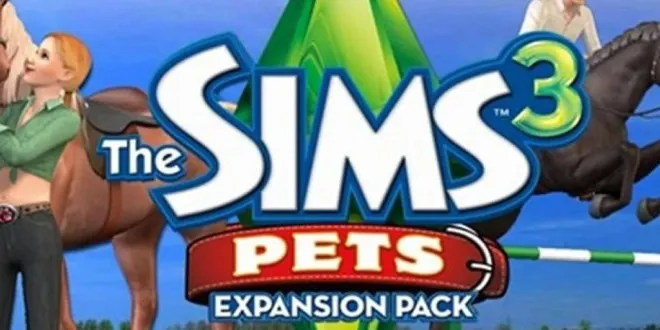 Sims 3 is a widely popular single-player simulation game, and its Pets expansion pack is perfect for equestrians! It allows you to breed, train, compete with your horses, and have your horse farm.
While you can control all aspects of your horse in this game, you cannot directly guide him while riding. In this regard, Sims 3 Pets differs from other horse games, although you can still choose where your horse goes. You can also select the breed of your horse. However, this won't have a great effect on the horse's character and abilities.
On the other hand, you can customize each horse's personality and develop their skills. What's more, you can build your stables and care for your horses daily.
Sims 3 Pets is most suitable for players 18 and over, as the game features some mature themes. You can purchase the Pets expansion pack for around $40, although you will need the Sims 3 base game to play it.
Find Sims 3 Pets here on Amazon.
12. My Horse (Android, iOS)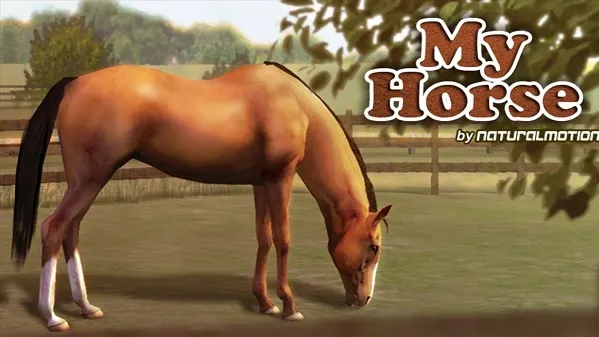 My Horse is a popular horse game you can play on your mobile or tablet. It gives a realistic simulation of what it's like to care for, train, and compete with your very own horse. With good-looking graphics, beautiful horses, and enjoyable gameplay, what's not to love?
In the game, you can bond with your horse in various ways, such as by grooming, feeding, and giving him treats. You'll also have to clean the stall and paddock from time to time to maintain your horse's health and wellbeing.
When your horse is ready, you can choose to enter the UK Open Championships or the US World Series. You'll then compete in a series of show jumping competitions and work your way up towards the World Championships.
A fun feature of My Horse is the in-game camera that lets you capture your favorite moments with your horse. As you progress in the game, you'll be able to own several horses at a time, with eight different breeds to choose from. You can also visit the online stables of your friends and help care for their horses.
Best of all, My Horse is free to download from Google Play or the App Store. There are optional in-app purchases to help you progress faster in the game, or you can spend the gems and coins you earn through playing.
13. Horse Haven World Adventures (Android, iOS)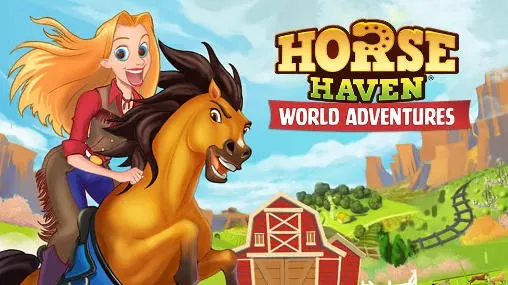 In Horse Haven World Adventures, you can create and manage several horse farms across the world. Breed champion racehorses, compete in steeplechase events, and challenge your friends in this fun horse game for mobile phones.
You can choose from various exotic locations when building a new horse farm, with more locations being added by developers. Each new site comes with its own theme, unique set of buildings, and new horse breeds to collect.
For example, you could build a western-style ranch in the United States or a charming stud farm in France. Horse breeds available in the game include famous breeds like the Mustang, Quarter horse, Appaloosa, and Standardbred, as well as many mythical and fantasy breeds.
Set your horse breeding operations up for success by pairing the best stallions with premium mares. Nurture your horses from foal to adult by grooming, feeding, and caring for them as you would in real life.
You can then train your horses to become champions and race against your friends in exotic places such as Australia, Japan, or Mexico. There're lots of trophies to win and players to beat on daily leaderboards. You can also trade your horses and unlock rare breeds as you build your horse haven empire.
Horse Haven World Adventures is free to download for Android and iOS devices.
14. Photo Finish Horse Racing (Android, iOS)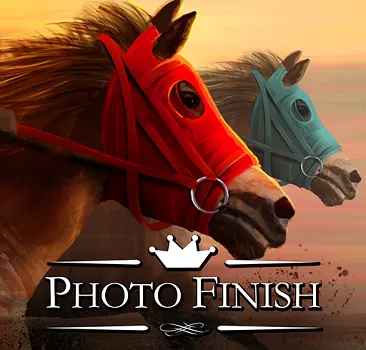 In this horse racing simulation game, you can train your own racehorses, hire a jockey, and compete in various prestigious races. The horses in Photo Finish Horse Racing are realistic and beautifully rendered, which makes it so enjoyable to play.
The purpose of the game is to win the Cup and acquire the Crown of Horse Racing. Initially, you will be competing in local derbies and work your way up towards historic races such as the Belmont Stakes or Epsom Derby.
Like other horse racing games, Photo Finish Horse Racing lets you compete against friends and other players. A unique feature of the game is that you have to keep upgrading your gear to increase your chances of winning.
You can also breed your own champions and collect horses of unique colors in your stable. This free-to-play mobile game is available from both Google Play and the App Store.
15. Horse Paradise: My Dream Ranch (PC, Android, iOS)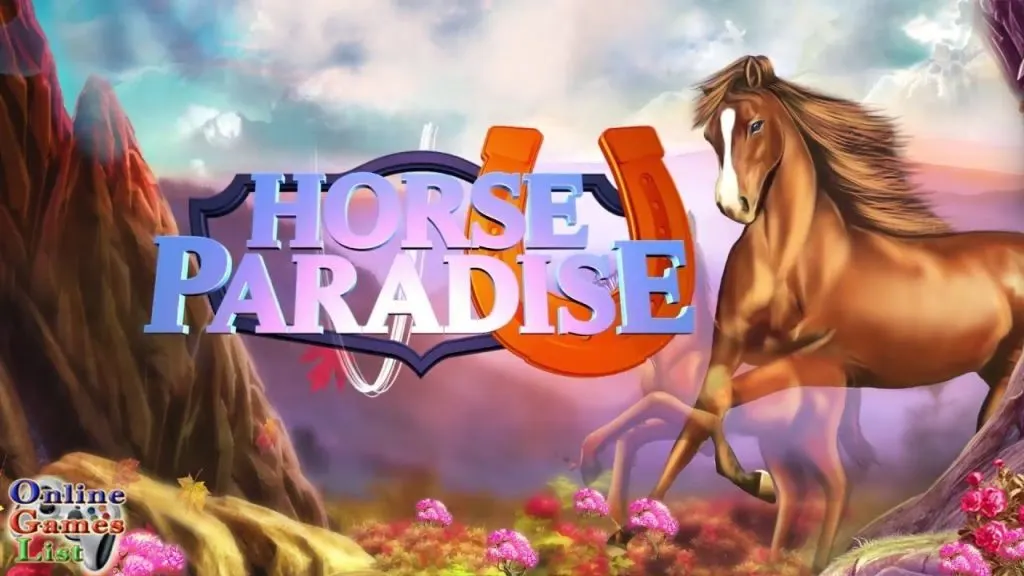 In Horse Paradise: My Dream Ranch, you start out in a mystic forest full of wild horses. By completing various quests, you get to explore new locations such as magical caves and paradise islands where you will encounter beautiful and unique horse breeds.
Horse Paradise: My Dream Ranch has an online multiplayer world where you can make friends and go on exciting adventures together. As you level up, you unlock new stables and horse breeds to collect.
You can also race against AI or other players to win accessories and other bonuses. Create a unique style for each horse by dressing them up with leg wraps, bows, and masks and send a snapshot to your friends.
There are over 40 horses to collect in the game, with 30+ breeds including Mustangs, Clydesdales, Friesians, and fantasy horses. You can own up to 20 horses at a time.
Horse Paradise: My Dream Ranch is free to play on Android and iOS devices and costs $9.99 on Steam. There are also three expansion packs available for the PC version, namely Mystic Cave & Paradise Cove, Foals, and Pegasus.
16. Horse Hotel (Android, iOS)
You are the manager of your own horse hotel in this fun horse game for mobile devices. Your responsibility is to make sure the horses in your care are well looked after and return to their owners healthy and happy at the end of their stay.
As in real life, you'll need to examine each horse regularly to find out if they are healthy. Make sure they have everything they need at all times and don't forget to feed, groom, and play with them.
Each horse breed has its own individual needs in Horse Hotel. Some will need their endurance increased, in which case play the obstacle course minigame to achieve this. Others will be lacking fitness or confidence and will need flatwork or dressage practice to improve these qualities.
While you'll have plenty of space for new horses in the beginning, you'll need to expand your ranch at some point as you gain new clients. You can unlock expansions and more features by earning coins, completing missions, and spinning the wheel of fortune.
Download Horse Hotel for free from the App Store or Google Play.
17. Horse Racing Manager (Android, iOS)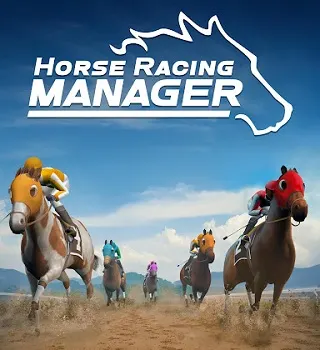 The goal of this horse game is to become the #1 horse racing manager on the track and win the Ultimate Championship. You can not only breed, train, and race horses, but also develop your own strategies to bring you success.
A go-to game for horse racing enthusiasts, Horse Racing Manager incorporates many real-life aspects of the sport. Factors like exertion levels and surface conditions will affect how your horse performs in races and practice sessions. You can boost your horse's performance with rest, food, and exercise.
In the game, you'll have access to a racing calendar so you can plan out your year in advance. You can also enter live PVP races every five minutes or watch a race to learn from others.
In the breeding aspect of the game, you can dive into your horse's genetics and create unique traits such as super speed. There are also a variety of colors, patterns, and skills you can only acquire through breeding.
Last but not least, you can design the outfits of your jockeys and choose a color for your racing stable that makes you stand out. Stunning graphics, endless options, and a realistic feel make this game perfect for horse lovers.
Get Horse Racing Manager 2021 from Google Play or Horse Racing Manager 2020 from the App Store.