Eventing is an exhilarating competition that requires agility and discipline in a horse, combining dressage, cross country jumping, and show jumping.
We are sharing the best horse breeds for eventing, that are athletic, with speed and stamina, in order to compete in all three events.
When it comes to entry-level eventing, just about any horse breed can excel. However, tall, athletic, and lean horses tend to dominate the higher levels of eventing.
When it comes to eventing, a horse should have good rideability and good trainability. They should be well-balanced, with power and style, all while being eager to work.
Though a horse should be energetic and enjoy working, manners are very important to have. A good eventing horse should be fit and sound, able to keep up with the demands of all the events.
Whether you are looking for an entry-level or advanced eventing horse, here are some of the best horse breeds to consider.
Entry Level Eventing Horse Breeds
If you are just getting into eventing, there are many different breeds that can make reliable mounts. If you are looking for a reliable and athletic eventing horse to get you started in the sport, these breeds are some of the best options.
Quarter Horse
Height: 14-16 hands
Country of Origin: America
Characteristics: Quarter horses are known for being athletic, sturdy, calm, and easy-going.
Though most people associate Quarter horses with western riding, they can excel in many different disciplines including eventing.
Quarter horses are becoming quite popular mounts for the entry levels in eventing.
With a kind and gentle disposition, Quarter horses make great horses for people of all ages and experience levels.
Their athletic ability gives them the edge they need to find success for those who are new to eventing. With sturdy builds and calm personalities, they are a reliable mount for beginner horses.
Thoroughbred
Height: 15-17 hands
Country of Origin: England
Characteristics: Thoroughbreds are known for their speed, athleticism, courage, and friendly nature.
Considered the fastest breed of horse, Thoroughbreds are well-known for their athleticism and excel in the field of eventing. Their slim builds and great stamina allow them to successfully complete all three sections of this elite sport.
Their wonderful spirits and overall pleasant attitudes make them successful sport horses. With great agility and the right training, they can successfully compete at the top level.
OTTB's (Off the Track Thoroughbreds) are often a top choice among junior exhibitors and amateurs.
Morgan
Height: 14.1- 15.3 hands
Country of Origin: America
Characteristics: Morgans are known for strength, style, athleticism and stamina, along with their willingness to please and kind dispositions.
Known for their versatility, Morgans shine in many different disciplines. They are becoming a popular choice for those who are new or experienced when it comes to eventing.
Their kind dispositions and willingness to please makes them great mounts for those of all ages. Morgans are athletic, elegant, intelligent and reliable, making them wonderful eventing horses for those new to the sport.
Thanks to their refined, stylish builds combined with their strength, they have what it takes to stand out.
Intermediate Levels Eventing Horse Breeds
As you move up in eventing, each event gets more challenging. Though many different breeds can still do well in the middle levels of eventing, tall and agile horses, such as sport horses, tend to dominate. These breeds are great for those who are moving up in the levels of eventing.
Anglo-Arabian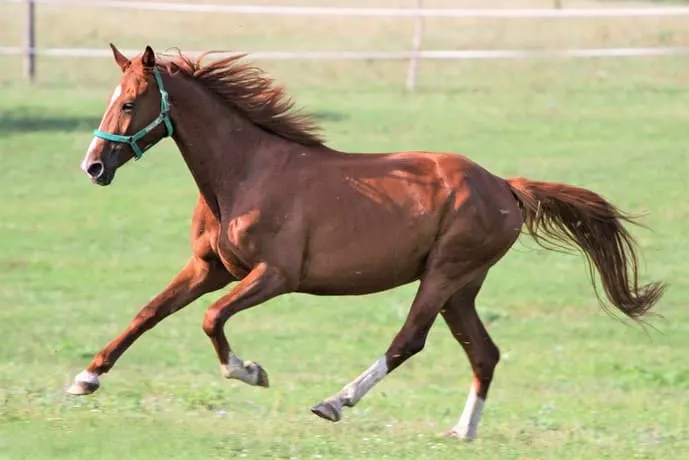 Height: 15.2-16.3 hands
Country of Origin: France
Characteristics: Anglo-Arabians are known for strength, endurance, agility, and intelligence, all while being energetic with a kind disposition.
The Anglo-Arabian breed has made a name for themselves in the world of eventing. Bred from Arabians and Thoroughbred, this exciting breed has endurance, speed, elegance, and athleticism.
From beginners to top Olympic competitors, many riders have found success with this trusty breed. They have everything it takes to excel in this sport, from a wonderful disposition to a high-spirited work ethic.
Brave, intelligent and strong, they have been praised for their talent as a sport horse.
Irish Sport Horse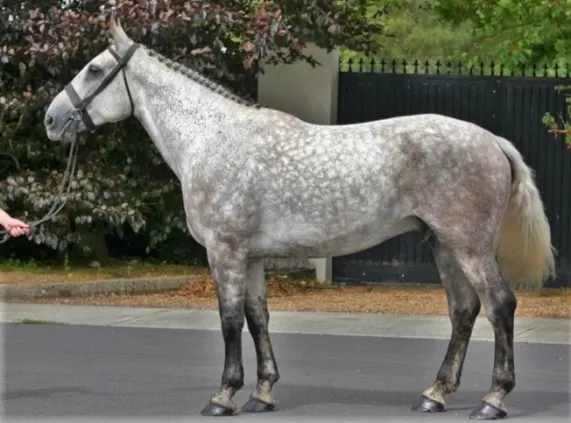 Height: 15-17 hands
Country of Origin: Ireland
Characteristics: Irish Sport horses are known for their strength, athleticism and agility, as well as having friendly personalities.
Durable and powerful, the Irish Sport Horse has all the makings of an elite eventing horse. Their speed and athleticism have led them to plenty of success all the way up to the Olympic level.
The Irish Sport Horse was created by the cross of the Irish Draught and the Thoroughbred. This cross resulted in a horse with plenty of strength, stamina, and agility, making a truly competitive horse.
Dutch Warmblood
Height: 15-17 hands
Country of Origin: Netherlands
Characteristics: Dutch Warmbloods are known for their athleticism, reliability, and agility, as well as being friendly.
With athleticism and style, the Dutch Warmblood has all the makings of an elite eventing horse. They are known for their endurance and beautiful movement, allowing them to shine in jumping and dressage.
Riders have found success with this lovely breed, as they are praised for their willingness to please. Their refined builds and strong work ethic have made them wonderful athletes in competition.
Powerful and graceful, it's no surprise they are rock stars in eventing.
Top-Level Eventing Horse Breeds
Warmbloods tend to dominate the top levels in eventing. Their height, athleticism, and stamina give them the edge they need to make it to the top. These are the breeds that often find success at the highest levels, such as the Olympics.
Hanoverian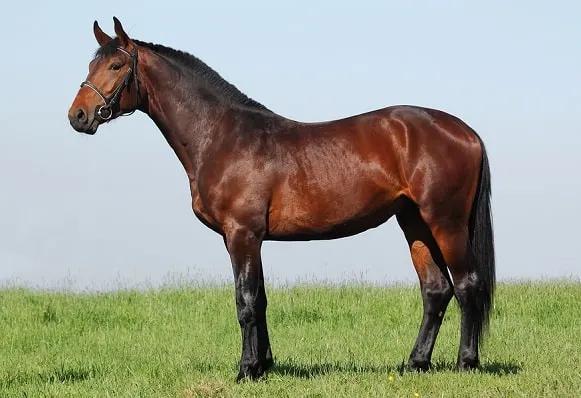 Height: 15-17 hands
Country of Origin: Germany
Characteristics: Hanoverians are known for their style, athleticism, and reliability, as well as their willingness to please.
Hanoverians have become a dominating force in the eventing world. With their stamina, sturdiness, and athletic ability, they have become highly competitive in this exhilarating sport.
Hanoverians have found success even at the Olympic level in eventing. Their exceptional physical fitness, reliability, and refined builds have allowed them to become stars in the sport horse industry. They have wonderful attitudes that make them highly trainable.
Selle Francais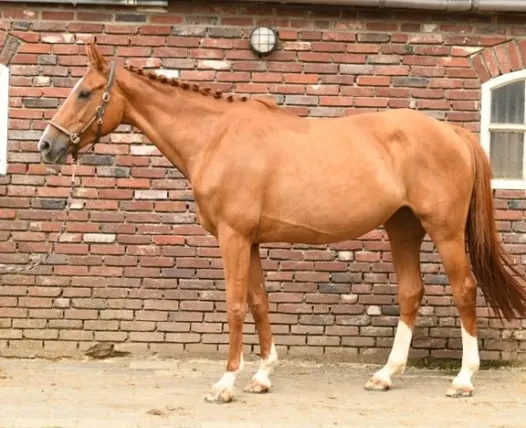 Height: 15.1-17.3 hands
Country of Origin: France
Characteristics: Selle Francais are known for their agility, elegance, power, and athleticism, as well as being willing to please.
Tall, athletic and powerful, it's no wonder why the Selle Francais dominates eventing at all levels. Thanks to their eager-to-please dispositions, they are highly trainable.
Elegant and graceful, this amazing breed stands out in the show ring. Their powerful hindquarters, muscular legs, and beautiful way of moving to make them excellent performers in dressage and jumping.
Selle Francais horses are Olympic calibre athletes and many top riders have found success with them.
Holsteiner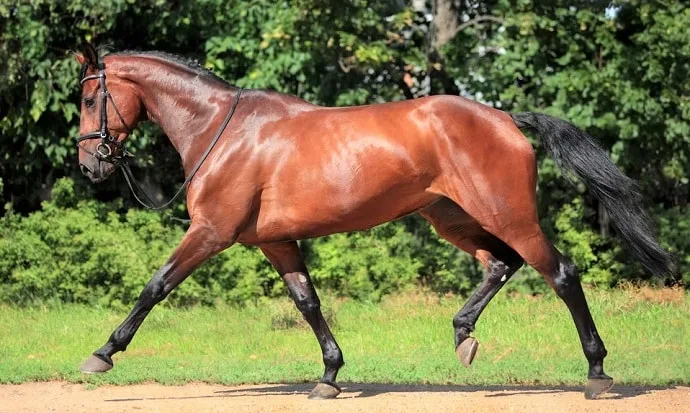 Height: 16-17 hands
Country of Origin: Germany
Characteristics: Holsteiners are known for their power, athleticism, and grace, as well as being easy-going and hard working.
The Holsteiner has become a popular eventing horse thanks to their great athletic ability and movement. With outstanding trainability and rideability, they have found success from the beginner novice level all the way to the Olympics.
From their expressiveness to their beautiful carriage, they have everything it takes to be a competitive sport horse.
Their willingness to please and kind dispositions make them lovely horses to ride. Their strong backs, powerful legs, and elegant arched necks allow them to be agile and graceful while competing.
Eventing FAQs
What are the National Levels of Eventing?
The national levels of eventing are beginner novice, novice, training, modified, preliminary, intermediate, and advanced.
What are the International Levels of Eventing?
The FEI levels of eventing are made up of one star, two star, three star, four star and five star.
What Does CCI Mean in Eventing?
CCI stands for Concours Complet International. CCI consists of CCI-L (Long) and CIC to CCI-S (Short) that are made up of the star levels. CCI-L are three day-long events and CCI-S are one day.
How Much Does an Eventing Horse Cost?
The price of an eventing horse can widely range. A quality eventing horse can cost anywhere from a few thousand dollars to $40,000 and upwards.
Is Eventing an Olympic Sport?
Eventing is an Olympic sport. Equestrian sports first made their appearance in the Olympics in 1900.
How Do You Get Into Eventing?
If you are interested in getting into eventing, visit US Eventing to find out competitions near you and to learn more about the sport.