With its 14 seasons, Heartland is Canada's longest-running one-hour drama series. This popular family drama is famous for its breathtaking scenery, heartfelt storylines, and beautiful horses! No wonder the show's fanbase is in the millions.
In the spotlight of the series is a girl named Amy Fleming, who has a special gift for healing troubled horses. Throughout the seasons, we learn about each Heartland family member's history and ambitions. There's no shortage of adventures, emotional scenes, drama, and beautiful family moments.
224 episodes of Heartland have aired to date, each with its own unique stories and special meaning to fans. Hence why ranking the top 10 best Heartland episodes is an extremely difficult task. We used a combination of rankings and major events in the Heartland storylines to compile the list below.
Here are the 10 best Heartland episodes!
*Warning: Heartland spoilers ahead*
10. Season 3 Episode 17 "Ring of Fire"
This episode's main storyline is a special one for all the "Miracle Girl" fans out there. The nickname has been a burden to Amy since the start of Season 3, as she needs to live up to much higher expectations.
In Episode 17, horse whisperer Victor Whitetail pushes Amy to take his place in the colt starting competition "Ring of Fire." At first, she is unsure until Ty shows her a photo of her mom winning the contest. Eventually, she decides to follow in her mother's footsteps.
On the 3-day-event, Amy competes against two cowboys, Garrett and Chase. On the first day, she builds a good foundation with her colt, while the other two focus on making progress.
Once the final test of the competition comes, Amy can complete the course in the shortest amount of time. She wins the Ring of Fire standing on her colt's back, just like her mom did before.
Winning the contest was a major milestone in Amy's journey as a horse healer. Her talent and knowledge were put to the test, and Amy's future career was at stake. However, she stood her ground and showed the community what she's capable of, which is why this episode was so special.
Also read: 15 Things You Didn't Know About Amber Marshall
9. Season 2 Episode 18 "Step by Step"
The Heartland Season 2 finale was a key episode in Amy and Ty's relationship. Ty, being the sensitive guy that he is, worries that the wild horses might not make it through this winter without help. Together with Amy, they sneak out to the fishing cabin to feed them, despite Jack's disapproval.
Once Amy and Ty spread hay for the horses, things quickly take a turn for the worse. Ty collapses with a high fever, and a snowstorm traps them in the cabin.
It's an intense episode as Amy cares for Ty throughout the night and tries to call for help. Eventually, she reaches the family via shortwave radio and Peter deploys forces to reopen the highway. This is also an opportunity for Peter to gain Jack's approval as Lou's new boyfriend.
By the morning, all is well as the snowstorm stopped and Ty's fever is gone. Still at the cabin, Amy and Ty spot the Appaloosa Ghost and confess their love for each other.
This episode finally brought the love confession that was long overdue for our favorite couple. It's a joyful moment they will both remember forever and that will carry them through tough times.
8. Season 11 Episode 10 "A Fine Balance"
Number 8 on our list is an episode of Heartland's Mongolia storyline. In the mid-season finale, Ty leaves to Mongolia once again to help a horse named Attila. Amy and Tim later follow him as planned, since Amy didn't get Ty's warning not to come.
Upon arrival, Amy and Tim struggle to locate Ty. With the help of their Mongolian guide Altan, they search for Ty on horseback. Thanks to Atilla, the three of them come across Ty's abandoned jeep and realize he's been taken.
Amy, Tim, and Altan continue their search for Ty and his Mongolian guide Bata. Atilla saves the day again by leading the trio to where the poachers left Ty and Bata. Thankfully, everyone's okay, and Amy and Ty reunite in a tearful, emotional moment.
While searching for Ty, Altan, a shaman, realizes something's wrong with Tim. With his insights, Tim is finally able to start coming to terms with his possible cancer. Meanwhile, Georgie places third in a major jumping competition.
This Heartland episode had several key moments, the most important being Amy and Ty's reunion and Tim's healing. It was also unusually action-packed and just so different from most other episodes, making it really stand out.
Also read: 12 Interesting Facts About Chris Potter, Tim Fleming from Heartland
7. Season 3 Episode 10 "Eye of the Wolf"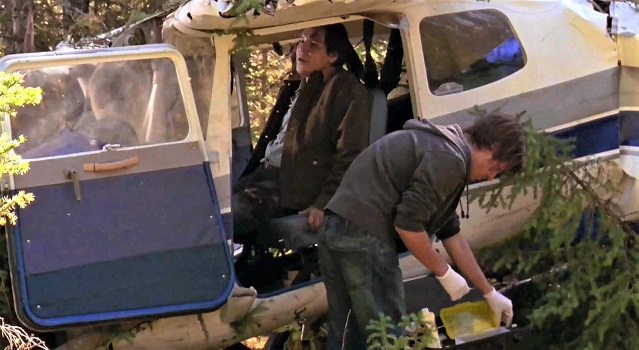 This episode features Scott Cardinal and Ty's plane crash and a large-scale search party to find them. Previously, the two flew to British Columbia to treat a wounded horse.
When Amy goes to the airport to welcome them back, she finds out that the plane has lost radio contact. She immediately alerts her family, who start planning a rescue mission. Peter sends out helicopters of his company Bedford Oil, while Tim pressures the police for any news.
At the crash scene, Ty and Scott are both injured, but Scott's condition is critical. Ty does everything he can to ease his suffering and figure out where they are. Scott admits that letting Lou go was the biggest mistake he ever made.
Four days later, one of the helicopters spots smoke rising from the woods. Amy, Lou, and Peter ride out to look for clues and they find the crash site, with Ty and Scott still awaiting rescue. Back at Heartland, Caleb finally confesses his feelings to Ashley and they kiss.
It's safe to say that the "Eye of the Wolf" was one of the most memorable episodes of Heartland. Not only did two core characters nearly die, but Amy's desperate rescue efforts showed how much she really cares about Ty.
6. Season 14 Episode 4 "Through the Smoke"
This extremely eventful episode certainly kept many fans on the edge of their seats. A train derailment ignites a fire on the lands nearby Hudson, putting locals in imminent danger. As mayor, Lou must make sure the town's people are safe and eventually gives out an evacuation order.
Meanwhile, the wildfire is spreading quickly towards the rodeo grounds. Knowing that several horses are stabled there, Amy sets out to free them and lead them to the river. By her side is Ty's mother, Lily, who's eager to help.
The new girl Parker is also lost, searching for her horse in the woods. Jack saddles up Buddy to look for her. In the meantime, Tim finds out that one of the derailed tanks contains chlorine and tells everyone to evacuate immediately.
As Heartland is a family show, everyone can get to safety in time with no unfortunate casualties. After the excitement is over, Amy finally makes peace with Ty's mom, which is a big part of her healing journey. Lou has passed her first serious test as mayor with flying colors, gaining the approval of the locals.
5. Season 1 Episode 13 "Coming Together"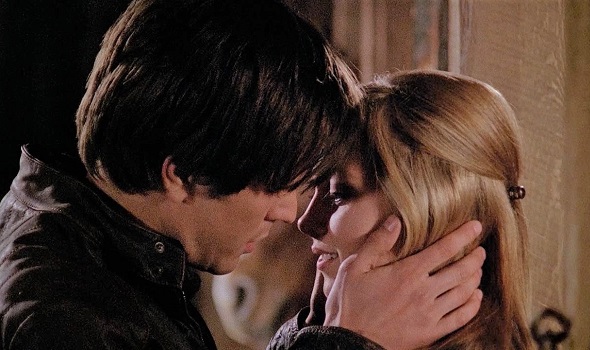 We're now down to the 5 best Heartland episodes of all time! The Season 1 finale has so many important Heartland moments it just couldn't be left out.
First of all, Amy is ready to compete against her rival Ashley in the Fall Finale. She's riding Spartan, a talented jumping horse her mom was rescuing when she died.
However, Val tips off Spartan's abusive owner Mr. Mallen, who turns up at the show to take Spartan back. Luckily, Lou fends him off until after the competition, saying the horse will be more valuable if he wins. Naturally, Amy wins the competition and gets to take Spartan home, as Mr. Mallen cannot pay his large boarding fee.
After the competition, Scott finally confesses his love for Lou, and they share a kiss. For the first time in the barn, Amy and Ty also kiss, a huge moment for all Heartland fans.
Sure enough, this episode is one hard to forget. It marks the beginning of two romantic storylines and the start of Tim being part of the family again. And Lou's witty solution to win Spartan back was just genius!
Take our Heartland quiz to see if you're a true Heartland fan. We have some great questions about Ty and Amy!
4. Season 6 Episode 9 "Great Expectations"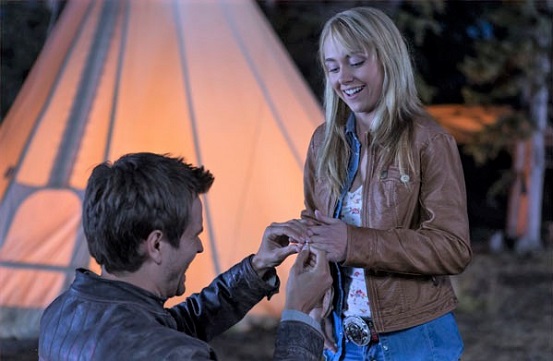 "Great Expectations" is a fitting title for this outstanding episode. Amy and Ty are up at the fishing cabin again, where they find a foal caught in a trap. Amy, of course, wouldn't leave the foal without treating its wounds, and together with Ty, they look after the foal.
At night, Amy and Ty go for a romantic walk along the river. They stop by the teepee, where they hear the wild horses and see a shooting star. Ty says he wants to spend the rest of his life with Amy and proposes, which she accepts.
The other major storyline of the episode was all about Georgie. She is in the process of being adopted by Jack, but everything goes wrong. She overhears Clint say things don't look promising.
Thinking there's no hope, Georgie runs away to see Phoenix and becomes trapped by a barn fire. Lisa also tells Jack she's not back with her ex-husband Dan.
In this episode, not one but two life-changing things happened. Ty's proposal has been a long way coming, and it was not only perfect but also magical. It looks like Georgie is here to stay as well, and the episode's cliffhanger ending just added to the excitement.
Also read: 10 Interesting Facts About Graham Wardle
3. Season 13 Episode 3 "Rearview Mirror"
"Rearview Mirror" is actually the highest-rated episode of Heartland on IMDb. We finally find out about Jack's tragic youth while he goes through an all-important character arc.
Luke accidentally sneaks into the ranch's root cellar, nosing around Jack's old things. Jack doesn't appreciate his curiosity and becomes rather hostile towards everyone in the family. When Amy questions his behavior, Jack is left with no choice but to reveal his past.
It turns out Jack blames himself for his sister June's death. When Jack left Heartland to compete on the rodeo circuit, June had to fill in for him on the ranch. One day, June was driving a stone-boat on a hayfield, lost her balance, and got dragged behind the carriage. By the time she came to a stop, June was already dead.
Although many years have passed since the tragic accident, Jack still hasn't come to terms with what happened. The memories seem too deep and painful to allow anyone to get through to him on this matter.
The episode also features Lou and Mitch telling Katie about their relationship, who was already aware. Caleb and Ty unmask a shady horse trader, and Jade wins a buckle on her new horse. However, everything is overshadowed by Jack's bitter pain, which is why this episode is so powerful.
2. Season 10 Episode 18 "Greater Expectations"
Ranking second place is another life-changing episode of the show's star couple. Amy is due to give birth to her first child, with Ty still stuck in hospital after his Mongolia trip. Luckily, Caleb saves the day by sneaking him out to spend some quality time with Amy.
The next day is Caleb and Cassandra's wedding. However, just as Amy, Ty, and Caleb arrive at the church, Amy goes into labor. Ty rushes her back to Heartland, followed by a fretting Lou and the rest of the family. On the other hand, Mitch leaves the picture after the wedding, assuming that Lou and Peter left to hook up.
While everyone waits downstairs, Amy gives birth to a beautiful baby girl, with Ty by her side. It's an extremely joyful and emotional moment not just for the show's characters but for fans also.
The day before her child's birth, Amy sees the wild horse Ghost, who usually appears when something bad is about to happen. Fortunately, this time Ghost was the bearer of good news, which is just a wonderful way to involve horses in this episode.
1. Season 8 Episode 18 "Written in Stone"
It is not a surprise that many fans voted the Season 8 finale as their favorite Heartland episode of all time. After 8 years of being together and many ups and downs, Amy and Ty finally tie the knot in a small but beautiful ceremony.
Naturally, Lou takes control of planning the perfect wedding, but nothing seems to work out. Meanwhile, Georgie works with a new horse and decides to name him Trouble.
The ceremony begins in the evening, led by Sugarfoot and Georgie. After them comes the bride riding Spartan, with Tim and Jack riding by her side. They reach the house where Ty is waiting for Amy, and together they go inside to say their wedding vows.
Ty and Amy's wedding inspires certain characters to resolve their own relationships. Casey finally tells Tim she loves him, while Val reluctantly admits to Caleb he makes Ashley happy.
After the reception, Amy and Ty drive to the Dude Ranch for their wedding night but realize they don't have the key. Instead, the newlyweds spend the night in the loft. This episode really gave off nothing but pure happiness, which is why it deserves first place.
Also, read our fun articles on Heartland actors who live like their characters in real life and take our popular Heartland quiz. We also have interesting guides about all of the actors, as well as other fun Heartland content!