This post may contain affiliate links. We earn from qualifying purchases. Learn More
Just as a knight needs armor to protect against adversaries, horses require fly boots to guard against pesky flies and other biting insects. Horse fly boots are an essential part of equestrian equipment, designed to provide optimal protection while ensuring comfort and breathability.
These boots act as a reliable barrier against insects, preventing potential discomfort, irritations, or infections in your beloved equine friends.
But how do you choose the right pair in a market full of options? We are here to simplify that choice for you.
This guide will detail the six best horse fly boots, meticulously selected based on factors like durability, protection, comfort, and user reviews.
Let's saddle up and embark on this journey to find the perfect fly boots for your horse.
6 Best Fly Boots for Horses
1. Kensington Protective Horse Fly Boots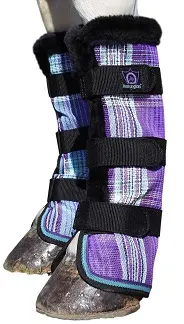 With unique stay-up technology, this set of two boots fit securely with optimal support and comfort. With the help of the fleece-lined top, they won't slide around even if your horse is rolling or running all around.
Three adjustable hook-and-loop fastener belts allow you to get a custom fit based on your horse's build. The vibrant colors and patterns not only look cute, but they also deter flies away.
Made from a unique Textilene fabric, they are specially formulated to withstand fading, fire, mildew, soiling, and wear/tear. In addition, they block 73% of harmful UV rays, even in the harshest weather conditions.
2. Shires Airflow Fly Boots

Made from a lightweight airy mesh fabric, these boots will keep your horse cool and protected. The ergonomic shape is designed to form to your horse's legs and stay up the entire time of turnout.
In order to prevent rubbing and chaffing, the edges are lined with fleece padding to provide optimal comfort. The three velcro straps allow for a secure fit, even with the rowdiest horses. They come in a set of four at a budget-friendly price.
3. Cashel Crusader Horse Leg Guards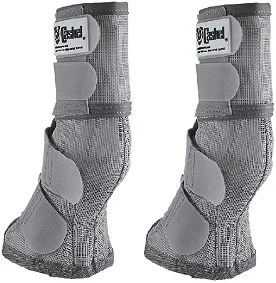 The unique design on these fly boots prevents sagging and shifting, so you can rest assured they will actually stay on your horse. With hook-and-loop closures, they have an adjustable fit, able to adapt to your horse's conformation.
The durable vinyl-coated polyester mesh build protects your horse from pesky flies, so they won't constantly be stomping out of discomfort. In addition, the fabric eliminates sun sensitivity and also won't catch on burrs. The top inside rim has nylon padding for extra comfort, and the fetlock areas are also padded to prevent rubbing on the pasterns.
4. Shoo Fly Leggins for Horses
With a flexible, plastic mesh design, these boots allow for ideal air circulation while also providing protection from biting bugs. Their unique sewn-in plastic stays will not snag, so you don't have to worry about your horse ripping them up in the pasture.
The velcro fasteners are easy to attach while the fit is comfortable for horses. They will stay in place while not restricting blood flow or range of motion. This allows for any wounds to heal faster and will even prevent bot flies from laying eggs.
5. Professional's Choice Fly Boots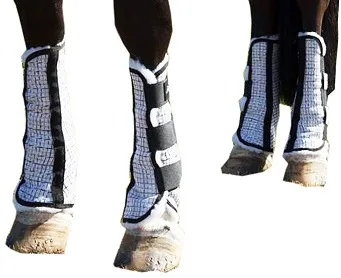 Durable, with excellent support, the unique design features a contoured shape to comfortably and securely fit your horse. The reinforced webbing features adjustable hooks and loop straps, so the boots stay up and in place.
They are built with a breathable lining to prevent chafing and rashes from occurring, so your horse will be comfortable all day long. The extra sturdy nylon mesh exterior resists ripping, staining, and wrinkles. In addition, they protect against potentially harmful UV rays, giving you peace of mind your horse can enjoy the outdoors while staying safe and comfy.
6. Harrison Howard Horse Fly Leg Guards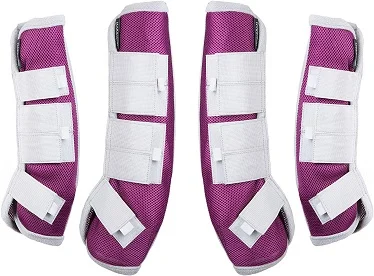 Durable and breathable, these boots are built to last even with the most playful horses at an affordable price. The contoured shape with velcro straps fits securely on your horse's legs, without causing any discomfort.
The superfine 3D sports mesh prevents bugs from bothering horses while still allowing wonderful airflow to keep them cool. Fleece edging provides additional comfort while the plastic stays keep the boots in place. Not only do they protect against UV rays, but they are also quick drying which is great for sunny, hot days.
What to Look For in Fly Boots
Before you get shopping, there are some factors you need to take into consideration when buying fly boots. Size, material, price, style, and durability all factor into finding the right fly boots for your horse.
Size
When it comes to boots, one size does not always fit all in horses. Be sure to measure your horse prior to buying boots to ensure you get the right size. You don't want to order the wrong size of boots and only find out once they slip off your horse because they are too big.
Material
Since fly boots are worn during spring and summer, you want a material that is breathable so your horse won't be hot in them. Look for materials such as mesh that will be sturdy enough to keep flies away but thin enough to be breathable. Other features like fleece lining at the top and bottom and UV protection are beneficial.
Price
The prices of fly boots can widely range. Fortunately, there are many good quality options at different budget points.
Style
There are many different styles of fly boots available. Some are more loo+se-fitting, whereas others are more fitted. If your horse isn't a huge fan of wearing boots, a fitted option is a better bet, as they will be less likely to slip out of them.
Durability
As fly boots are worn during turn out, you want them to be durable. You don't want your horse to ruin them by running around bucking or rolling in the mud. It is best to opt for boots that are made from a durable mesh, as they are built to last.
Also, read our guide on how to make homemade fly repellent.
Frequently Asked Questions
Can Your Horse Wear Fly Boots While Riding?
Typically, fly boots are not worn while riding. They can cause interference when riding, especially if you are jumping, so it is recommended to take them off for your ride.
For riding, your best option will be to apply fly spray all over your horse, being sure to get the legs as well. This will help protect your horse from biting insects, whether you are riding out on a trail or in an arena.
How Do You Clean Fly Boots?
To clean fly boots, you can spray them down with a hose and then hang them to dry in a sunny area. If they are really dirty, you can put them in the washing machine on a gentle cycle with mild detergent.
Do not place them in the dryer, as this could damage them. Hanging them on a rack or fence is the best option for them to dry.
How Do You Put Fly Boots on a Horse?
When putting fly boots on a horse, the velcro should be on the outside and go from front to back. You want to make sure you overlap in order to provide full coverage and a secure fit. The boots should fit snugly so they don't fall off, but not tight enough to cause any discomfort.
You should be able to fit two fingers in between the boot and your horse. Don't forget to measure beforehand to make sure you buy the right size for your horse.