This post may contain affiliate links. We earn from qualifying purchases. Learn More
When it comes to country weddings, there's an art to selecting the perfect outfit – one that exudes both charm and elegance. Central to this ensemble is a timeless pair of cowboy boots. Yet, the key lies in choosing the right dress to complement these iconic western wear staples.
This article dives straight into the heart of this delightful fashion challenge, offering you a curated list of the best dresses to wear with cowboy boots at a wedding.
We explore various hemlines, fabrics, and fits that are not only wedding-appropriate but also perfectly enhance your boots.
Best Dresses to Wear With Cowboy Boots to Weddings
1. Dressystar Women's Bridesmaid Dress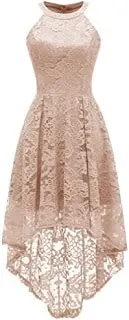 Step into the wedding venue in style with this high-low lace dress, exuding pure country charm. Dressystar's dress features a fun, classy halter neckline while the lace appliqué flows stunningly, creating an elegant look.
When worn with your favorite pair of cowboy boots, this ensemble is bound to turn heads. It flaunts a universally flattering style, making it an excellent dress for bridesmaids. The zip closure adds to the ease and comfort of wearing, while the soft and fashionable lace design adds a touch of charm to your outfit.
It is available in several stunning colors and looks best when accessorized with classic brown western boots and dangle earrings.
2. DRESSTELLS Women's Prom Vintage Tea Dress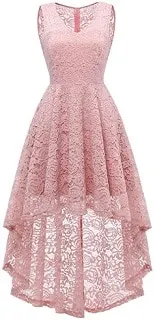 Evoking elegance from a bygone era, this vintage tea dress from DRESSTELLS serves as a fantastic canvas for showcasing your cowboy boots and hat.
The dress features a soft and comfortable material, perfect for staying cool while looking glamorous at any summer event. Its lightweight and stretchy fabric ensures a snug fit, regardless of your body shape.
For a sophisticated retro look, consider accessorizing it with a pearl necklace and earrings. Plus, its simple design offers a myriad of opportunities to show off your favorite accessories.
3. Romwe Women's Sleeveless Wedding Dress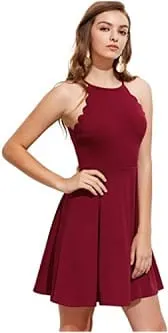 Pair your favorite cowboy boots with this romantic, cute skater dress from Romwe for a quintessential country wedding outfit.
The dress features a scalloped halter neckline and a-line design, enhancing the overall appeal. Made from stretchy fabric, this dress is perfect for those who love to dance.
Add a belt to accentuate your curves and accessorize it with dangle earrings for a classy look. Also, don't forget a cowboy or sun hat to personalize your look.
4. Azalosie Wrap Maxi Dress
The Azalosie Wrap Maxi Dress is a gorgeous gown for any formal occasion, especially for a country wedding. The floral design goes hand in hand with the country aesthetic, and the slit adds a playful touch to the elegant maxi dress.
This dress features a wrap neckline for a fun and flirty feel, a removable tie for waist accentuation, and a back zipper for ease of wear.
Consider accessorizing this gown with dangle earrings, tennis bracelets, and a brown straw hat for a complete western charm.
5. Andybridal Women's Country Dress

This high-low dress from Andybridal is the epitome of country chic. Made of beautiful chiffon and sporting a halter neckline, it forms an elegant outfit when paired with your favorite cowboy boots.
The flowing gown is perfect for a wedding guest or bridesmaid, fitting seamlessly with western fashion.
Choose a pair of sparkly earrings and colorful cowboy boots to elevate this look further.
6. MakeMeChic Women's Casual Crewneck Dress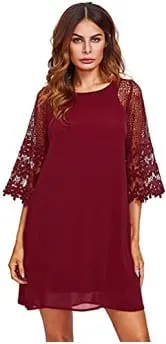 A tunic dress from MakeMeChic, with lovely lace sleeves, speaks volumes about the western charm. Its free-flowing design pairs well with western wear, making you look and feel great. The back keyhole cutout adds a cute touch and simplifies the process of wearing it.
Made from chic chiffon, it's great for formal events, especially for those with apple body shapes.
For a more fitted style, add a small belt to this ensemble.
7. Molisa Women's One Shoulder Long Evening Dress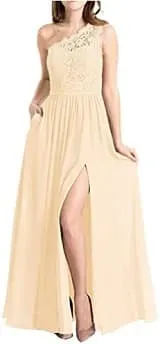 Opt for Molisa's one-shoulder long evening dress for a dose of elegance at a formal wedding. The lace bodice, chiffon skirt with a slit, and one-shoulder design combine to create a graceful gown that any cowgirl can pull off with ease.
Pair this gown with pearl or diamond earrings and classic brown or colorful western boots for a refined look.
8. Milumia Women Split Maxi Dress
Enter the venue with a splash of color in this vibrant floral split maxi dress by Milumia. Made from polyester and featuring a boho-inspired print, this dress is the perfect blend of comfort and style. It showcases a v-neckline with a wrap silhouette, which is universally flattering. The side slit design adds a hint of sexy appeal to this otherwise demure gown.
This dress is versatile and can be worn at different wedding themes, but it fits seamlessly into a country wedding aesthetic when paired with cowboy boots. The long flowing silhouette of the gown with the boots peeking out as you walk is a sight that screams western charm.
Moreover, the tie-waist detail of the dress is designed to cinch at the smallest part of your waist, giving you an hourglass figure.
9. Relipop Women's Polka Dot Print Long Sleeve Dress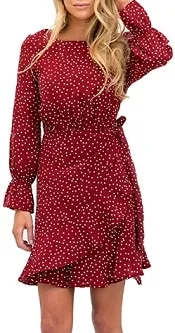 When it comes to western fashion, you can never go wrong with ruffles. This flowy country chic dress is super cute for fall and winter weddings. Lightweight and comfortable, you won't mind trading in your riding jeans for this dress.
A playful blend of the classic polka dot design, the adorable trumpet sleeves, and a wrap front, it's a cute choice for weddings in the fall or winter.
Add a sun hat or straw hat for that extra country style and balance the look with delicate earrings and layered necklaces.
10. MISSMAY Women's Vintage Wedding Party Dress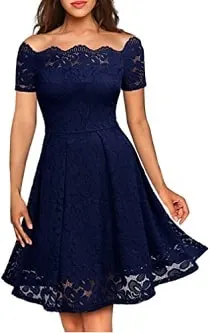 Emanate a timeless elegance with the MISSMAY Women's Vintage Wedding Party Dress. Its lace design harks back to a bygone era while the off-shoulder neckline adds a dash of contemporary chic.
The fit-and-flare silhouette works well with a variety of body types, providing ample opportunity to flaunt those cowboy boots. The cocktail length is perfect for weddings, offering a sophisticated balance between formal and country.
Accessorize with pearls for a classic retro look, or add a belt for a more defined silhouette.
11. Zesica Women's Halter Neck Dress

The Zesica Women's Halter Neck Dress is the epitome of breezy chic, perfect for a tropical or outdoor country wedding. Its vibrant floral pattern, halter neckline, and tantalizing slit skirt provide a playful yet elegant aesthetic that pairs beautifully with cowboy boots. The open-back design adds a flirty touch, while keeping you cool during hot outdoor events.
For a personalized touch, pair it with a cowboy or sun hat and classic brown western boots.
12. Fantaist Women's Sleeveless Casual Shift Dress
The Fantaist Women's Sleeveless Casual Shift Dress offers a relaxed yet stylish look that's perfect for a laid-back country wedding.
The dress's above-the-knee tunic style and halter neckline flawlessly blend comfort with style, providing a great frame for showcasing those beloved cowboy boots. The simplicity of this dress makes it a wonderful canvas for showcasing unique accessories
.Embellish with dangle earrings and layered necklaces or add a sun or straw hat for that extra country charm.
Choosing the Right Dress with Cowboy Boots For a Wedding
If you're invited to a country wedding, then cowboy boots will likely be the footwear of choice. When choosing a dress, you will want one that can show off your favorite pair of western boots. This will add the right amount of country charm to your wedding outfit.
Ideally, you want to stick with above the knee, mid, high-low, or slit hemlines to show off your boots. Don't be afraid to wear lace, ruffles, patterns, or pastels, as they pair wonderfully with western style. When it comes to fit, tunic, fit and flare, and a-line are all great options for wedding-appropriate dresses.
FAQs
What Can I Wear With Red Cowboy Boots?
Red cowboy boots can make for a bold statement. If red is your route, wear it with a red, black or navy dress. Try to avoid patterns, as you don't want to have too much going on.
How Should I Dress for a Western Wedding?
For most country weddings, a short, tea, high-low or casual maxi dress is often the way to go. A long or high-low dress is your best choice for formal western weddings. Of course, don't forget your cowboy boots!
What is the Dress Code for a Barn Wedding?
Unless otherwise specified, semi-formal or dressy casual is appropriate for a barn wedding.
Should I Wear Socks With My Cowboy Boots?
Even if you are wearing a dress, you should wear comfy socks. This will prevent blisters and sores from forming. Just be sure to wear short socks so they don't show.
Weddings can be a long day, so we recommended buy a pair of comfortable cowboy boots for women that will last.