Our readers support us. This post may contain affiliate links. We earn from qualifying purchases. Learn More
Beth Dutton is hands-down one of the most beloved characters on Yellowstone. She is a force to be reckoned with, from her quick comebacks to her sassy personality.
Beth is fiercely loyal to her family, willing to do whatever it takes to protect them. She is a competitive person and is not afraid to stand up for her beliefs.
While you do not want to end up on her wrong side, she has a big heart for those she cares for.
Throughout Yellowstone, Beth has provided us with countless memorable moments. There is never a dull moment when she is on screen.
Without further ado, here are 10 of the best Beth Dutton moments on Yellowstone.
1. Beth Helps Out Monica – Season 2, Episode 9
It is not often that we see Beth interact with her sister-in-law, Monica. However, when Monica finds herself at the hands of a racist owner of a boutique, Beth steps up to help her out.
The boutique owner falsely accused Monica of stealing even though all she was doing was shopping. The entire time, the owner treats her poorly and even gets two cops involved.
The cops proceed to further humiliate Monica by doing an unnecessary strip search on her. Fortunately, Beth shows up to end the blatant mistreatment of Monica.
Beth scolds the cops for their horrible treatment of Monica and then proceeds to dismiss them after informing them Monica is a Dutton. Even though the cops leave, Beth is not done with the store owner.
She proceeds to break the glass of a jewelry case before throwing merchandise. Beth then makes the owner strip down to her underwear, giving her the same treatment she gave Monica.
2. Beth and Rip's First Date – Season 1, Episode 1
As we see in flashback scenes throughout the series, Beth and Rip were romantically involved as teenagers. However, they have their 'first date' in the season one premiere.
Rip initially invites Beth to a music festival for their date. However, she declines as she wants to do something more suited to her personality.
Beth and Rip decide on a rather unusual but memorable first date. Instead of something typical like going to a restaurant, they watch a pack of wolves eat an elk while drinking whiskey in Beth's car.
Rip affectionately tells Beth that she hasn't aged and just might cheat death. In a spontaneous moment, Beth decides to run toward the pack of wolves, yelling at them with a bottle of whiskey in hand.
Rip proceeds to chase after her, questioning her antics, to which she simply tells him she was cheating death.
3. Beth's Fight With Hailey – Season 5, Episode 3
While this may not necessarily be one of Beth's best moments, it is certainly one of her most memorable ones. While things could have ended very poorly for Beth, her family's influence helped her out quite a bit in this situation.
While enjoying a night at the bar with some fellow ranch hands, a woman named Hailey approaches Rip and proceeds to hit on him. He tells her he is married but she brushes out this information and continues to flirt with him despite his lack of interest.
Beth is on the dance floor with Teeter while the situation unfolds. When Rip points to Beth, telling Hailey that she is his wife, she decides to approach Beth. Rip tells her not to, but Hailey does it anyway not knowing the trouble she is about to get herself into.
As Beth had been watching the situation unfold from the dance floor, she does not take kindly to Hailey's obnoxious confrontation. Despite her better judgment, Beth smashes a bottle over Hailey's head and punches her in the face.
Beth is taken away in a squad car, but fortunately for her Hailey drops the charges and she gets out on bail.
4. Beth Talks With Roarke – Season 3, Episode 5
Beth is at a bar when a disgruntled Roarke joins her to discuss business. After Beth plays some mind games on Roarke, he is able to reel the conversation back to Schwartz & Meyer shorting Market Equities stock.
The two discuss the matters of their companies and Beth even agrees with Roarke that one day her family will lose their land. However, she tells him that she will fight for the family land until her father dies because it is what he wants.
After the two do some more bickering, they are able to come to an agreement that Beth will stick to shorting Market Equities stock in after-hours trading. Roarke tells her "You think you're up for this fight, Beth? You have no idea how wrong you are."
Beth says "Well, right back at you" before responding with one of her most iconic lines "You are the trailer park. I am the tornado."
Also read: Who Plays Roarke on Yellowstone? Meet Josh Holloway
5. Beth Survives a Bomb – Season 3, Episode 10
The season three finale of Yellowstone left the fates of a lot of Beth, John, Kayce, Tate and Monica up in the air. After orchestrated attacks on the family, it is clear someone wants to get rid of the Duttons.
What starts out like a typical day at the office quickly changes in mere seconds. Beth is with her assistant when her assistant finds a box addressed to Beth.
The assistant finds it unusual that Beth received a box within a box. Once Beth realizes what is going on she quickly tries to tell her to wait because she doesn't know what it is. However, she isn't able to stop her assistant in time and a bomb detonates, leaving the office in ruins.
In the meantime, John is attacked on the side of the road and Kayce is ambushed in his office. Tate and Monica also find themselves in danger at the ranch. It isn't until the season four premiere that we find the fates of the characters, in which Beth is able to walk out of her office, though she is severely injured.
6. Beth Meets Summer – Season 4, Episode 6
When Beth arrives at the family home one morning for breakfast she is surprised to find another woman in the kitchen. Thinking this woman is an intruder, Beth grabs a knife and threatens her.
The woman in question is Summer, an activist who struck up a relationship with John Dutton. Summer grabs a bottle of milk to defend herself, thinking Beth must be John's wife. Fortunately for Summer, John enters the room and is able to de-escalate the situation.
After the incident, Beth, John and Summer sit down for an awkward breakfast. Beth continues to hurl jabs at Summer for her beliefs before leaving to start her day.
Also read: Who Plays Summer Higgins on Yellowstone? Meet Piper Perabo
7. Beth Fights Her Attackers – Season 2, Episode 7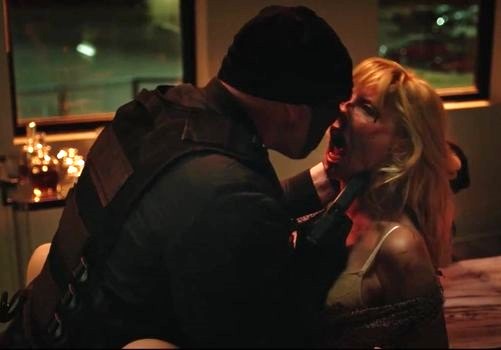 While working late in the office, Beth and her assistant Jason are attacked by masked men sent by the Beck Brothers. While the situation is horrible, it proves just how fearless and strong Beth is.
The attackers beat Beth and Jason before killing Jason. They try to instill fear in Beth but she lets them know she isn't scared of them. Fortunately, Beth was able to send a text to Rip at the beginning of the attack and he shows up in the nick of time.
Beth is able to fight off her attackers until Rip arrives. The two then manage to kill the masked men and Beth is able to make it out alive, though severely beaten.
Also read: Does Beth Dutton Wear a Wig
8. Beth Proposes to Rip – Season 3, Episode 7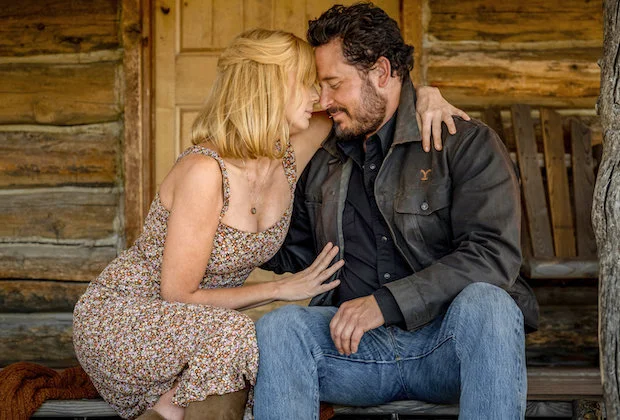 Upon realizing Rip isn't going to propose on his own accord, Beth decides to take matters into her own hands.
After Rip returns home from a hard day at work, Beth asks him to marry her on the steps of their home.
Beth hands Rip a box and tells him "I didn't think you were a diamonds and gold kinda girl." As Rip works out what Beth is up to, she says "It means that you have me, that I'm yours. It means 'come live your life with me,' the only thing I ask is that you outlive me, so I never have to spend another day without you."
Rip simply responds with "I can try and do that" as his way to say yes to Beth's proposal. The moment is romantic and heartfelt, as we get to see Beth and Rip's love for one another.
Also read: 25 Best Beth Dutton Quotes
9. Beth Steps Up for Carter – Season 4, Episode 1
While visiting her father in the hospital after he was shot, Beth meets a young boy named Carter. At the time, Carter's father is dying of heroin addiction.
Carter reminds Beth of a young Rip and she feels a sense of protection over him. The two are able to bond over similar circumstances while sitting on a park bench outside the hospital.
Afterward, she follows him into the hospital so he can say goodbye to his father. Carter doesn't hold back and gives him an honest goodbye, to which Beth responds "I like your style."
Later on, Carter finds himself in some trouble and claims that Beth is his guardian. Beth, knowing that Carter is struggling, decides to step up for him and help him out.
While Beth makes it clear she is not Carter's mother, he finds a new home working at the ranch. He soon becomes an important part of Beth and Rip's lives.
Also read: Who Plays Beth Dutton on Yellowstone? Meet Kelly Reilly
10. Beth and Rip Get Married – Season 4, Episode 10
Throughout the series, fans have watched Beth and Rip grow as a couple. In the season four finale, they finally tie the knot in an intimate ceremony.
Just like them, Beth and Rip's wedding was far from traditional. For the impromptu wedding, Beth kidnapped the priest and wore a short gold dress and a fur jacket.
The picturesque ceremony took place on the ranch overlooking the mountains in front of John, Lloyd and Carter.
The wedding was a heartfelt moment for Rip and Beth. It was an emotional time for Beth and Rip and fans got to witness the deep love they have for each other.
Also read: 10 Best Rip Wheeler Moments on Yellowstone