Our readers support us. This post may contain affiliate links. We earn from qualifying purchases. Learn More
Quality lights are essential to any barn or stable. However, it can be a challenge to know what are the best barn lights.
When looking for lights for your barn or stable, you want ones that are long-lasting, bright, and efficient. In addition, they should be safe from dust, debris, and rodents. Many barn owners choose LED lights as they are more energy-efficient and longer-lasting.
When adding lights to a barn, you will need them in the aisleway, arena, stalls, and outdoors. Different types of light fixtures are needed to accommodate different areas of the barn. Good lighting is key for grooming, riding, and allowing veterinarians to properly examine horses.
Best Barn and Stable Lights
1. TORCHSTAR LED Barn Light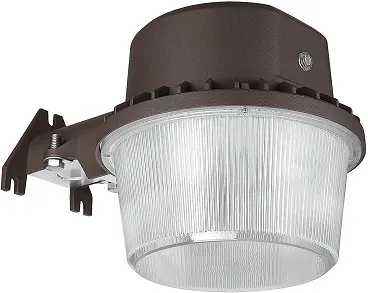 This high-quality 40 watt LED light is great for hanging up outside your barn. It automatically turns on at dusk and turns off at dawn.
With a waterproof design, it is safe to use outdoors. It features aluminum cooling fins that enable stronger heat dissipation, making it safe to use. The design is even corrosion and rust-resistant, allowing it to last years of wear.
This light fixture has AC110-277V input, making it suitable for commercial and residential use. It is bright, long-lasting, and easy to mount.
Why we like it:
40 watt LED and AC110-277V input.
Waterproof and corrosion and rust-resistant.
Durable, bright and easy to install.
2. High Bay LED Arena Lights
Powerful and efficient, these LED lights are specifically designed for use in riding arenas. They are safe to use both indoors and outdoors, making them practical for all types of arenas.
These high bays are shatterproof, UV-Stabilized, and even feature frosted polycarbonate lenses. The LED arena lights are 2,5000 lumens, providing ideal lighting. They provide 120-degree light distribution so you can get the most out of each light.
In addition, they are even dimmable so you can adjust them to your liking. They are safe against dust particles and low-pressure washers from any direction.
Why we like it:
Made specifically for horse riding arenas.
Safe for indoors and outdoors.
Bright, shatterproof and UV-Stabilized.
3. TANBABY Garage Light LED Garage Light
With three times the brightness of other similar fixtures, this light is ideal for aisleways and even small arenas. The LED lights are 60 watt and offer up to 50,000 hours, with excellent heat dissipation.
The three heads are adjustable, so you can easily set them to the position you need. It will provide the appropriate amount of brightness so veterinarians can thoroughly examine horses which is vital for their health.
They are cost-efficient while also being energy-efficient. They come in 60 watt or 150 watt options.
Why we like it:
Budget-friendly and cost-efficient.
The three heads are adjustable.
Bright and ideal for aisleways.
4. Woods L1706 Vandal Resistant Light With Ceiling Mount
This fixture features a durable metal cage, making it safe to use in horse stalls. It has weather-tight construction that makes it safe to use both indoors and outdoors.
The light has a tempered glass covering, which does not lower the chances of it shattering. In addition, if it does break, the edges will be less sharp than normal glass, making it safer. With a 150 watt bulb, it provides an ideal amount of lighting for a stall.
It can easily be mounted to the ceiling of stalls, keeping it out of reach from your horse. This fixture is also great for outside areas or even tack rooms.
Why we like it:
Metal cage with tempered glass covering makes it safe for horse stalls.
Weatherproof design makes it ideal for indoor or outdoor use.
Easy installation.
5. 8FT LED Indoor Lights
These hardy lights are great for using in your riding arena or even in the aisleway. The 72-watt bulbs have low power consumption while still being bright.
The V-shape 270-degree angle design sheds more light, which is great for large spaces. They have easy installation, which makes your life much easier. The fixtures are even linkable, reducing installation time and costs.
These lights have a long lifespan, capable of lasting up to 60,000 hours. They are bright, energy-efficient, and will save you money in the long run.
Why we like it:
Great for riding arenas.
Easy to install and fixtures are linkable.
Low power consumption with a long lifespan.
6. HYPERLITE LED High Bay Light
This bright high bay fixture is great for hanging in aisleways. With a 200 watt bulb, they give off excellent illumination.
These fixtures are super easy to install, as the whole process can be done in just a few minutes. It is capable of working in extreme cold and heat, making it ideal for all-year-round use no matter your climate.
To fit your needs, the lights are also dimmable, which means you could even use them in large horse stalls as well. They are lightweight, heavy-duty, and can be used both indoors as well as outdoors.
Why we like it:
Easy to install.
Safe to use indoors and outdoors in extreme temperatures.
The lights are dimmable.
What Type of Light is Best For Me?
When it comes to choosing a light for your barn there are many factors to take into consideration including location, type of light bulb, wattage, and brightness.
There are several different types of light bulbs available on the market including LED, fluorescent, incandescent, halogen, and metal halide bulbs. Many horse owners prefer to use LED lights for their barns as they are generally an overall better option.
LED lights have a longer lifespan compared to other light bulbs. They are also more energy-efficient, saving you money in the long run. In addition, LEDs operate well in both hot and cold weather while providing bright, steady light.
Metal halide bulbs are also a good option for arenas and outdoors as they are very bright. However, it can take a couple of minutes to reach full brightness. Fluorescent light bulbs can be a good choice as they are cost-effective and long-lasting, however, they can be expensive and contain mercury.
Incandescent bulbs are outdated and often don't provide a bright enough light for a barn setting. Halogen light bulbs do have a bright light and tend to be long-lasting, however, they can get very hot which can make them a fire hazard around flammable materials.
Stalls
When putting lights in stalls, be sure to put them somewhere where a horse won't break them if they buck or rear. If you are limited on space, then be sure to put a plastic or metal cover on the light to protect it so it won't shatter in case it does get hit.
In addition, you want to make sure there are no exposed wires that a horse or rodent could chew. Lights for stalls do not need to be as bright as arena, outdoor or aisle lights.
Arena
Arenas need large, bright lights in order to provide adequate lighting. Depending on the size of your arena, you will likely need anywhere from 8-18 light fixtures. T8 or T12 LED strip light fixtures are often best.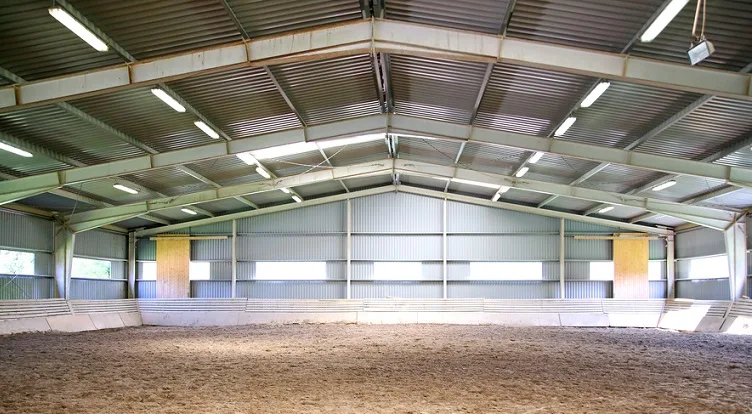 Aisleway
For the aisleway, you can often use similar lighting to arenas, but it doesn't need to be as bright or big depending on the size of your barn. Oftentimes, a strip light or high-bay light fixture will suffice.
Outdoors
It is also important to have outdoor light fixtures in your barn as well. Be sure that all exterior lights are waterproof. Having motion-activated outdoor lights can also be practical and work as a good safety deterrent. In addition, solar-powered lights can also be a smart choice for exterior lighting.
FAQs
How Many Lights Do You Need for a Riding Arena?
You will need multiple lights in your arena to provide adequate brightness. However, how many lights you will need to vary by the size of the arena and the type of fixtures. For strip lights or high bay lights, you will likely need eight fixtures for a 60′ x 120′ arena, 12 fixtures for an 80′ x 160′ arena, and 18 fixtures for a 100′ x 200′ arena.
Are LED Lights Safe for Horses?
Yes, LED lights are safe for horses and are actually the preferred choice for many professionals to use in their barns. They provide the most natural-looking light, which is particularly ideal for horses. There is also less risk of fire with LEDs compared to other varieties.
Can Horses Sleep With Lights On?
Horses that are used to sleeping in total darkness may have trouble sleeping with lights on. However, horses can adapt to sleeping with the lights on.
In fact, some breeders may leave the lights in late November to early December to induce early ovulation in broodmares. This is a common practice among racehorse breeders as all Thoroughbreds share the same birthday.