This post may contain affiliate links. We earn from qualifying purchases. Learn More
Bareback riding, an equestrian tradition traced back to antiquity, offers a unique bond between horse and rider, unfiltered by saddles or tack.
However, maintaining comfort, control, and safety is crucial, and this is where bareback saddle pads prove invaluable. These products not only protect the horse's back but also offer a secure grip for the rider.
But how do you find the perfect fit in a saturated market?
Let's explore the best bareback saddle pads currently available, taking into account their material quality, rider comfort, grip security, durability, and overall value.
Our objective? To assist you in making an informed decision that will transform your bareback riding into an unmatched experience.
Best Bareback Saddle Pads
1. Parelli Natural Horsemanship Pad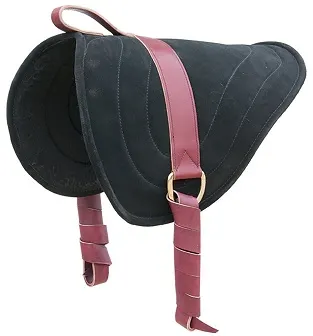 Pat and Linda Parelli are famous for their natural horsemanship program. To help equestrians improve their riding skills and better connect with their horses, they have crafted their very own bareback pad.
The suede leather surface on the pad allows for superior grip as you ride, allowing you to focus on your position. To keep your horse comfortable, the underside features a medical felt underpad. The sturdy built-in leather handle allows you to practice different skills while riding.
The two d-rings with latigos fit with western cinches, allowing for a secure and stable fit. With quality leather and stitching, this durable pad allows you to develop an independent seat.
2. ThinLine Comfort Plus Bareback Pad Black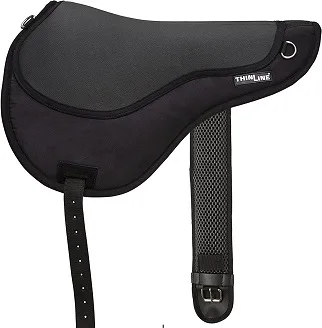 With shock-absorbing comfort and top-notch stability, this bareback saddle pad gives you a secure seat as you ride. The lightweight design is sleek and allows you to get a good feel of your horse.
The natural seat is non-slip and breathable, so you don't have to worry about it sliding around on your horse's back. For your benefit, the bottom is faux suede with PVC on top. This unique design reduces the bounce factor, making your ride more enjoyable.
The billets are reinforced with leather and a non-slip girth is included. The girth has a total reach of 28-55 inches, allowing it to fit different sized horses.
3. Mustang Manufacturing Company Suede Bareback Pad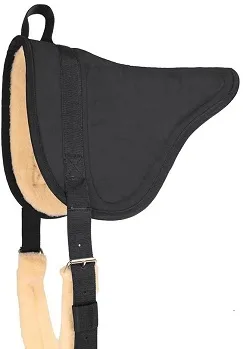 If you are looking for an affordable bareback pad, this one is a great choice. Both you and your horse will appreciate the practical and comfortable build.
The inside lining is a soft fleece that provides your horse with support and comfort. To allow for a secure seat, the outside is a durable, tough suede. A convenient handle is sewed onto the front to let you practice different skills.
A soft yet sturdy fleece girth is included to keep your pad in place as you ride. It is able to fit horses of different sizes.
4. Intrepid International Comfort Plus Western Bareback Pad
For ultimate comfort, this pad offers a natural seat with padded cushioning. For a luxurious look and feel, it has an overlay of tuck and roll short nap fleece.
To give you a little extra grip to help you ride, the seat has plush Velour with micro suede under the leg. The breathable synthetic suede fabric of the saddle contours to the horse's back for an optimal fit. For additional cushioning on the withers, there is high-density foam padding.
D-rings are conveniently placed on the pommel and cantle, allowing you to attach any items you need for out on the trails. The girth fits sizes 60 to 86 inches and includes an elasticized system to help keep the pad in place. In addition, the girth is made from breathable material to keep your horse cool.
5. Best Friend Eastern Style Bareback Saddle Pad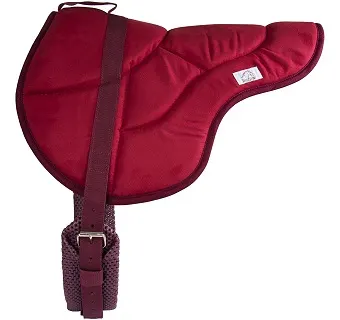 For an improved seat as you ride, this bareback pad features synthetic suede for better gripping. The inside is filled with high-density foam for lasting comfort.
To keep your horse cool and comfortable, the inside lining is a non-slip breathable material. The girth is also a breathable material and fits sizes 53 inches – 76 inches. It features a contoured design to fit snuggly to your horse.
For your convenience, it is very easy to clean, allowing you and your horse to stay comfy. It comes in ten fun colors, allowing you to stand out as you ride.
6. Tough 1 Premium Breathable Bare Back Pad
Whether for in the arena or out on the trails, this pad will keep both you and your horse comfortable and cool. Its simple yet effective design provides you a secure seat so you can focus on your position.
The main body is made of breathable non-compressing mesh and includes a suede patch with silicone dots for top-notch grip on the seat. Not only does this design give you a secure seat, but it will also keep you cool. The girth is also breathable silicone, allowing the pad to securely stay in place. With plenty of room for adjustment, it can fit most horses and ponies.
There are two sets of d-rings at the front and also one in the back. This allows you to attach a breast collar or saddlebags for trail riding.
7. Toklat Microsuede Bareback Pad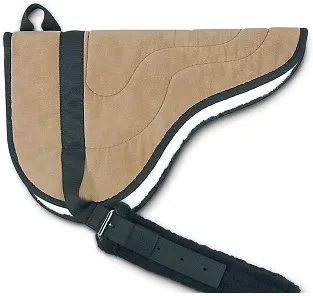 For ultimate comfort and durability, this pad is a great option at a budget-friendly price. It gives you ideal contact for a close seat as you ride.
The ultra-soft microsuede top gives you a non-slip base, so you will feel steady and secure. For additional support and comfort, the inside of the pad has a fleece lining. The adjustable girth is also lined fleece, which allows for a soft and snug fit.
This pad is designed to fit most horses and ponies for your convenience. In addition, it is also available in five different colors.
8. Best Friend Western Style Bareback Saddle Pad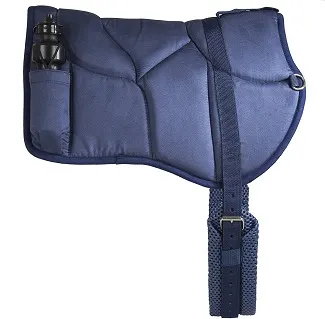 This western-style bareback pad is the perfect option for avid trail riders. Not only does it provide excellent comfort, but it is also easy to clean and care for.
The synthetic suede on the top allows for a better gripping seat, keeping you secure no matter where you go. For support and comfort, it has high-density foam in the middle. The inside is made from a non-slip, breathable material, preventing the pad from sliding around.
In addition, the adjustable girth is also the same non-slip material and fits sizes 60-86 inches.
The contoured design allows for a snug and secure fit on your horse. For your convenience, it includes two d-rings and two pockets to pack all your trail necessities. It comes in five fun and vibrant colors.
Benefits of Bareback Horse Riding
Horse riding bareback has a myriad of benefits that can help enhance the bond between a horse and its rider, improve riding skills, and provide a unique sensory experience. Here are a few key benefits:
Improved Balance and Coordination: Without a saddle to rely on, riders must engage their core and lower body muscles more than usual to maintain balance. This can help to improve overall balance and coordination skills.
Enhanced Communication: Riding bareback allows for more direct contact with the horse. Riders can feel the horse's muscle movements and breathing, which can improve the ability to understand and respond to the horse's cues, enhancing communication.
Strengthened Core Muscles: The increased need for balance when riding bareback gives your core a good workout. This can help strengthen your core muscles over time.
Better Riding Skills: The improved balance and coordination gained from riding bareback can translate into improved riding skills when using a saddle.
Increased Confidence: Mastering the art of bareback riding can provide a significant confidence boost. It can make riders feel more in sync with their horses and confident in their abilities.
Deepens Bond with the Horse: The closer physical contact experienced during bareback riding can help to deepen the emotional connection and trust between horse and rider.
It's important to remember, however, that bareback riding should be undertaken with care. Without the cushioning and security provided by a saddle, both horse and rider can be at greater risk of discomfort or injury. Using appropriate equipment like bareback pads can help reduce this risk.
Bareback Riding and Saddle Pads FAQS
Is bareback riding safe for the horse?
A: Bareback riding can be safe for the horse when done properly. The rider needs to ensure they're not sitting too far forward or back, which could cause discomfort or even injury to the horse. Additionally, riders should have balanced weight distribution to avoid pressure points.
Using a bareback pad can help distribute the rider's weight more evenly.
Can beginners ride horses bareback?
A: While it's possible for beginners to ride bareback, it's generally recommended to first learn to ride with a saddle. Riding bareback requires excellent balance and strong core muscles.
Beginners may find it challenging and potentially risky. However, with proper guidance and gradual practice, a beginner can certainly learn to ride bareback.
What are bareback saddle pads, and why should I use one?
A: A bareback saddle pad is designed to provide a cushioned layer between the horse's back and the rider. They help enhance comfort for both the horse and rider, offer a more secure grip, and distribute the rider's weight evenly.
Using a pad can reduce the risk of causing pressure points or discomfort to the horse.
How do I choose the right bareback saddle pad?
A: When choosing a bareback saddle pad, you should consider several factors. Firstly, the pad should fit your horse properly and should not cause any discomfort.
The material is also crucial – it should be durable and comfortable for both horse and rider. Look for non-slip surfaces that will provide better grip and stability.
Lastly, consider the design of the saddle pad. It should be easy to attach and remove, and easy to clean and maintain.
Can I use a bareback pad with stirrups?
A: Some bareback pads come with stirrups, but they should be used with caution. The use of stirrups on a bareback pad can put concentrated pressure on a small area of the horse's back because there's no rigid tree (as found in a saddle) to distribute the weight.
This could lead to discomfort or injury for the horse, so always consult with an experienced horse professional before using a bareback pad with stirrups.
How do I clean a bareback saddle pad?
A: Cleaning methods can vary based on the material of your pad. Many pads can be simply brushed off after use and occasionally washed with mild soap and water.
Always check the manufacturer's cleaning instructions to ensure you're caring for your pad correctly. Regular cleaning will increase the lifespan of the pad and keep it comfortable for your horse.