This post may contain affiliate links. We earn from qualifying purchases. Learn More
Not sure what to get the barrel racer in your life? These thoughtful gifts will put a smile on any cowgirl's face.
From cute apparel to protective boots for horses, these are practical gifts that barrel racers will actually enjoy. There are a variety of items to meet budgets of all sizes. There are even customizable products that will make for a truly meaningful present.
Here are the Best Barrel Racing Gifts
1. Barrel Racing Love T-Shirt
Whether for wearing to the barn or rodeos, this adorable shirt makes a perfect addition to any cowgirl's wardrobe. The word love is cleverly spelled out with some boots, a horse heart, barrels, and horseshoes.
The shirt comes in 9 different colors and is available in women's, men's, and youth sizes. It has a lightweight, classic fit that makes it very comfortable to wear.
2. Charmayne James on Barrel Racing (Book)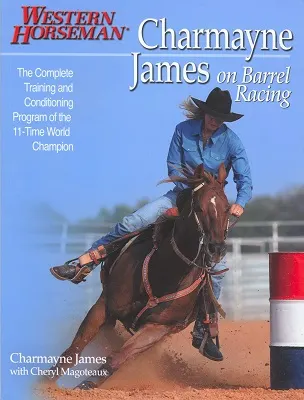 Charmayne James is one of the greatest barrel riders in history, with 11 world titles. She is a member of the Pro Rodeo National Hall of Fame and the first barrel racer to make over $1 million in earnings.
Together with Western Horseman, James has written a book about her expertise in this fast-paced sport. This insightful book shares her training and conditioning methods that helped her achieve her numerous world titles.
Cowgirls of all experience levels can learn important tips to improve their ride from James. This book makes for a wonderful gift to give on Christmas morning.
3. Tough 1 Extreme Vented Sport Boots Set
A good pair of boots can make a big difference for a barrel horse. These sport boots offer great protection for barrel horses.
The boots come in a set of four to provide all-around support. With a new and improved design, the boots are form-fitting, lightweight, and not bulky. They are made of air-flow perforated neoprene which lets the leg breathe while releasing heat. These boots have three durable strong "quick grip" closures that make them easy to put on.
There are eight different fun colors these boots come in and they are available in four sizes. They are easy to clean and are something both horses and riders will appreciate.
4. Women's Barrel Racing Hat
This adorable ball cap is great for wearing to the barn or for everyday wear. It is particularly great for hiding messy barn hair.
The distressed cap features an embroidery of a horse barrel racing. There are 21 thread colors and nine hat colors to choose from so you can get the perfect option for your favorite cowgirl.
The 100% cotton hat comes with a faux leather buckle to make for easy adjustments. The design can also be put on other styles than a distressed women's ball cap.
5. Barrel Racer Glitter Tumbler with Straw
This colorful tumbler is great for taking to the barn, horse shows, school, or work. It features a horse and rider silhouette with a cheetah print barrel.
There are three different colorful glittery patterns to choose from including blue, purple, and pink. The tumbler comes in either metal or acrylic, both of which are durable.
To make it more special, customizable text such as a name can be added to the tumbler. It even comes with a reusable straw as well.
Also Read: 25 Best Gifts for Girls Who Love Horses
6. Personalized Rodeo Barrel Racing Duffel Bag
This personalized rodeo barrel racing duffel bag is great for taking to horse shows or for weekend getaways. It features an embroidered barrel racer silhouette and can be customized with any name.
The spacious bag can hold clothes, a pair of boots, a hat and even some equipment as well. For easy carrying, it features both a shoulder strap and two handles. There is also an outside pocket for additional storage.
The embroidery for both the horse and name are available in a wide array of colors. This sturdy bag will last even the toughest cowgirls.
7. Customizable Barrel Racing Horse Glitter Keychain
This adorable keychain makes a thoughtful gift for any barrel racer. It is great for using with keys, luggage, backpacks or purses.
The silhouette of the barrel racer comes in 53 gorgeous glittery colors. In addition to the silhouette, the keychain also includes a small tassel and a horseshoe. A name can be added to one or both sides of the silhouette.
This hardy keychain is made from vinyl, so it won't wear out easily. It would make a wonderful stocking stuffer for Christmas.
8. Barrel Racing Sweatshirt
This cozy sweatshirt is great for wearing around the barn or for everyday wear. It has a simple but chic design with the phrase "Eat. Sleep. Barrel Racing. Repeat."
This loose-fitting hoodie is made from 50% cotton and 50% polyester, making it super comfortable to wear. There are four classic colors this sweatshirt comes in. It is also available in eight different sizes, allowing for a perfect fit.
9. ARIAT Women's Floral Stitch Berry Concho Belt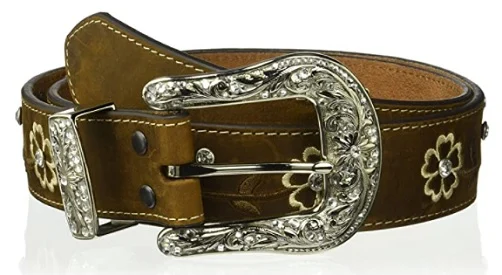 No pair of jeans is complete without a stylish belt. Included in our best cowgirl gift ideas guide, this fashion-forward belt is the perfect accessory for wearing to rodeos or a night out dancing.
The belt is 100% leather, so you know it is built to last. It features a beautiful flower design that includes delicate rhinestones on each flower.
The gorgeous silver buckle makes for a chic statement piece. However, it is detachable, allowing for a custom buckle to be added. It adds just the right amount of bling to any outfit.
10. Wrangler Women's Willow Mid Rise Performance Riding Jean
A cowgirl can never have too many pairs of riding jeans. These high-quality Wrangler jeans keep cowgirls looking and feeling their best while in the saddle.
With a No-Gap Waistband, they offer more coverage while riding with a higher fit in the back and lower in the front. The boot-cut style fits comfortably over any cowboy boots. They have flat seams which allow for a more comfortable ride.
These durable and comfortable jeans have a mid-rise fit that sits above the hip. They are a staple for any barrel racer's wardrobe.
Also Read: 24 Best Gifts for Horse Lovers
11. Custom Horse Stall Name Plate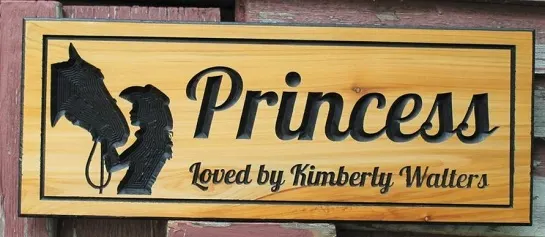 Whether for taking to horse shows or keeping at the barn, a stall nameplate makes a memorable present. It has incredible attention to detail that will not go unnoticed.
This cedar wood nameplate is deeply engraved to give it the beautiful appearance of a 3D effect. There are six images to choose from, including the silhouette of a cowgirl kissing her horse. Both the names of the horse and rider can be engraved on the stall plate.
The wood is rot-resistant and is sealed and protected for outdoor use. There are even five different elegant fonts to choose from.
12. Pivo Auto-Follow Camera
We've saved the best and most expensive for last! The Pivo Pod is an auto-follow camera mount designed to follow a horse and rider.
The Pivo has so many great settings such as hands-free calling and live video streaming. It is perfect for barrel racing to watch back their riders in never before detail and see where they're going wrong. The Pivo isn't just good for barrel racing, but also for any menage type riding, creating YouTube videos, or pretty much any type of video you want the camera to follow you.
Auto-Follow cameras such as the Pivo are becoming very popular and they make a great luxury gift for barrel racers. To learn more about the Pivo and Pivo alternatives by companies such as Move N See, read our best auto-follow cameras for equestrians guide.
Also, visit the Pivo website for more details.