If you live in a particularly cold environment, winters can take a toll on your barn. Fortunately, there are some great barn and stall heaters for horses and livestock that will keep your animals warm even in frigid temperatures.
Barn and stall heaters work to warm specific spots in your barn, keeping your animals cozy and preventing water buckets from freezing over. Most barns are poorly insulated, making it difficult to heat with most forced air heating systems. Infrared heating systems safely and efficiently work to heat stalls and barns.
Benefits of Using Infrared Heaters Versus Forced Air Systems
Infrared heating systems produce comfortable, radiant heat. They heat directly down on a specific area instead of heating an entire space.
Infrared heating systems are great for walkways, stalls, washracks, and even riding arenas. They focus the heat in that particular area, instead of sending it through the entire building. Forced air systems move the air around the space, which would require a lot of work as barns often have large, open designs. In addition, there are often more places for the heat to escape to the outside, leading to a high electric bill.
Forced air systems can also spread dust, mold, and moisture in the air, which can lead to an unhealthy environment. If you are wanting to heat your barn during winter, infrared heaters are a much more practical option than forced air systems in most cases. Infrared heaters save energy and are more efficient.
Best Barn and Stall Heaters
1. Kalglo Infrared Radiant Heater
Whether for barns, stalls, or wash racks, Kalglo is a leader in providing quality heaters for horses and livestock. This easy-to-install system simply operates with an on and off switch, with no need for a thermostat.
The controls allow you to switch the settings from off, low, medium, or high, depending on how cold it is. It heats your horse's stall or other key areas of the barn, instead of the whole thing, saving you money. Without any visible light, it is able to provide a large, radiant heat pattern.
This heater features a timer switch, allowing you to turn it on for a certain amount of time. You don't have to worry about setting it up in your wash rack, as splashing will not damage the heating element. The durable metal sheath design will last for years of wear.
Why We Recommend This Product:
Ideal to use for sick horses or newborn foals.
Great for keeping show horses warm on particularly cold days.
Easy to install and safe to use in wash racks.
2. NewAir Hardwired Electric Garage Heater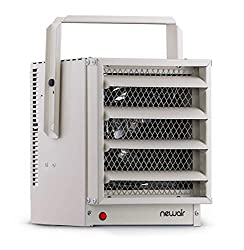 Our third choice is this wall-mounted electric garage heater. Although it's meant to be wall-mounted, you can adjust somewhat and use it on the ground. The heater has an automatic heat control system so it can modify the temperature to prevent the animals from overheating.
Why We Recommend This Product:
Easy to install.
Produces a lot of heat.
Con:
Quite noisy when running.
3. Barn Pros Infrared Radiant Heater

This simple yet effective heater provides efficient spot heating. It is specifically meant for grooming stalls, but is also practical for sick horses, newborn foals, and show horses.
Due to the corrosion-resistant materials, you can install it indoors and also outdoors. With an easy-to-install design, you can hang it up or mount it on a wall. It is a great affordable option if you need to heat a small space.
Why We Recommend This Product:
Ideal for grooming stalls.
Can be put indoors or outdoors.
Budget-friendly option.
4. Comfort Zone Digital Fan-Forced Ceiling Heater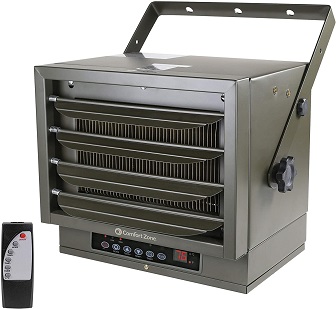 An ideal digital heater for small barns or indoor stable blocks. Made from heavy gauge steel, it can withstand frequent temperature fluctuations in poorly insulated areas. Additionally, the remote control makes it easy to adjust the settings and custom them to your space. An in-built sensor will automatically stop the fan from overheating to prevent heat damage.
Why We Recommend This Product:
Overheat protection sensor.
Fan-forced design to distribute heat throughout the room.
Con:
5. Enerco Gas Infrared Heater
This gas-powered infrared heater is designed to heat large, drafty buildings, including barns. It is clean burning and requires no electricity.
With an easy-to-install design, it can suspend it with a chain or mount it at a 45-degree angle. It can be used to heat stalls or specific areas of the barn. You can easily install multiple units to heat large areas, such as arenas.
This heater is quiet and draft-free. It requires little to no maintenance and will last for a long time. It includes a millivolt thermostat, allowing you to set it to your preferred temperature.
Why We Recommend This Product:
Ideal for barns and stalls.
Can be hung up or wall-mounted.
Quite, draft-free and includes a handy millivolt thermostat.
6. Stiebel Eltron 074058 120-Volt 1500-Watts Heater
Built to be mounted against a wall, the Stiebel Eltron heater is well built with reliable performance. Perfect for an individual horse stall or very small barn, it runs quietly and has a built-in thermostat.
Why We Recommend This Product:
Quiet
Good energy efficiency
Con:
7. Modine Hot Dawg Heater
This handy heater operates at 80% thermal efficiency, making it great for keeping your barn or arena warm. Not only is it easy to install, but it is also quiet and compact.
This heater operates by your choice of liquid propane or natural gas, with direct spark ignition. With a versatile design, it allows for right or left-hand controls and installation, depending on your needs. The permanently lubricated motor allows for smooth running and little to no maintenance.
With sturdy brackets, you can install it on the wall and out of the way. It is certified for residential, commercial, and industrial use.
Why We Recommend This Product:
Great for barns, arenas, and workshops.
Quite, efficient, and easy to install.
Runs off of natural gas or propane.
FAQs
Are Electric or Propane Heaters Better for Barns?
Both electric and propane heaters are suitable options for heating barns. They both have benefits and most people base their decision on personal preference.
Electric heaters are easy to install and with infrared light, they are often energy efficient. Propane heaters can be a reliable option if the power goes out, as they don't rely on electricity.
At What Temperature Do Horses Need a Heater and/or Blanket?
Most people blanket horses when the temperature gets into the 30s or below. However, at 0 degrees, you should either blanket your horse and/or use a heater.
To keep your horse healthy and comfy, it is important they have some sort of blanket or heat source in frigid temperatures. Older horses and foals are especially sensitive to the cold, so it is important to keep them warm in winter.
Also read our guide to the best barn fans to keep your horses cool in the summer.