Whether you are monitoring a sick horse or a pregnant mare, cameras can be a beneficial addition to any barn.
All of the best barn cameras we have chosen below are ideal for keeping an eye on your pregnant horse during foaling season, your cattle or livestock during calving season, and keep an eye out for intruders.
There are many benefits of having cameras in your barn. They allow you to oversee your horses or livestock during calving or foaling season, and watch for intruders.
Barns are high targets for thieves, as they are full of expensive equipment, so cameras can give you a sense of security.
What to Look for in Barn & Foaling Cameras
When choosing a barn or foaling camera, you want one with a high-quality picture with night vision. Having night vision is vital for being able to monitor your horses at all hours, especially when you have a mare ready to give birth at any moment.
The camera should ideally be waterproof, as barns are often exposed to the elements. It is also best to go with wireless cameras, to save you the hassle of hooking up wires all over the barn.
Having a camera that syncs with an app you can download to your phone is an extra bonus, as you can monitor your horses anywhere.
5 Best Wireless Barn & Foaling Camera Systems
Barn Owl Solar Powered Wireless 4G Barn Camera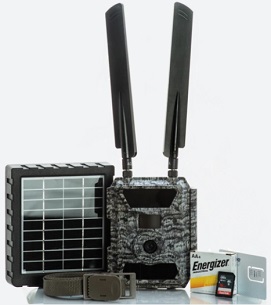 This wireless barn camera allows you to view your horses at any time on your phone as it transmits photos and video by using a nearby cellular network. Its 4G capabilities give it long-term surveillance in rural areas with real-time awareness, with night illumination.
The barn camera comes with the option to have a narrow or wide lens. If you are looking to cover as much horizontal distance as possible, then you can choose the wide lens option. For high-quality coverage of a small area, the narrow lens is your best choice.
The camera uses 12 AA batteries, so you don't have to worry about hooking up a bunch of wires. A solar panel is also included for additional power.
Its unique design features 3G/4G/LTE connectivity, GPS location reporting, video transmission, recording, and dual antennas for improved reception. Photos or videos can be set to be triggered by motion, by a timer, or controlled remotely from the Barn Owl web app.
Why we like it:
Wireless and runs off nearby cellular networks, which is ideal for rural areas.
Available in wide or narrow lenses.
The barn camera can be set to be triggered by motion, a timer, or controlled by an app on your phone.
Riverwind Supply High Definition Wireless Barn Camera System
With the ability to choose from one to eight cameras, this system is ideal for your barn monitoring needs all day long. The cameras are available in 720p with an 80-degree view of field or 1080p with a 103-degree view of field, giving you quality footage of your barn.
The system functions by connecting to the internet in your home via antennas, with distances up to three miles line of sight house to the barn.
You are able to watch footage of your barn from your phone, tablet, or computer, ideal for calving or foaling season. Additional features can be added on including recording and one-way audio.
Why we like it:
The system works with anywhere from one to eight cameras, with up to a three-mile distance connection from your home to your barn.
High-quality live streaming up to 1080p on your phone, computer, or tablet.
Wireless set up with additional features such as recording and audio available.
ANNKE Lite Surveillance Camera System
For both indoor and outdoor use, this waterproof camera set is ideal for any barn setup. The DVR has the ability to connect up to eight cameras (includes four) with 1080p live streaming both day and night.
The unique motion detecting system allows you to customize your own motion detection zone to help minimize false alarms. Livestream video is available all times with your phone, tablet or computer.
With the ability to play back up to 98 days of recordings, you can easily look back to view how often your foal is nursing or how long your horse has been laying down.
Why we like it:
Four cameras with 1080p live streaming day and night.
Customizable motion detection zone.
Watch on your phone, tablet, or computer, with the ability to record up to 98 days.
Zumimall Wireless Outdoor WiFi Security Camera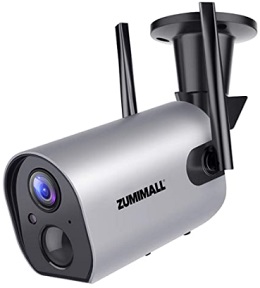 This wireless camera features a rechargeable battery with enhanced antennas, so you don't have to deal with the hassle of setting up wires. The camera is waterproof and vandal resistant, which is great if your horses live in a stall or pasture.
The camera has a 120-degree view and 1080p streaming both day and night, with the ability to adjust the night vision sensitivity. It connects to WiFi within a 30-meter radius, or further with a WiFi extender. Two-way audio allows you to hear what is going on at your barn and talk to anyone that is there.
Video is recorded any time motion is detected. You can also watch a live stream on your phone, tablet or computer, with the ability to set up multiple accounts.
Why we like it:
Wireless with a rechargeable battery.
1080p live stream day and night with 120-degree viewing.
Multiple accounts can watch it on their phone, tablet or computer.
Wansview Outdoor Security Camera
At a budget-friendly price, this barn and farm camera is waterproof and vandal-proof, which is perfect for setting up anywhere in your barn. The 1080p HD with a two-megapixel lens gives you a high-quality live stream of your horses both night and day.
The camera connects to WiFi or an ethernet cable, with the option to use a WiFi extender if you don't have it in your barn. In addition to the live streaming working with your phone, tablet, and computer, it also works with your Alexa.
The barn and foaling camera also has a motion detection alert, with the option to set up a timer for what time of the day you want notifications sent
Why we like it:
Budget-friendly.
Waterproof with 1080p HD live streaming video day and night.
Multiple users can watch it on a phone, tablet, computer or Alexa.
Supplementary Product: Night Watch Smart Halter
If you are looking for an additional product to use with a camera or an alternative, the Night Watch Smart Halter is the way to go. This one-of-a-kind halter can let you know your horse's well-being while you are at home.
The crown piece features a monitor that tracks your horse's heart rate, respiration, activity level, distress, and GPS location. It is a wonderful product for checking on your sick horse or mare in foal.
With the ability to connect to WiFi or cellular, data is sent directly to your phone, giving you live updates on your horse.
Alerts are sent to your phone if the halter detects any problems with your horse. Made from high-quality leather, the halter is water and dust resistant, while also being breakaway so your horse is always safe. The halter is available in Cob, Standard, and Oversize.
Why we like it:
Gives you live health updates on your horse, sending notifications when something may be wrong.
Horses can wear it at home or away.
Ideal for pregnant, sick, or injured horses.