Our readers support us. This post may contain affiliate links. We earn from qualifying purchases. Learn More
We'd all love to have a barn with AC in the summer to keep it cool, but unfortunately, that is just not practical. Luckily, barn ceiling fans can be a great option for keeping your horses cool when temperatures get hot.
Though many people opt for box fans for their barns since they are more affordable, they do not last as long and do not provide as much airflow. Barn ceiling fans are a great alternative to box fans as they are long-lasting, powerful, safe, and will not get in the way. They are worth the investment as they cool air over a large area and are easy to operate as well as maintain.
Not only do fans help keep horses and people cool, but they can also help keep pesky bugs at bay. Fans also help improve air circulation and bring in fresh air, which allows for a healthier environment.
Using ceiling fans eliminates the risks of having electrical cords in potentially hazardous places. When you use box fans, the electrical cords may be in reach of horses, which can lead to devastating effects if your horse gets ahold of it.
Ceiling fans can be controlled by light switches, pull strings, or even remotes. Unlike other fans, they will not accumulate as much dirt, which can be a safety hazard.
Best Barn Ceiling Fans
1. Minka-Aire Xtreme 65 Inch Outdoor Ceiling Fan

This large, industrial ceiling fan is great for aisleways, arenas, and even outdoor sheds. It is safe to use both indoors and outdoors, making it versatile and great for any setting.
For high-volume air movement, it features nine sturdy blades. The fan rotates in reversible directions, allowing you to change it based on the season. It has six different speeds that you can easily control by using a remote.
The fan is quiet while it operates, so it will not bother your horses. The DC motor is energy-efficient and powerful, as it has the ability to cool down large areas.
Why We Recommend This Product:
Durable, safe for indoors or outdoors and large with a powerful, energy-efficient motor.
Has nine sturdy blades for high-volume air movement.
Has six speeds that can be operated by a remote.
2. hykolity 72 Inch Industrial DC Motor Ceiling Fan With LED Light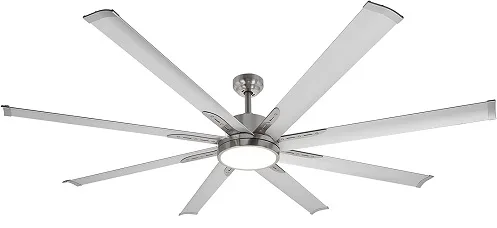 Whether for your arena or aisleway, this fan provides optimal airflow. It even features an LED light, so you don't have to install additional lighting.
The fan is damp rated and also features eight blades for high-volume air movement. It is also reversible, so you can adjust it according to the season. The DC motor is energy-efficient and is safe to use both indoors and outdoors.
The fan features a remote that allows you to control it at six different speeds and set it on a timer. In addition, you can adjust the brightness of the light with the remote as well.
Why We Recommend This Product:
Durable, large, energy-efficient and safe for indoors or outdoors.
Includes an LED light that can be controlled by brightness.
Has six speeds and can be set on a timer with a remote.
3. Big Ass Fans 3025 10ft Commercial Indoor Ceiling Fan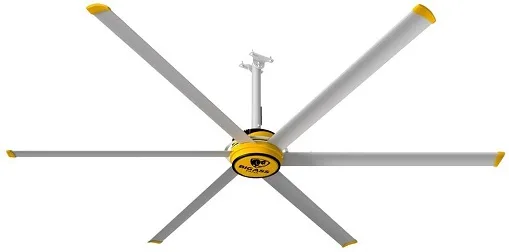 Great for arenas or open barns, this hardy fan provides serious air movement needed for large spaces of up to 55 x 55 feet. It includes an easy-to-use wired wall controller so you can conveniently turn it on or off and adjust the speed.
It has a gearless direct-drive motor that is not only quiet, but also keeps your energy costs down. The six patented, anodized-aluminum Mini-Ellipto airfoils maximize performance and efficiency. The blades even feature cuffed winglets which help reduce drag.
It can easily be adjusted according to the seasons to provide a comfortable environment no matter the time of year. The unique permanent magnet design reduces power consumption, saving you money.
Why We Recommend This Product:
Durable, powerful, efficient and provides air movement for spaces up to 55 x 55 feet.
Quiet, energy-efficient and has different speed settings.
Cuffed winglets on blades help maximize performance and reduce drag.
4. 60″ Turbina Industrial Outdoor Ceiling Fan
This powerful fan is ideal for stalls, aisleways, and even sheds. It is safe to use indoors and outdoors, which is ideal for any barn setting.
The three metal blades are durable and feature a brushed nickel finish. It is also UL listed for damp locations. The fan has six different speeds that you can control easily from a remote.
It is easy to install and quiet, so it won't bother your horses. It provides excellent airflow even on the hottest summer days.
Why We Recommend This Product:
Durable, effective and safe for use indoors and outdoors.
Has six different speeds that can be controlled by a remote.
Easy to install and quiet.
5. VES 60″ Industrial Outdoor Barn Ceiling Fan
This durable fan is great for use in stalls, aisleways, or sheds. It is safe for use outdoors or indoors and is even moisture resistant.
The three durable blades allow for ideal airflow. The fan features a button control wall mount for ease of use. It has three speeds and is easily reversible for when the seasons change. The J-hook ceiling mount is easy to install and holds up well over time.
Why We Recommend This Product:
Easy to install and provides optimal airflow.
Indoor and outdoor safe while also being moisture resistant.
Has three different speed settings.
6. Westinghouse Modern Industrial Style Ceiling Fan
This efficient fan is great for installing in stalls or aisleways. It has the capability to circulate air more powerfully than traditional ceiling fans.
The high-quality motor delivers a powerful performance all while being quiet. A convenient wall mount allows you to operate the fan at five different speed settings. It has three sturdy blades made out of white steel that are sleek and efficient.
To adjust accordingly for different seasons, it does have a reverse setting. It is easy to install in different settings and comes at a budget-friendly price.
Why We Recommend This Product:
Efficient, powerful and quiet.
Has five speeds you can easily control from a wall mount.
Durable, sleek and budget-friendly.
Also Read: 5 Best Horse Barn & Stall Fans
Frequently Asked Questions
What Should I Look for in a Barn Fan?
When purchasing a barn fan, it is best to look for one that is rated for commercial, industrial or agricultural use. The motor should be fully enclosed to prevent any dust from getting trapped, which can be a fire hazard. If you plan to use a fan outdoors, look for ones that have a UL507 certified motor.
Is it Safe to Leave a Fan Running All Day?
Most fans are safe to use all day long. Ceilings fans are designed to run for several hours, so you can safely leave them on for extended periods of time.
Can You Place a Fan in a Horse's Stall?
When placing a fan in a horse's stall, you want to make sure you put it somewhere they can't mess with it. In addition, make sure the electrical cords are entirely out of reach as this can be very dangerous.
Ideally, hang the fan from the ceiling or mount it high up in the corner of the stall. You can mount it outside the front of a stall, as long as the horse can not touch it.