This post may contain affiliate links. We earn from qualifying purchases. Learn More
1923 introduced us to a new generation of Duttons and new enemies trying to get their land. The main antagonist of 1923 is sheepherder Banner Creighton.
Banner Creighton has made it clear he wants his hands on the Dutton's land to graze his sheep. He has already killed John Dutton Sr and injured other family members, so he clearly has no gripes against using violence.
Since Banner was able to walk a free man after his court hearing for the attack on the Duttons due to lack of evidence, he poses a big threat to the family.
While his business partner Donald Whitfield told him not to seek revenge, Banner seems unlikely to listen as he is hot-headed.
The Feud Between the Duttons and Banner Creighton
The feud with Banner began when he trespassed onto the Dutton's property to feed his sheep. When Jack Dutton stumbles upon Banner's men while moving cattle, they shoot at him.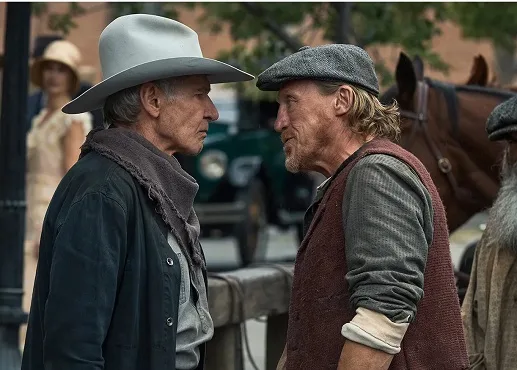 Fortunately for Jack, they miss him and the Yellowstone Dutton Ranch crew arrives just in time. As Jacob had already warned Banner not to trespass on his property, he decided to hang Banner and his men for their crimes.
While his men aren't so lucky, Banner frees himself from his noose in the nick of time. With his sheep herd gone, he rides home to his family.
In episode 3 of 1923, Banner seeks revenge on the Dutton family. Banner and his men ambush the Duttons and their neighbors, the Straffords, as they return from a trip to Bozeman.
In the attack, Banner kills John Dutton Sr. and Bob Strafford. He also seriously injured Jack, Elizabeth, and Jacob.
Eventually, Banner is arrested for two accounts of murder and four accounts of attempted murder. However, thanks to the help of Donald Whitfield, who he is working alongside to take down the Duttons, Banner can walk free.
With Banner out of jail, he poses a big threat to the Duttons. Despite what Donald says, he may still try to kill the Duttons in a plot to take their land.
Also, take our fun 1923 quiz.
Will the Duttons Kill Banner Creighton?
There is a good chance that in season 2 of 1923, it will come down to the Duttons having to kill Banner to protect their ranch. It would most likely be Spencer or Jack who would make the killing.
While Cara has made it clear she doesn't want to take revenge, as she doesn't want to lose any more family members, the Duttons may have no choice. If Banner proves to be persistent in his fight against the ranch, they may have no choice but to kill him out of protection.
Jack has made it clear that he wants to take revenge on Banner. Because of Banner, both of his parents are dead, as his mother committed suicide because she couldn't bear John's loss.
With Spencer on his way to the ranch, he may kill Banner for his wrongdoings against the Duttons. As a former soldier and big-game hunter, Spencer will likely have no problem taking down Banner.
Banner doesn't know about Spencer, so his return will surely shock the sheepherder and put a damper on his plans. Banner may try to take on Spencer, not realizing Spencer's advantages.
Perhaps Donald will even kill Banner himself if Banner strays from their agreement. We can only wait for season 2 of 1923 to see how the events will unfold.
Also, read our guide on actor Jerome Flynn who plays Banner Creighton.