When it comes to watering horses and livestock, it can be a big hassle as you have to haul heavy hoses, deal with frozen hoses in winter and carry heavy water buckets. Fortunately, we are sharing the best automatic livestock & horse waterers reviewed that will save you time and stress.
Automatic waterers are a convenient way to maintain a fresh supply of water for horses and livestock. Unlike traditional buckets and troughs that you have to fill yourself multiple times a day, automatic waterers fill up on their own when the water drops to a certain point.
When it comes to automatic waterers, there are advantages and disadvantages. Though they can be a wonderful choice for some people and their animals, they may not be the right fit for others. Let's take a look at some of the pros and cons that come with automatic waterers.
Benefits of Using Automatic Waterers
Saves time as you don't have to fill water buckets several times a day.
Saves you from having to fill, lift, and carry buckets.
No need to use a hose, which you need to roll and unroll every time you use and can freeze during winter.
Water stays cleaner.
Water is cooler in summer and warmer in winter.
Wastes less water.
Some are heated, so you don't have to break the ice in winter.
Important Factors to Take Into Consideration
Though there are many benefits that come with using automatic waterers, there are some important factors to take into consideration while using them. Though problems can occur when using automatic waterers, they have improved over the years since they first came out.
Waterers Need Daily Attention
In order to make sure your waterer is working properly and your horse is getting fresh water, you need to check on it daily. It is easy just to not pay attention to waterers since they are automatic, but it is still important to inspect them everyday.
Some horses tend to dirty their water, so it is vital to regularly check to make sure the water is clean and fresh. There is also the possibility of mice seeking your horse's bucket as a water source, then drowning in the bucket which can lead to contamination.
In addition, you want to make sure they are working properly and have a backup plan in case they stop working.
Be Aware of the Edges
Though many modern automatic waterers have rounded edges, some of the older models have sharp, metal edges. Be sure to make sure the model you are using is safe and there isn't a way for your horse to injure themselves on it.
They Can Be Difficult To Track Water Intake
If your horse is colicing or sick, it is very important to track their water intake. This is easy to do with traditional buckets, but with waterers that refill automatically, it can be hard to track.
It is recommended to purchase a metered waterer in order to track your horse's water intake. If your automatic waterer doesn't have one, the best option is to use regular buckets whenever you are needing to monitor how much water your horse drinks.
Added Expense and Work
Though automatic waterers have many great benefits, they can be expensive. In addition, they need to be installed, which requires hooking up to water lines or hoses.
For automatic waterers that are used outside, additional work may be required such as digging a trench, connecting to water and power lines, and installing concert pads or gravel to prevent mud.
5 Best Automatic Waterers for Horses & Livestock
There are several automatic waterers available on the market for horses and livestock. They range widely in price and style, as you can get ones for stalls or pastures.
Here the best automatic horse and animal waterers:
Lucky Farm Automatic Water Feeder Trough Bowl with Pipe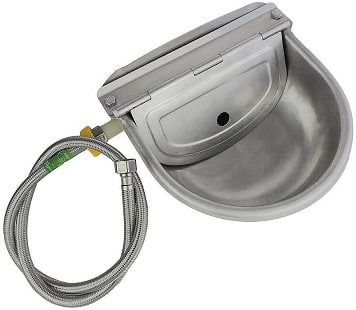 Built from durable stainless steel, this automatic waterer is clean, sanitary, and will not rust. The edge is smooth and polished, so you can rest assured that it is safe for horses and livestock.
With a unique water level floating principle, the water will always be kept clean and at a consistent level. A hose is even included for a convenient hookup. It is an ideal size for a stall or small pasture.
What's to Love?
Built with stainless steel
Includes a hose
Smooth, rounded edges that won't cause injury
Little Giant Automatic Animal & Livestock Waterer
This automatic waterer has float controlled refill, which allows for the water to automatically refill based on the tank's water level. It connects to a standard ¾ inch hose, making for an easy hookup to save you time.
With four gallons of water capacity, it is ideal for cattle and horses. It includes metal brackets, for convenient mounting on fences or walls.
There is a drain featured to allow for easy cleaning, ensuring that the water is clean and fresh. The rounded design is safe for all animals, so you won't have to worry about them getting hurt.
What's to Love?
Easy installation and can be added to walls or fences
Float controlled refill to maintain water levels
The four-gallon rounded bucket is ideal for horses and livestock
Classic Equine EZ Fount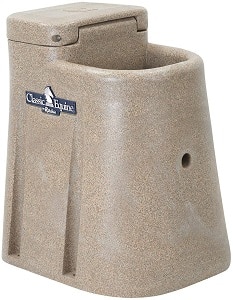 Built with heavy-duty polyethylene construction, this waterer won't rust or dent over time. The unique "worry-free" system provides cost-effective quick refills to supply your horses or livestock with clean, fresh water.
The deep trough holds up to 3.8 gallons of water at a time, which is ideal for pastures. With smooth, rounded edges, you won't have to worry about horses injuring themselves.
It is easy to install and move when needed, as it can be hooked up with a standard hose or washing machine hose, saving you time and stress. A water meter can be bought separately to track your horse's water intake.
What's to Love?
Made from heavy-duty polyethylene that won't rust or dent
Safe and large enough for pastures
"Worry-free" system allows for quick refills of water and is easy to set up
Brower 17-Gallon Heated Poly Waterer
This 100% poly waterer has the ability to water up to 40 horses and livestock, giving you peace of mind all your animals have access to fresh water. The unit contains a 250 watt heater and a dependable non-siphoning Durapride valve.
The heavy-duty polyethylene won't rust or dent and the rounded design is safe for horses. It is fully insulated, so it can be used all year long.
What's to Love?
Compatible with split pens or pastures, with the ability to automatically water up to 40 head
Heavy duty and safe design that is straightforward to install
Behlen Country AHW60 Insulated Waterer with Heat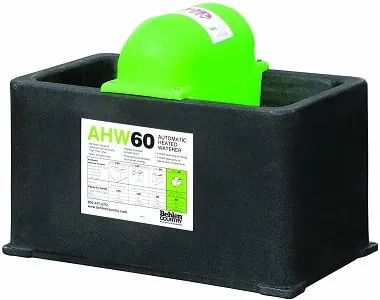 Even on the coldest winter days, this waterer will provide animals with fresh, clean water, saving you the hassle of having to break ice. The thick styrofoam floor, heat pad (which turns on at around 42° F) and insulated urethane walls prevent the water from freezing even when the temperature drops as low as -20° F.
With the ability to water up to 60 head, it is great for large pastures. The easy access doors, built-in hold downs and removable drain plugs allow it to be easily cleaned.
Due to the double-insulated design, the possibility of shock is eliminated. It is durable, with a poly design that is safe and won't rust, with the ability to refill efficiently.
What's to Love?
Can be used in temperatures as cold as -20° F without freezing
Double insulated to eliminate the possibility of shock
Durable, safe, and easy to clean with the ability to water 60 head
Getting Horses Used to Automatic Waterers
Some horses may need time to get used to automatic waterers, so it is important to monitor them at first and make sure they are getting used to their new water source. Offer a regular water bucket at first and gradually remove it to encourage drinking from the automatic waterer.
Some horses may be afraid of them at first, so it may take some time for them to get used to it. On the other hand, some horses may play with them, so it is important to make sure they don't break them.
Helpful Tips
Be sure to thoroughly read the instructions prior to installing to make sure it is hooked up correctly and you know how often you need to clean it.
Make sure to choose one that is the right size for your needs and if you are using it in a pasture, that it can sustain the number of animals turned out.
If you need to install concrete pads, make sure they are non-slip.
For stall waterers, be sure they are positioned at a comfortable level for your horse to drink out of.
Always make sure you have something to use as a backup plan in case it malfunctions.
When installing in a pasture, make sure it is in a good location where leaves or debris from overhangs can't end up in the water.
FAQs
How Does an Automatic Waterer Work?
Most automatic waterers work by a float operated valve that controls the water levels. When the water level drops to a certain amount, it will automatically refill.
How Do You Clean an Automatic Waterer?
Drain the waterer and follow the specific instructions for that model on how to clean it. A mixture of equal parts water and white vinegar can often be used for cleaning with a scrub brush.
How Much Water Should a Horse Drink a Day?
The average horse will drink between 5-10 gallons of water a day.