This post may contain affiliate links. We earn from qualifying purchases. Learn More
In the second episode of 1923, we are introduced to Arthur, the fiance of Alexandra. However, after falling for Spencer Dutton, Alexandra runs off with the hunter, leaving Arthur behind.
Upon boarding their ship to London on their journey to Montana, Spencer and Alexandra discover that Arthur is also traveling on the ship.
Arthur is not pleased to learn he will be traveling in the company of Alexandra and Spencer.
Who is Arthur in 1923?
In 1923, Arthur Jr. is a British man who is the son of the Earl of Sussex. He is engaged to Alexandra who finds him boring.
While on vacation with his family in Africa, Arthur is celebrating his engagement to Alexandra. However, as Alexandra does not love Arthur, she decides to run off with Spencer Dutton as she finds him handsome and exciting.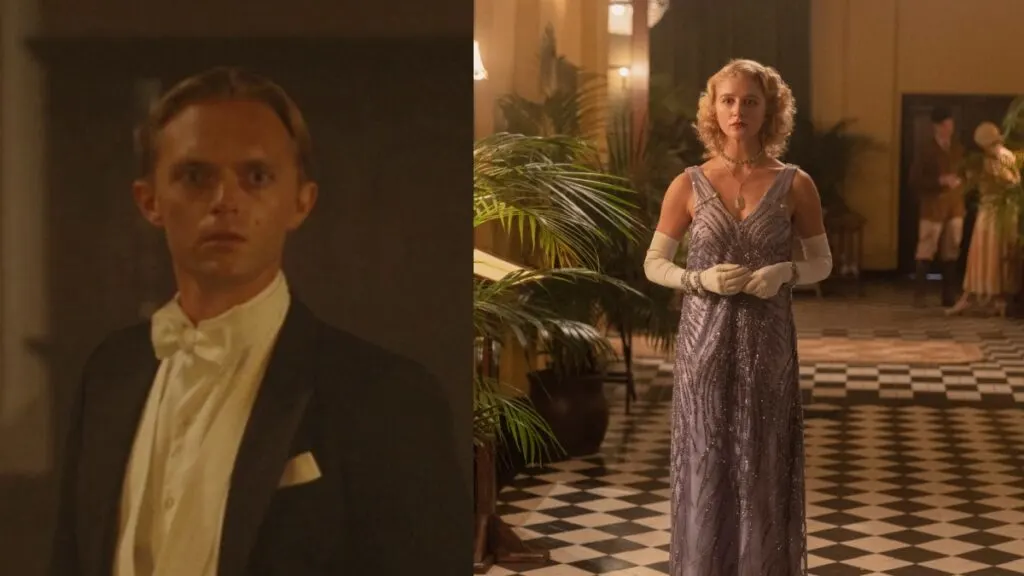 Arthur is shocked to see Alexandra and Spencer kissing in a cafe in Sicily as his family prepares to make their way back to London.
Arthur is in for disappointment once again as he is traveling aboard the same ship as Spencer and Alexandra.
After becoming consumed with jealousy, Arthur confronts Spencer and Alexandra. While his father tells him to move on Arthur doesn't listen. He challenges Spencer to a duel which leads to Spencer pushing him away.
As the couple walks away, Arthur calls Alexandra a "f**king wh**e" to which Spencer punches him. Despite Alexandra's plea, Spencer accepts his offer to a duel.
While Arthur chooses swords as their weapon of choice in their duel, he proves to be no match for Spencer despite being an expert swordsman. After Spencer disarms him twice, Arthur still refuses to give up.
Also read: 1923 Fans Quiz
Does Arthur Die in 1923?
Arthur is presumed dead in 1923 after Spencer throws him overboard the ship in an act of self-defense.
After Spencer walks away from the duel unarmed, Arthur charges at him with a pistol, which results in Spencer throwing him overboard to protect himself and Alexandra.
While we do not actually see Arthur die, he is presumed dead after falling from such a tall height in the middle of the sea. Despite life tubes being thrown overboard, Arthur is unable to be rescued from the fierceness of the open ocean.
Also read: Will Spencer and Alexandra Make it Back to Montana in 1923?
Who Plays Arthur in 1923?
In 1923, Arthur is played by Rafe Soule. Soule is an American and South African actor, musician, writer, and filmmaker. He currently resides in Cape Town, South Africa.
Rafe Soule TV Shows & Films
Menagerie (2018) as Lenny
The Art of Getting By (2018) as Andrew
The Winds of Heaven (2020) as Hamlet
Goodbye Honey (2020) as Zach
1923 as Arthur Jr (2022-present)
4 Facts About Rafe Soule
He Attended The Lee Strasberg Theatre and Film Institute
Rafe Soule attended The Lee Strasberg Theatre and Film Institute in New York City. While studying at the institute, he took in many demanding roles such as Hamlet, and many leads in Tennessee Williams and Clifford Odets plays.
Soule also studied under some of the best teachers in the industry. He has worked with the likes of Lola Cohen, Robert Ellerman, and Vincent D'Onofrio.
He Works for the Peace Appeal Foundation
In addition to his career as an actor, Soule also works for the Peace Appeal Foundation. At the foundation, he works to organize drama therapy sessions for refugees throughout Southeast Asia including Thailand, Myanmar, and Syria.
He is Also a Musician
Soule is also a talented musician, as he enjoys singing and playing the guitar. Before making the decision to attend The Lee Strasberg Theatre and Film Institute, he was accepted to the Berklee College of Music.
Arthur is His Biggest Role to Date
While Soule has taken on other projects before, his role as Arthur in 1923 is his biggest one to date. In addition to television and film, he also does stage acting, commercials, and short films.