Our readers support us. This post may contain affiliate links. We earn from qualifying purchases. Learn More
At the age of 21, Roberto Gonzalez served the United States Army in Vietnam. However, after just a few months of serving he was shot, leaving him paralyzed.
Upon returning home from the war, he spent decades raising and training horses with his wife, Rosario. Horses were not only a career for Gonzalez but also a passion.
Gonzalez never let his injury stop his passion for working with horses. According to his wife, he became one of only a few disabled licensed horse trainers in Texas.
After being admitted to the Audie L. Murphy Memorial VA Hospital in San Antonio for a wound in his back doctors discovered his liver and kidneys were failing.
The diagnosis resulted in the veteran being hospital-bound for months.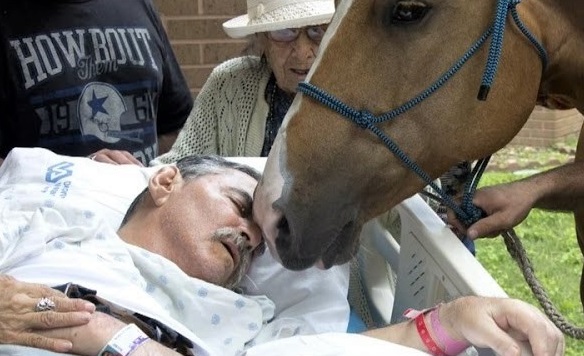 A Dying Wish
With Gonzalez's condition quickly deteriorating, the 71-year-old had one last wish. All he wanted was to see his beloved horses one more time.
Fortunately, with the help of the hospital and his family, Gonzalez's wish came true.
Nurses and doctors transported Gonzalez to the front lawn of the hospital in his bed, where he got to see his horses Sugar and Ringo.
Also Read: Cowboy Dedicates 11,000 Acres to a Wild Mustang Horse Sanctuary
Traveling over 150 miles, Sugar and Ringo greeted their owner on the 46th anniversary of his injury. They gently nuzzled Gonzalez, remaining calmly by his side for one last time.
It is clear that Gonzalez and his horses had a special relationship. They were an important part of his life, as he had spent decades working with these amazing creatures.
Sadly, just a few days after his emotional goodbye to Sugar and Ringo, Gonzalez passed away. He passed away peacefully, surrounded by his loving family and friends.
"We thank the South Texas Veterans Health Care System for allowing Mr. Gonzalez to see his beloved horses for one last time. We are appreciative and overwhelmed for the outpouring of love, support, and prayers from everyone during this difficult time." the hospital said on behalf of the Gonzalez family.
See their touching last moments together below:
We thank Roberto Gonzalez and all army veterans for their service. To help support other army veterans who have suffered an injury in the line of duty, please consider donating to an approved army veterans charity.