This post may contain affiliate links. We earn from qualifying purchases. Learn More
Taylor Sheridan's 1923, Yellowstone's second spinoff, not only dives into the origins of the Duttons but also showcases the dire straits of the American Indians in the early 20th century.
One such character in 1923 is Teonna Rainwater who is a young American Indian girl and an ancestor of Thomas Rainwater from Yellowstone.
Teonna Rainwater is an intelligent and daring teen stuck at the Montana-based School for American Indians, where students are physically and emotionally abused.
She often finds herself in a pickle due to her rebellious nature that rubs the Catholic teachers the wrong way—especially Sister Mary (Jennifer Ehle), who beats her in the series premiere until she snaps and attacks back.
Teonna Rainwater is played by actress Aminah Nieves. Nieves is American Indian herself and was born in 1997 in Indiana, United States. She is 5′ 6″ (167 cm) and rose to prominence after portraying Elsa in Blueberry (2021).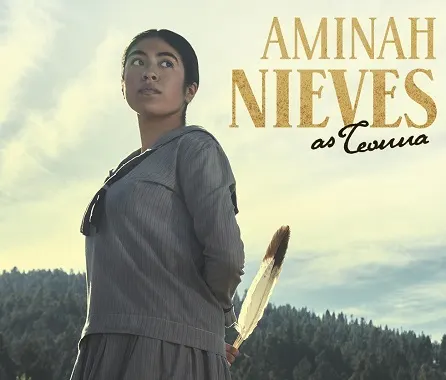 Her role as Teonna in Sheridan's 1923 has also garnered her much attention from film enthusiasts and other actors.
Aminah Nieves' Notable Movies and TV Shows
Blueberry (2021) as Elsa
Dogwood (2021) as Katy
V/H/S/99 (2022) as Charissa
1923 (2022) as Teonna Rainwater
5 Facts About Aminah Nieves
She Attended the Hammond Academy for the Performing Arts
Aminah Nieves went to the Northwest Indiana-based Hammond Academy for Performing Arts after graduating from Morton High School.
Her goal was to study performing arts at the institution and amass experience. This is also where her dream of becoming a professional actress was conceived. Therefore, she participated in different theatre acts to hone her skills and prep to join the film industry.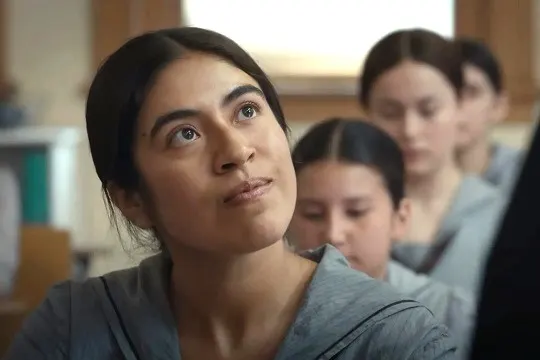 In 2021, Nieves made her acting debut in the short film Dogwood, which Maya Rose Dittloff wrote and directed.
Also read: Yellowstone Dutton Ranch Size, Worth, Location, Facilities & History
She Values Her Role In 1923
Like Indigenous Yellowstone actors Gil Birmingham and Moses Brings Plenty, Nieves cherishes her Teonna Rainwater as she enables her to tell an important aspect of Native American history.
Speaking to Collider, Nieves said that her role in 1923 allows her to honor her people, who endured unbelievable suffering many decades ago.
Factually, government agents abducted Native American kids between 1819 and 1969 and placed them in boarding schools miles away from home. The children were starved, abused, forced to change their names, and even abandoned their culture.
"Teonna in general is an extension of myself and my family. So being able to dip into that, and to honor my ancestors, who have been through so much adversity and still continue to go through adversity, is very important to me." Nieves said.
She Almost Passed up the Opportunity to Play Teonna
In an interview with Enews, Nieves said "I didn't want to do it. I actually told my manager that I wasn't going to audition for it. It's a big burden and you're opening up a lot more when you're actually living in what your family lived through."
Aminah revealed that she asked her family for guidance after initially believing she wasn't fit for the role.
Nieves said, "I almost didn't feel worthy enough to tell this story because it's so important. It's scary when you're telling something that has been a part of you since you were just a thought, since you were a little light beam in the cosmos. It's terrifying."
Nieves also revealed that her mother played a part in helping her embrace the role of Teonna. She accompanied her to the auditions, which almost scared her away. However, the audition process was more challenging than she expected.
"My mom, she was the one doing all the auditions with me, and at first, I was really hesitant to continue doing them, but the third round, I looked at her after that third audition, and she was bawling uncontrollably, and I knew in that moment I needed to do it for her." Nieves told Collider.
Thankfully, with the help of her family, Nieves landed the role of Teonna and the chance to shed light on an important part of Native American history.
She Wasn't a Fan of Yellowstone
Aminah Nieves didn't watch Yellowstone before she joined the 1923 cast. And as it turns out, Jennifer Ehle who plays Sister Mary, her abusive teacher in 1923, also hadn't seen Yellowstone.
"I didn't know about Yellowstone. I think we were the only two people in America who didn't know, sorry! But now I'm a huge fan; I've seen everything." Ehle told Screen Rant.
Also read: Who Plays Sister Mary in 1923? Meet Jennifer Ehle
She Won an Award
Aminah Nieves' performance as Elsa in Blueberry was spectacular. In 2021, the Independent Visions Jury awarded her a special prize for breakthrough performances alongside Maya Danzig, who played the role of Maya in the movie.
Blueberry revolves around a young lady, Maya, who aspires to become a dancer, and a stranger, Elsa, who dares her to leave home to chase after her dream.
See an interview below of Aminah Nieves (Teonna Rainwater) and Jennifer Ehle (Sister Mary) about their roles in 1923:
Also, Aminah Nieves talks more about her character and the historical struggles of Native Americans.
Also read: 1923 Cast and Where You've Seen Them Before