This post may contain affiliate links. We earn from qualifying purchases. Learn More
If you are a fan of Thoroughbred racing, the name American Pharoah should ring a bell. His legendary racing career has made him one of the most incredible racehorses.
American Pharoah was born February 2, 2012, to owner and breeder Ahmed Zayat in Lexington, Kentucky. The bay Thoroughbred stallion stands at 16.2 hands tall. American Pharoah is the first and only horse ever to win both the Triple Crown and the Breeders' Cup Classic, the Grand Slam of Thoroughbred racing.
Overview of American Pharoah's stats:
| | |
| --- | --- |
| Born: | February 2, 2012 (age 9) |
| Sex: | Stallion |
| Height: | 16.1 hands (65 in) |
| Weight: | 1,170 pounds |
| Color: | Bay |
| Owner: | Ahmed Zayat |
| Trainer: | Bob Baffert |
| Jockey: | Victor Espinoza |
| Sire: | Pioneerof the Nile |
| Dam: | Littleprincessemma |
| Worth: | $50 million (estimated) |
| Stud Fee: | $100,000 |
| Race Record: | 11: 9–1–0 |
| Earnings: | $8,650,300 |
Interesting Facts About American Pharoah
1. American Pharoah's Name Has a Typo
American Pharoah's name was accidentally sent into the Jockey Club spelled incorrectly. Instead of the correct spelling of 'pharaoh', the name was sent in as 'pharoah.'
Justin Zayat ran a naming contest for the Thoroughbred and the name 'American Pharoah' was the winner. The inspiration for American Pharoah's name came from his sire, Pioneerof the Nile, and his dam's sire, Yankee Gentleman. In addition, it also honors Zayat's American-Egyptian background.
Marsha Baumgartner of Barnett, Missouri, who sent in the name, claims she looked up the spelling prior to submitting the entry. Justin says he copied and pasted the name from the entry when sending it into the Jockey Club. Due to his success, the Jockey Club has reserved both spellings of the name.
2. American Pharoah is a Descendant of Secretariat
American Pharoah is a descendant of Secretariat through his dam, Littleprincessemma. Secretariat is his great, great, great grandfather on his maternal side.
Secretariat isn't the only successful horse in American Pharoah's pedigree. His sire, Pioneerof the Nile, was second in the Kentucky Derby in 2009. Empire Maker, his paternal grandsire, won the 2003 Belmont Stakes. In addition, Unbridled, his great-grandsire, won the 1990 Kentucky Derby.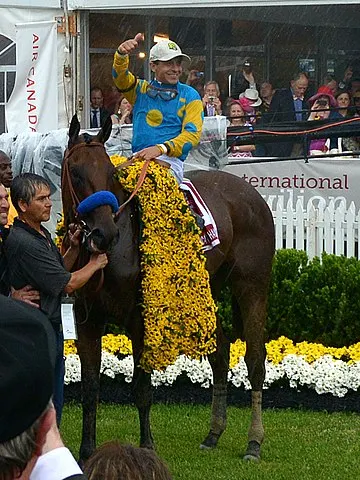 3. Part of His Tail Was Chewed Off When He Was Younger
During his two-year-old and three-year-old seasons, American Pharoah had a short tail. The reason behind this was likely because another horse chewed it off.
It is thought that Mr. Z, a fellow competitor and also a colt bred by Zayat, was the culprit behind the chewed tail. The pair were kept together as colts in a pasture down in Florida.
4. He Has His Own Life-Size Statue
After his majorly successful racing career, a statue of American Pharoah and his jockey, Victor Espinoza, was erected. The sculpture was created by sculptor James Peniston in 2017.
The statue resides at Oaklawn racetrack in Hot Springs, Arkansas. It has incredible attention to detail, all the way down to the bulging muscles and veins.
5. In Just His First Year of Breeding, He Sired 162 Foals
American Pharoah's first breeding season was in 2016. In just that year alone, he sired 162 foals.
In November 2017, his foals sold well at the Fasig-Tipton and Keeneland Sales, with one filly selling for $1 million. Monarch of Egypt became American Pharoah's first winning offspring on April 3, 2019, winning a maiden race at Naas Racecourse in Ireland. At the 2019 Breeders' Cup, he was the sire of three entries. His offspring continue to make it to the winner's circle as he continues to be a popular stud.
Who is American Pharoah's Owner?
American Pharoah's owner, Ahmed Zayat, is an Egyptian-American businessman. He is the CEO of Zayat Stables, LLC.
Zayat was born in Cairo, Egypt on August 31, 1962. He grew up riding horses at the local country club, competing in showjumping. During his teen years, he won showjumping national titles in the under-12 and under-14 age divisions.
At 18 Zayat moved to America, where he attended college at Boston University. After a short career in real estate in New York City, he returned to Egypt where he ran Al-Ahram Beverages Company for about a decade.
In 2002, he began investing in racehorses, and in 2005 he established Zayat Stables. In 2007, after permanently moving back to the United States, he made Thoroughbred racehorses his full-time occupation. Along with his son, Justin, Zayat runs the business out of Hackensack, New Jersey, though he has horses across the country.
Zayat Stables owns around 200 horses at any given time, including stallions, broodmares, and young stock. Though Zayat was successful in racing, it wasn't until American Pharoh that he made his big break in the industry. Zayat had lots of horses finish second or first in the Kentucky Derby, but American Pharoah was his first horse to win it.
Did American Pharoah Win the Triple Crown?
American Pharoah won the Triple Crown in 2015, becoming the first horse in 37 years to do so. He became the 12th winner of the coveted Triple Crown after winning the Belmont Stakes by 5 ½ lengths.
American Pharoah's Triple Crown victory was the second-fastest winning time ever, only behind the legendary Secretariat. He won the Kentucky Derby with a time of 2:03.02, the Preakness Stakes with a time of 1:58.45, and the Belmont Stakes with a time of 2:26.65. Veteran jockey Victor Espinoza was his rider for all three races. Espinoza expertly rode American Pharoah in all but one of his races during the Thoroughbred's career.
After winning the Triple Crown, American Pharoah went on to win the 2015 Breeders' Cup Classic. During the race, he set a track record of a time of 2:00.07, more than five seconds faster than the previous record. As the first horse to win all four of these races, he is known as the winner of the Grand Slam.
American Pharoah winning the Triple Crown at the 2015 Kentucky Derby:
Who Was American Pharoah's Trainer?
American Pharoah was trained by the legendary trainer Bob Baffert during his racing career. Baffert was born on January 13, 1953, in Nogales, Arizona, where he grew up on a farm.
Baffert's father purchased Quarter horses when he was 10 years old and he would race them on dirt tracks. As a teenager, Baffert worked as a jockey, racing Quarter horses at a local track.
He graduated from the University of Arizona's Race Track Industry Program and quickly became a successful trainer of Quarter horses at the age of 20. Shortly after, he moved to California where he made the switch to training Thoroughbreds.
Throughout his career as a trainer, he's had numerous wins at prestigious races such as the Kentucky Derby, Belmont Stakes, Preakness Stakes, and Breeders' Cup. In addition to his 2015 Triple Crown victory with American Pharoah, he also trained the 2018 Triple Crown winner, Justify.
Baffert describes American Pharoah as a joy to be around. He says that the bay stallion is so special and everything about him is superior. Unlike other racehorses, American Pharoah has a gentle and sweet demeanor, according to his trainer.
Also, read our Bob Baffert facts and FAQs guiide.
When Did American Pharoah Retire?
American Pharoah retired in 2015 after the conclusion of his racing season. During his career from 2014-2015, American Pharoah won nine out of his eleven starts.
On May 20, 2015, Zayat sold American Pharoah's breeding rights to Ashford Stud, which is a division of Ireland's Coolmore Stud. Zayat and Ashford made a deal that Zayat was entirely in charge of the stallion's racing career. It was set that American Pharoah was to retire from racing at the end of 2015. After retiring, he moved to Ashford Stud in Versailles, Kentucky, where he currently stands at stud.
After his retirement, Forbes estimated that the stallion could be worth $50 million. Currently, American Pharoah's stud fee is a whopping $100,000.
How Much Money Did American Pharoah Make During His Racing Career?
During his racing career, American Pharoah made a total of $8,650,300 in earnings. During his 2015 season, he made an incredible $8,288,800 of his total earnings.
American Pharoah's earnings during 2015 was a single-season record for race earnings. The previous holder of this record was Smarty Jones, who won $7,563,535 in 2004.
After his incredibly successful 2015 season, American Pharoah was the unanimous American Horse of the Year and also Champion Three-Year-Old Male Horse. He was only the second horse ever to win these honors unanimously at the Eclipse Awards.
In addition, In addition, Baffert won the Eclipse Award for Outstanding Trainer in 2015. Zayat Stables also took home the Eclipse awards in 2015 for Outstanding Owner and Outstanding Breeder.