Our readers support us. This post may contain affiliate links. We earn from qualifying purchases. Learn More
If you're an equestrian, the name Amberley Snyder might sound familiar to you. Her story has been shared over and over on social media, television, and newspapers, inspiring millions around the world.
Amberley Lana Snyder is an American paralyzed championship barrel racer and motivational speaker. She was born in 1991 in Orange County, California, USA, and is 5'11" tall.
| | |
| --- | --- |
| Height: | 5′ 11″ (180 cm) |
| Born: | January 29, 1991 |
| Birthplace: | Orange County, California |
| Nationality: | American |
| Eye Color: | Blue |
| Star Sign: | Aquarius |
| Net Worth: | $3 Million |
Amberley Snyder had every chance to become a professional barrel racer when a tragic car accident left her paralyzed from the waist down. However, this only made her more determined to follow her dreams, and her journey has even been featured in the Netflix original movie Walk. Ride. Rodeo. (2019).
Here are some interesting facts and answers to common FAQs about Amberley!
Amberley Snyder Has Been Riding Horses Since the Age of 3
Amberley Snyder's talent for horse riding emerged at a young age. She started taking riding lessons at the age of 3, and four years later she was already competing on her own horse in barrel racing.
Before long, she expanded into other Western disciplines such as breakaway roping, pole bending, and goat tying.
In 2009, Amberley won the National Little Britches Rodeo Association All-Around Cowgirl World Championship at the age of 18. In the same year, she also qualified for the National High School Rodeo Association Finals in pole bending.
She Was Partially Paralyzed After a Car Crash
A few days into 2010, Amberley Snyder was looking forward to college life, competing in college rodeo, and many other exciting changes in her life.
She had no idea that her life was about to change forever.
On January 10, 2010, Amberley Snyder forgot to fasten her seatbelt on a drive to Colorado. While she looked down to check her map, she drifted into the other lane and overcorrected, causing the vehicle to slide off the road. Amberley was ejected and slammed into a fence post, which paralyzed her from the waist down.
That day, Amberley was on the way to the National Western Stock Show in Denver, Colorado. Doctors later told her that if she hadn't forgotten to fasten her seat belt after her stop at the gas station in Rawlings, Wyoming, she would still be walking.
The accident happened just 10 miles from the gas station. Apparently, the car rolled seven times before Amberley was thrown out of the vehicle., causing her a T11-T12 spinal cord injury.
After being in surgery for five hours, the doctors gave her the devastating news that she'll never be able to walk again.
Even though she went through some dark times during her recovery, Amberley Snyder has never lost sight of her goal, which was to "Walk. Ride. Rodeo.".
After 4 months of intensive physical therapy, Amberley was back on her horse. With the help of a seat belt and some velcro on her saddle, she was able to get back to competing a year and a half later with her black Quarter Horse gelding Power.
"My family, my faith, and my horses are who I credit for me still being here,". Amberley Snyder has successfully turned her tragedy into triumph and showed everyone that "you gotta get back on the horse"!
She Continued to Compete After Her Accident
Five years after her accident, Amberley Snyder won a remarkable fan exemption to compete in RED-TV's The American Rodeo in front of 40,000 fans.
A fan exemption is where rodeo fans can vote for their favorite rodeo athletes from a list of 10 nominees. The winner gets to compete at the popular event, which is equivalent to the Super Bowl.
To this day, Amberley Snyder considers her appearance at The American Rodeo one of her greatest accomplishments. The competition took place in 2015 at AT&T Stadium in Arlington, Texas.
Her time of 15.3 seconds was one of the fastest on the event and only 0.6 seconds off the winning time! Amberley received a standing ovation from the crowd and won over the hearts of America with her impressive run.
In 2016, she won her Women's Professional Rodeo Association card and was among the top 5 in the Rocky Mountain Pro Rodeo Association. Afterwards, she continued to compete in the RAM Wilderness Circuit.
Throughout her healing journey, Amberley's philosophy was to "let the challenges she faces refine her, not define her". She competed not just for herself, but also for thousands of people facing similar challenges. She has now retired from competing in rodeo to focus on her career as a motivational speaker.
Her Story Inspired a Netflix Movie
The Netflix movie Walk. Ride. Rodeo. is based on the life of Amberley Snyder. Starring Spencer Locke as Amberley Snyder, the movie received an IMDb rating of 6.4/10.
When the producers first approached Amberley about making a movie, she refused. She felt like she and her loved ones have been through enough already. "We have all lived this one time, and I didn't feel like we needed to live it again".
However, she appreciated the opportunity to reach millions of people across the globe. The desire to give hope to others who are in a similar situation is what made Amberley consent to production.
Fans will be excited to find out that Amberley Snyder performed all post-crash stunts in the movie. Her younger sister Autumn did the pre-crash stunts as they have very similar looks and riding styles.
"I am so thankful my story can be a beacon of light for so many now!", said Amberley after the release of the movie. She has also appeared as herself in the 3rd season of the drama series Yellowstone.
What's more, Amberley Snyder featured in several magazines and television shows, including People magazine, the Cowgirl Magazine, the Today Show, and NBC Nightly News.
Also, see her book Walk. Ride. Rodeo. here on Amazon.
She Received Stem Cell Treatment at the BioXcellerator Institute in Colombia
Stem cell treatment was something Amberley Snyder was hoping to receive for years when BioXcellerator invited her to their Colombian institute. They discovered Amberley through the Netflix movie Walk. Ride. Rodeo. and offered to treat her lower back.
Patients who have received stem cell treatments at the BioXcellerator have experienced improvements in their condition. However, there haven't yet been cases where patients fully regained the ability to walk.
Amberley has traveled to Colombia with her mother and really enjoyed her stay at the BioXcellerator. She found the staff's extensive knowledge and all the research that goes into stem cell therapy impressive.
Amberley believes that technology will soon make it possible to treat spinal cord injuries, and she will never give up on her dream to walk again.
She is also a Published Author
In 2017, Amberley published her first book "Walk Ride Rodeo: A Story About Amberley Snyder. This illustrated book about overcoming adversity targets children up to 12 years old. Amberley is hoping to write more books in the future.
She is also in the process of starting her own charity "The Amberley Snyder Freedom Foundation". Through the organization, Amberley wants to empower children and young adults with disabilities by providing tools and support.
She is a Popular Motivational Speaker
Amberley's first step towards inspiring a larger audience was posting weekly "Wheelchair Wednesday" videos on Facebook.
In these short videos, Amberley demonstrates how she carries out everyday tasks that have become more challenging since her accident.
Some of these tasks include tacking up and getting on her horse or filling her car up with fuel. The videos have quickly become popular and attracted a following of 200K fans on Facebook.
Ever since she quit competing on the rodeo circuit, Amberley Snyder has focused on building her career as a motivational speaker. So far, she has traveled across the United States to speak at different events and plans to speak in all 50 states in the next 10 years.
One of the events she spoke at was the AQHYA's 2020 Bank of America Youth Excellence Seminar, held on June 30 in Amarillo, Texas.
In her speeches, she tells the story of how she worked really hard to become independent again, but had to accept that she will always be needing help with some areas of her life. She also tells the audience that it's okay to have bad days, despite what the world expects of us.
After overcoming so many challenges, Amberley realized she has a bigger purpose to serve. Through her work, she is able to change lives every day, which she considers to be the greatest privilege of all time.
If you'd like to know more about Amberley's motivational speaking, see more information here on her website.
Amberley Snyder's Education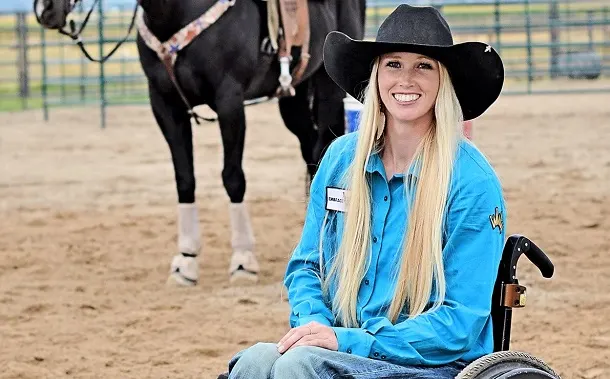 The Snyder family moved to Elkridge, Utah after Amberley's dad retired from baseball. There, she was elected to be the 2009-2010 president of the Utah State FFA (Future Farmers of America).
The role gave her valuable leadership and communication skills that were useful when building her career.
Following her recovery, Amberley transferred from Snow College to Utah State University, where she became captain of the National Intercollegiate Rodeo Association team. She represented the university in breakaway roping and barrel racing.
Amberley Snyder graduated with a Bachelor's degree in Agriculture Education in 2015. She then went on to study School Counseling, also at Utah State University and graduated with a Master's Degree in 2018.
Amberley Snyder's Family Life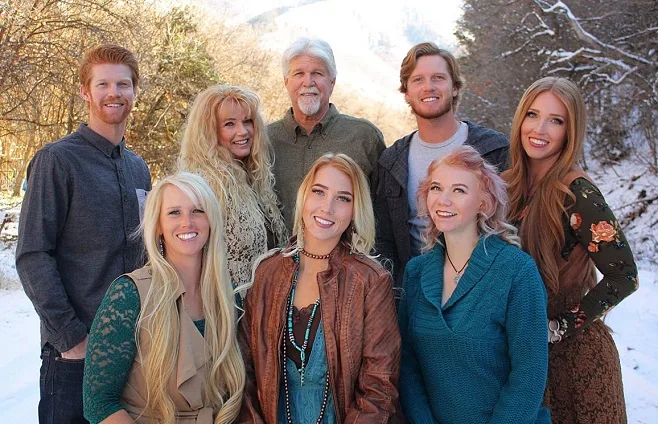 Amberley Snyder credits much of her success in life to her supportive family. She grew up in southern California with five siblings: Taylor, Aubrey, JC, Autumn, and Ashley.
With her siblings also being talented in sports, Amberley's family environment was rather competitive.
Her dad, Cory Snyder, was a Major League Baseball player who played for the Los Angeles Dodgers. He has always been a major source of inspiration for everyone in the family and taught his kids that dedication and hard work can go a long way.
Amberley's mom, Tina Snyder, has also been a mentor to her throughout her life. She has always encouraged her to follow her passion, believe in herself, and be compassionate.
Had it not been for her family and friends, Amberley wouldn't be where she is today. Her favorite family motto to live by is "Hard work beats talent when talent doesn't work hard.".
Also Read: 15 Interesting Facts About Hailey Kinsel
Is Amberley Snyder in a Relationship?
Amberley Snyder is not currently in a relationship. However, there have been rumors that she is dating the real-life equivalent of Tate Watkins, who is Amberley's love interest in Walk. Ride. Rodeo. His real name is unknown as the producers changed it for the movie.
Does Amberley Snyder Have Any Children?
Amberley Snyder doesn't have any children and there isn't any information regarding her future plans to start a family.
She is on Cameo
Naturally, you can also find Amberley Snyder on Cameo! Cameo is a growing platform where fans can request a personalized video from their favorite celebrities, in exchange for a donation.
Amberley Snyder has sent out birthday wishes, congratulations, and pep talks to her adoring fans. So why not surprise a loved one with an inspirational message from the celebrity barrel racer? See her Cameo profile here.
Amberley Snyder Quotes
Here are some inspiring quotes from the famous barrel racer and motivational speaker Amberley Snyder:
"The feeling I get when I am horseback is what motivates me to keep chasing my dreams. When times are discouraging, my horses and rodeo lift me back up."
"I have learned over the years to appreciate the small victories. There is never an accomplishment too small to celebrate!"
"Life in a chair isn't always easy but I promise that you can get stronger to handle so much of what you're facing. Keep up the fight!"
"Two feet move your body, four feet move your soul."
"Don't allow someone else to decide what you are capable of – you decide what you want to accomplish."
"Attitude is a little thing that makes a big difference."
Below is a wonderful video with Amberley Snyder talking about her amazing story!
Follow Amberley on Social Media
Follow her Amberley here on Facebook, Twitter, Instagram, and YouTube. Visit her website here and find her book here on Amazon. Also, don't forget to check out her biopic movie Walk. Ride. Rodeo. on Netflix!
Also, read our guide to the most famous horse riders in the world.