Our readers support us. This post may contain affiliate links. We earn from qualifying purchases. Learn More
All those who love the hit TV series Heartland know that Amy Fleming is a great horse whisperer. However, many don't know that the actress who plays Amy, whose real name is Amber Marshall, is also an avid equestrian herself.
Amber Marshall is a Canadian actress who plays Amy Fleming on Heartland. She was born in London, Ontario, Canada, in 1988 and has a reported net worth of $3 million.
| | |
| --- | --- |
| Born: | June 2, 1988 (age 34) |
| Nationality: | Canadian |
| Height: | 5′ 4″ (1.65 m) |
| Husband: | Shawn Turner |
| Net Worth: | $3 Million (estimated) |
| Star Sign: | Gemini |
Amy Fleming is the main character of the Heartland series and has a special gift for healing horses.
After her mother's tragic death, she takes over the role of working with troubled horses and soon becomes famous for her talent.
Just like her character, horses hold a special place in Marshall's heart. Through Heartland, Marshall has been able to combine her two greatest passions, horses and acting.
Her character Amy Fleming has gained a huge following for her wonderful role on Heartland.
Here are eleven interesting facts about Amber Marshall and common FAQs about Amy Fleming.
Amber Marshall Could Ride a Horse From the Age of 4
Although she grew up in the city of London, Ontario, that didn't stop Marshall from being around horses. She went on her first pony ride at a country fair when she was only 4 years old, and it was a match made in heaven.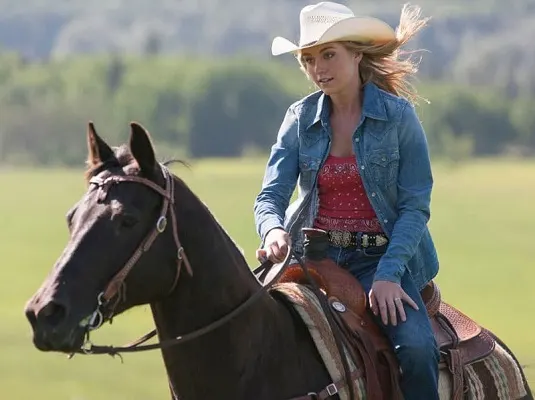 The young Amber Marshall pursued her passion for horses by taking regular riding lessons and got her first horse at the age of 10. For a while, she was taking hunter/jumper classes before falling in love with Western riding.
Amber Marshall's First Job Was at a Veterinary Clinic
Just like many children who love animals, Amber Marshall wanted to become a veterinarian most of her childhood.
Even as a young teenager, she was keen to help out at a local vet clinic. There, she volunteered for a year before getting hired as a veterinary assistant during her high school years.
On the Heartland set, Amber Marshall even gives vet tips to Graham Wardle who plays Amy's veterinarian husband Ty Borden.
Marshall is keen to keep the show as authentic as possible by sharing her experience with the producers and cast.
Amber Marshall is a Canada's Screen Star Award winner
From a young age, Ambar Marshall has been enthusiastic about acting. She attended Lester B. Pearson School for the Arts and joined the Original Kids Theatre Company, where she performed on her first play at 8 years old.
Amber brought a combination of passion, charisma, and talent to the stage and obtained an agent in Toronto by the age of 11.
In 2000, Marshall took her first acting role in the TV series Super Rupert. In 2007, she picked up her most famous role as Amy Fleming in Heartland.
Thanks to her impressive performance on the show, she won Canada's Screen Star Award during the 1st annual Canadian Screen Awards.
Amber Marshall was 18 years old when she was cast as Amy Fleming on Heartland. Even though this caused her to miss out on university, Marshall has never regretted her decision.
Below is a behind-the-scenes interview with Amber Marshall about her character Amy Fleming.
What is Amber Marshall Doing Now?
As it turns out, Amber Marshall is very much like her fictional character Amy Fleming in real life! Together with her husband, Amber Marshall owns and manages a 100-acre ranch in southern Alberta.
On the ranch, she keeps a variety of animals, including horses, dogs, cats, rabbits, cows, chickens, and an alpaca. Being so close to the set of Heartland, Marshall even rides to work sometimes!
Amber Marshall also has her own jewelry and merchandise line and publishes her own magazine Amber Marshall Life & Style. She only releases a few issues a year as Marshall values quality over quantity and only writes when she has inspiration.
Find out more about Amber Marshall's products on her website here.
Naturally, Amber Marshall is passionate about helping animals in need and regularly donates a percentage of her merchandise sale to charities that truly make a difference. She features the most inspirational organizations on her website, such as the Canadian Animal Assistance Team (CAAT).
Throughout the year, Amber Marshall has multiple fan appearances as she finds connecting with her fans a rewarding experience. She also regularly hosts events like the Royal Agricultural Winter Fair in Toronto and gives motivational speeches.
Don't forget to take our Heartland quiz!
Amber Marshall Opened Her Own Country Store
On July 30, 2022, Amber Marshall cut the ribbons to her very first country store in Turner Valley, Alberta.
Marshall's Country Store offers a wide variety of products such as clothing, accessories, and gift items sourced locally by Marshall herself.
According to her Instagram, the actress undertook a full renovation of a commercial space last winter to be able to open her dream store this summer.
Heartland actors Kerry James and Graham Wardle filmed and edited the official commercial for the store just a few days before the grand opening.
Other than stylish apparel and fun gifts, you'll also find Marshall's merchandise on the store's shelves. If you happen to be in the area, it's definitely worth dropping by for a chance to meet the actress herself and support her new business.
See a video below Amber and her husband Shawn Turner officially opening their new store:
How Many Horses Does Amber Marshall Have?
Amber Marshall currently has five horses: Cruz, Hawk, Nitro, Talon, and Screech. Cruz, Hawk, and Nitro are Quarter Horses, and Talon and Screech are Miniature Horses.
Besides horses, Amber Marshall owns many animals on her ranch in Alberta. Some of them have even appeared on Heartland, the most famous of which is Remi the King Shepherd!
Amber Marshall often brought one of her animals to the set as they help her with acting. One time she even brought a turtle!
Whenever the directors were looking for a specific animal, Marshall would pitch one of her own, often with success.
Does Amber Marshall Have Kids in Real Life?
Amber Marshall is not pregnant and doesn't have any kids. Amber Marshall has stated before that she would love to have children, but right now wants to focus on her career and business.
Does Amber Marshall Have a Husband?
Amber Marshall married Shawn Turner on July 27, 2013. After being together for three years, the couple tied the knot in a romantic outdoor wedding at their ranch near High River, Alberta.
The picturesque ceremony included lots of personal touches, as Marshall rode down the aisle on a horse, and the altar was made by Turner. The two love birds, who met at a horse show, rode off on their horses after sharing their first kiss.
The couple currently resides on their beautiful 100-acre ranch with their animals. Marshall frequently travels for acting and appearances.
Also, read our guide about Amber's husband, Shawn Turner.
Is Spartan Really Amy's Horse in Real Life?
Spartan is not Amy's horse in real life. Spartan's real name is Stormy, who became the favorite horse of Amber Marshall (playing Amy Fleming) on the Heartland set.
During one of her interviews, Marshall stated that she's known the horse for as long as the character Amy does. This makes her feel like she is connected to Stormy (Spartan) in real life as they've gone through so much together.
Also read: 7 Facts & FAQs About Spartan on Heartland
Is Amy Really Singing in Heartland?
Amber Marshall who plays Amy Fleming does actually sing on Heartland. Similarly, Shaun Johnston playing Jack Bartlett also performed all the singing for the show himself.
Did Amy and Ty Date in Real Life?
Although they developed a close working relationship over the years, the actors playing Amy and Ty never dated in real life. Amber Marshall is married, and Graham Wardle is single.
Because Amy and Ty are such a strong role model couple for many viewers, the actors put a lot of effort into playing their relationship on the show.
According to Marshall, little details like a smile or eye contact really affects how the couple comes across on the screen.
Also read: Why Did Graham Wardle Leave Heartland?
What Episode Do Amy and Ty Get Married in Heartland?
After many years of dating, Amy and Ty get married in the episode "Written in Stone", which is episode 18 of season 8.
Very much like Amber Marshall's real-life wedding, Amy's ceremony took place on the ranch she calls home. She rode down the aisle on the back of Spartan to marry her long-time friend and partner Ty in front of close family and friends.
Also read: 8 Facts You Didn't Know About Heartland.
How Does Amy Die in Heartland?
Amy doesn't die in Heartland. In the newly released Heartland season 14, Amy Fleming is still alive.
Although Amy had several near-fatal accidents during the show, none of them has led to the character's death.
One of her more serious accidents in season 9, episode 14 caused Amy to go blind, but she recovers shortly.
Check out our other Heartland actor guides: