This post may contain affiliate links. We earn from qualifying purchases. Learn More
Prepare to be captivated as we embark on an enthralling journey into the world of extraordinary equines. This article celebrates the most incredible horses in history, whose astonishing feats and unique talents have left an indelible mark on the hearts of millions.
From legendary racehorses and movie stars to life-saving heroes and record-breakers, these exceptional steeds have transcended expectations and redefined what it means to be a horse.
Here are 7 of the most amazing horses to ever live:
Sampson (Biggest Horse)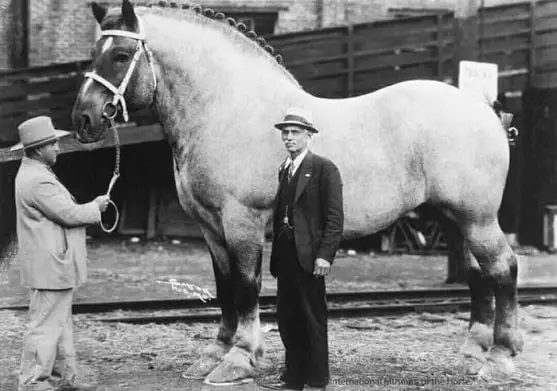 The tallest and heaviest horse ever was a Shire gelding named Sampson (later known as Mammoth) who stood at 21.2 ½ hands tall and weighed 3,359 pounds. Sampson was born in 1846 in Toddington Mills, Bedfordshire, England to owner Thomas Cleaver.
The massive Shire was gelded when he was about one and a half years old. His truly impressive size obtained him his new name Mammoth when he was four years old.
Sampson's massive size earned him the Guinness World Record's title of tallest horse ever. There's little known about Mammoth's life, his impressive size is yet to be beaten.
Note: The photo above is of Brooklyn Supreme, not Sampson. We could not find a photo of Sampson. But it's amazing to think Sampson was bigger!
Old Billy (Oldest Horse)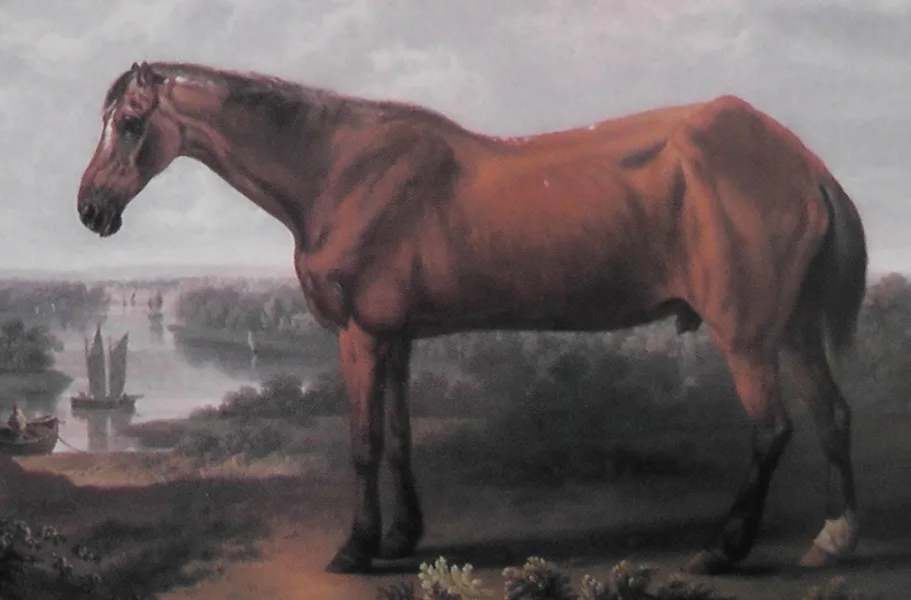 The oldest horse ever on record was Old Billy, who lived to be an incredible 62-years-old. He was born to breeder Edward Robinson of Woolston, Lancashire, United Kingdom in 1760.
Old Billy passed away on November 27, 1822, after spending much of his life working as a barge horse, where he pulled barges up and down canals.
Old Billy is believed to be a Cob/Shire mix and was brown with a white blaze. Old Billy officially holds the Guinness World Record as the oldest horse ever.
Due to his old age, Old Billy became a local celebrity and artist W. Taylor painted a portrait of him that is now on display in the Warrington Museum & Art Gallery. Old Billy's taxidermied head is on display at the Bedford Museum for tourists to see.
Jim Key (Smartest Horse)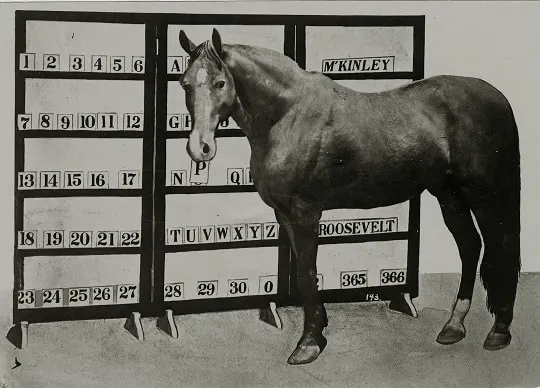 Considered the smartest horse ever, Jim Key could read, write, do arithmetic for numbers 30 and under, count change, and recite Bible passages. Jim Key was born in 1889 from an Arabian mare and Standardbred sire to owner William Key.
William Key, who was a business philanthropist, self-trained veterinarian, and former slave, taught Jim Key everything he knew. The pair formed a tight bond and Jim Key first started doing tricks by imitating a dog.
His doting owner and trainer soon realized the brilliant horse's potential, so he set out teaching him different skills and tricks.
William emphasized using only patience and kindness when training Jim Key. He then took Jim Key to local fairs where the clever horse would do anything from spelling words, calculating math problems and even debating politics.
Word of Jim Key's talent quickly spread and he went on to perform at the 1904 St. Louis World's Fair.
Beautiful Jim Key amazed crowds everywhere he went, including President William McKinley, who proclaimed "This is the most astonishing and entertaining exhibition I have ever witnessed." After years of incredible performances, Jim Key died in 1912 at the age of 23.
Also read: How Smart Are Horses?
Secretariat (Greatest Racehorse)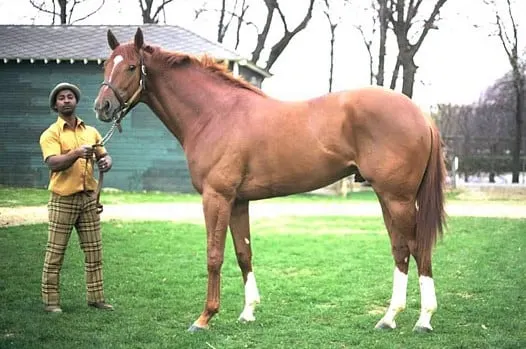 Secretariat is deemed by many as the greatest racehorse ever after winning the 1973 Triple Crown for owners Penny and Christopher Chenery. Born in 1970, Secretariat stood at 16.2 hands tall and weighed 1,199 pounds.
Not only did Secretariat win all three races of the Triple Crown, but he set records in each race. In the Belmont Stake, the chestnut Thoroughbred won the race by a whopping 31 lengths.
Considered the most famous horse ever, Secretariat still holds the record time in the Kentucky Derby at 1:59 ⅖ minutes and the Belmont Stakes at 2:24 minutes.
After his phenomenal performance in the Triple Crown, Secretariat grew to popularity across the world. He was featured on the covers of Newsweek, Sports Illustrated and Time. His incredible racing career brought in $1,316,808 of earnings for his owners.
During his life, Secretariat sired 663 foals, including 341 winners. In his racing career, he won 16 of 21 starts with three second-place and one third-place finish. Secretariat died at the age of 19 on October 4, 1989, from laminitis.
Comanche (Famous War Horse)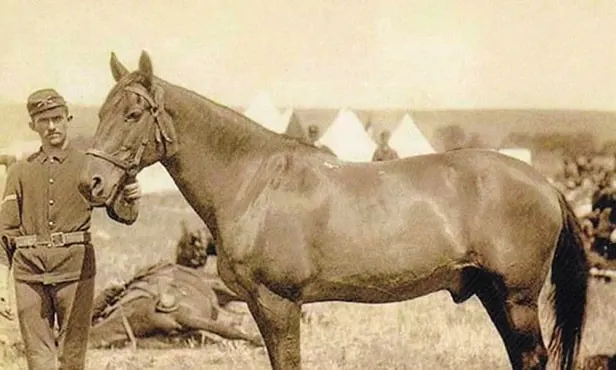 In 1868, Comanche, thought to be a Morgan/Mustang cross, was bought by the United States Army. The 15 hands tall bay gelding was paired with Captain Keogh and together they were stationed on the Western frontier.
During one of this first battles, Comanche was wounded by an arrow, but despite the injury to his hindquarters, he managed to carry his rider through the fight.
Though he went on to be wounded several other times, Comanche always prevailed. Word of Comanche's bravery soon spread throught the U.S. Army, gaining him the respect of troops all over.
At the historic Battle of Little Bighorn, Comanche survived despite no humans coming out alive on either side. The brave gelding was found badly wounded, faithfully standing near the deceased body of Keogh.
Though he was shot seven times, he was able to recover and was later given the title 'Second Commanding Officer' of the 7th Cavalry.
Commanche was believed to be 29-years-old when he passed away in 1891. After his death, he was taxidermied and put on display at the University of Kansas Natural History Museum, where he remains today.
Comanche was the first of only three horses ever to be given a United States Armed Forces military funeral with full honors.
Sergeant Reckless (America's Most Decorated War Horse)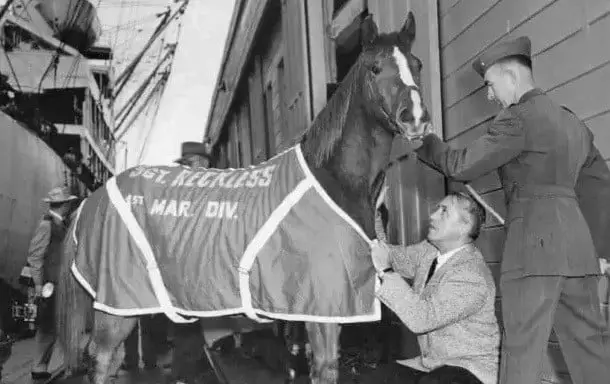 Sergeant Reckless, who was born in 1948, was bought by Lieutenant Eric Pedersen for $250 from a racetrack in South Korea. The tiny mare of Jeju breeding served the United States Marine Corps as a packhorse during the Korean war.
Sergeant Reckless served in numerous combat actions carrying supplies, ammunition and evacuating wounded soldiers.
During the Battle of Outpost Vegas, the mare made 51 trips to the recoilless rifle sites, traveling over 35 miles in total. She transported a total of 386 heavy shells during the terrible siege, each weighing between 20-23 pounds.
The little chestnut quickly bonded with her fellow Marines, even sleeping in their tents. Sergeant Reckless was adored for her bravery and often lifted the spirits of those around her.
Her incredible work as a packhorse gained lots of attention, as she didn't back down even when going through enemy fire.
In April 1954, the mare was officially promoted to sergeant by, General Randolph McCall Pate, the highest-ranking Marine in Korea.
Six months later, Sergeant Reckless arrived in California where she received a hero's welcome. She spent the rest of her life in Camp Pendleton in California, where she foaled one filly and three colts.
For her service to the Marines, Sergeant Reckless was given numerous awards including two purple hearts, National Defense Service Medal, Dickin Medal and Animals in War & Peace Medal of Bravery, among others. Sergeant Reckless died on May 13, 1968.
In 1997, she was included in LIFE magazine as one of America's 100 all-time heroes. Statues of Sergeant Reckless are located at the National Museum of the Marine Corps in Virginia and Kentucky Horse Park.
Thumbelina (Smallest Horse)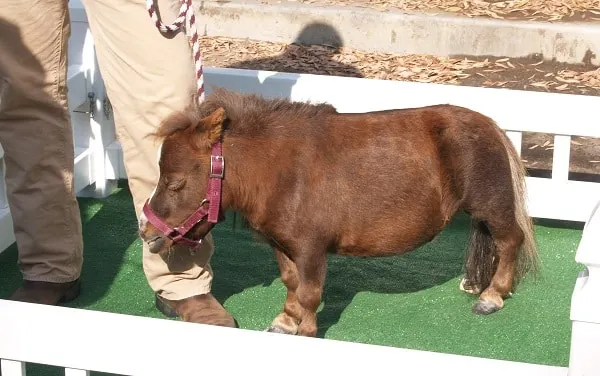 Thumbelina holds the title for the world's smallest horse, as she stood 17.5 inches tall and weighed 57 pounds. She was born in the spring of 2002, to owners Paul and Kay Goessling of St. Louis, Missouri.
Though both of Thumbelina's parents were regular miniature horses, she was born a dwarf. Unlike most miniature dwarves, Thumbelina was not riddled with health problems. The tiny chestnut mare was bossy and fearless when with other horses, but sweet and calm to people.
Included in our smallest horses and horse breeds guide, Thumbelina was only six inches tall at birth. In 2002, she was officially named the world's smallest horse by the Guinness World Records.
The Goessling's trained Thumbelina to become a therapy horse and should visit people in hospitals, bringing them much joy.
She even toured across America stopping at hospitals, schools, camps, and group children's homes.
Due to her petite size, Thumbelina would sleep in a dog house. She used a special set of doggy doors at the barn of Goose Creek Farms, where she lived all her life. In 2018, Thumbelina died at 19, which is older than the average life expectancy of a dwarf miniature horse.