Our readers support us. This post may contain affiliate links. We earn from qualifying purchases. Learn More
It wasn't until season three of Yellowstone that we got the shocking news that Jamie Dutton was adopted as a baby.
Jamie later discovers his father is a man named Garrett Randall, played by Will Patton, who has recently been released from prison.
Will Patton is an American actor and audiobook narrator. He was born on June 14, 1954, in Charleston, South Carolina. He has an estimated net worth of $7 million.
Patton has had quite a successful career as an actor, starring in numerous movies and TV shows. He often stars in Western shows and movies, with Yellowstone being one of his most prominent recent roles.
Notable Will Patton TV Shows and Movies
No Way Out (1987) as Scott Pritchard
The Postman (1997) as General Bethlehem
Inventing the Abbotts (1997) as Lloyd Abbott
Armageddon (1998) as Charles 'Chick' Chapple
Remember the Titans (2000) as Coach Bill Yoast
The Agency (2001-2003) as Jackson Haisley
Falling Skies (2011-2015) as Captain Dan Weaver
Halloween (2018) as Deputy Frank Hawkins
Swamp Thing (2019) as Avery Sunderland
Minari (2020) as Paul
Halloween Kills (2021) as Deputy Frank Hawkins
The Forever Purge (2021) as Caleb Tucker
Yellowstone (2018-Present) as Garrett Randall
Outer Range (2022-Present) as Wayne Tillerson
Halloween Ends (2022) as Deputy Frank Hawkins
Acting Runs in His Family
Will Patton isn't the only one in his family with a career in acting. His father, Bill Patton, is a playwright and acting/directing instructor.
In addition, his father also worked as a Lutheran minister and served as a chaplain at Duke University.
He Was Raised on a Farm
Will Patton grew up on a farm in South Carolina. At his family farm, his parents ran a foster home for teenagers in need.
He Got His Start in Theater
Before hitting the big screen, Patton got his start in theater. In fact, he won two Obie Awards for best actor for his performances.
His awards were for his roles in Sam Shepard's play Fool for Love and the Public Theater production of What Did He See?
He Has Narrated Several Stephen King Audiobooks
In addition to acting, Patton has done quite a bit of work narrating audiobooks. He has more than 45 audiobook narrations to his name.
Patton has narrated several of Stephen King's novels including If It Bleeds, The Outsider, The Mist, End of Watch, Finders Keepers, Mr. Mercedes, and Doctor Sleep. He has narrated books for many other authors including James Lee Burke, James L. Swanson, James Lee Burke, Ernest Hemingway, Al Gore, and Maggie Stiefvater, among others.
He Has Played Kevin Costner's Nemisis Before
Yellowstone isn't the first time Patton has starred alongside Kevin Costner. Patton and Costner both appeared in The Postman, with Patton playing General Bethlehem, the nemesis of Costner's character.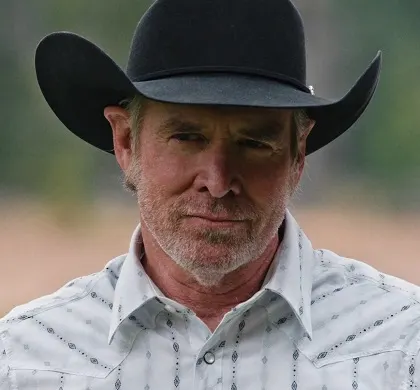 Costner and Patton actually have four acting credits they share together. In addition to Yellowstone and The Postman, they also both appear in No Way Out, where Patton played Costner's nemesis once again.
Both Costner and Patton are set to star in the upcoming film Horizon. Horizon is an epic Western film that takes place in pre- and post-American Civil War telling the story of expansion in the American west.
Is Will Patton Married?
Will Patton remains private about his personal life and has given no information about whether he is married or not. He does not have any public social media accounts.
Is Will Patton a Real Cowboy?
Will Patton has starred in several Western films and TV shows throughout his acting career. While he did grow up on a farm, it is not known if he is involved with horses in any way.
How Many Episodes of Yellowstone is Will Patton in?
Will Patton played Garrett Randall in 10 episodes of Yellowstone. He appeared in two episodes of season three and eight episodes of season four.
Garrett went to jail for 30 years for killing his wife Phyllis. His son Jamie was just three months old at the time he went to jail.
Upon being released from jail, he went on to issue multiple attacks on the Dutton family. He died after Jamie shot him in the head.