This post may contain affiliate links. We earn from qualifying purchases. Learn More
Canadian actor Robert Cormier, who played Finn Cotter on Heartland, has recently passed away due to injuries sustained in a fall on September 23, 2022.
His family was left devastated by his unexpected death, the actor's sister, Stephanie Cormier, told CTV News Toronto.
Fans and colleagues around the world have expressed their condolences to Cormier's family, who asked for privacy during this difficult time. No details of his death have been revealed as of yet.
Robert Cormier appears in Heartland Season 15 and 16, playing the farrier Finn Cotter who first came to the ranch with his grandfather and his Shire horse.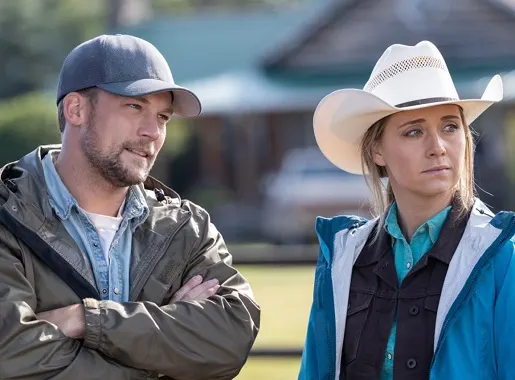 His radiating kindness and charm won over Amy and fans alike, who had high hopes for Finn as Amy's love interest in the show.
He was "an athlete, an actor, and a great brother."
Following the tragic accident, Robert Cormier passed away in a hospital in Etobicoke, Ontario. He will be remembered by all those who came to know him as an athlete, actor, and a great brother.
His obituary on the Ridley Funeral Home website reads:
"He had a passion for helping others and was always looking to achieve more. He enjoyed movie nights with his family, and looked up greatly to his father. He impacted many people throughout his life whether it was family, teammates and friends. Rob's memory will live on through his passion for art and film; as well as his three sisters who meant the world to him."
Cormier's family, while devastated by the tragic events, are comforted by all the love and support shown by the actor's fans, colleagues, and friends. They also thanked members of the Critical Care team in Toronto for the excellent care they provided Robert and will be forever grateful for their kindness.
Heartland pays tribute to Cormier's passing
The Heartland cast and crew expressed their deep sorrow regarding Robert Cormier's death and dedicated Heartland Season 16 of the show in his honor.
We are deeply saddened to learn of the passing of Robert Cormier. He was a beloved member of the Heartland cast the last two seasons. On behalf of the Heartland cast and crew, our thoughts are with him and his family during this difficult time.

— Heartland (@HeartlandOnCBC) September 27, 2022
The team has also put together a moving tribute showcasing some of the actor's best moments on Heartland:
For those of us who knew Robert Cormier and worked with him, he was a kind-hearted, talented actor. He was passionate about art and film. His legacy will live on in the upcoming season of CBC's Heartland.

We will be dedicating Heartland Season 16 in Robert's honour. pic.twitter.com/pCPcfEXNGy

— Heartland (@HeartlandOnCBC) September 28, 2022
"For those of us who knew Robert Cormier and worked with him, he was a kind-hearted, talented actor. He was passionate about art and film. His legacy will live on in the upcoming season of CBC's Heartland," the team added.
Amber Marshall, who worked closely with Cormier over the last two seasons of the show, said the actor was a "joy to be around." Accompanied by photos of moments they shared on set, the Heartland star wrote:
"He had an infectious smile, and such a big heart. He was especially kind and gentle with the animals on set, which goes a long way in my books.
"Robert, I am so thankful I was able to get to know you and work alongside you. You left us far too soon, but I promise you will always be remembered. #RIP"
Robert Cormier was passionate about film & TV
Robert Cormier was best known for his roles on Heartland (2007-), American Gods (2017-2021), and the Netflix original series Slasher (2016), where he reprised the role of Kit Jennings.
Born in Toronto, Ontario in 1989, Robert was the first in his family to pursue acting as a career.
After acquiring a degree in Fire and Engineering Extension Services at Texas A&M, he studied World Economics at York University in Toronto.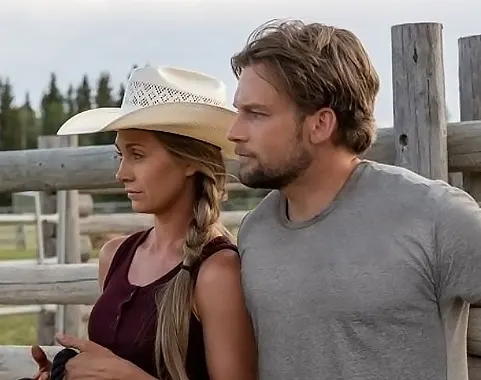 However, a year before graduating, Cormier left university to enroll in the Toronto Academy of Acting for Film & Television. Upon finishing film school, the actor landed roles in several movies and TV series.
On the small screen, Cormier had guest appearances in Designated Survivor (2016-2019) and Ransom (2017-2019). His movie credits include Jasmin Mozaffari's Firecrackers which premiered at the 2018 Toronto International Film Festival, alongside Otto in Pyrenees (2018) and The Intersection (2019).
In his free time, Cormier enjoyed playing team sports such as football, basketball, soccer, ice hockey, and lacrosse. Rollerblading, billiards, boxing, and firearms were also among his interests.