Our readers support us. This post may contain affiliate links. We earn from qualifying purchases. Learn More
Vanity Fair recently released the first images from Taylor Sheridan's next Yellowstone prequel, 1923, which is premiering next month.
A day later, we got our first teaser trailer from Paramount displaying the conflicts and hardships this Dutton generation will face.
The new promotional pictures and teaser trailer feature the iconic stars of the upcoming Paramount series, Harrison Ford and Hellen Mirren, who play the roles of Jacob Dutton and his wife, Cara.
The trailer shows scenes of WW1 and various close-up scenes of characters with guns. It seems violence and death, a trait of 1883 and Yellowstone, will also be in 1923.
We also get a glimpse of the iconic main Dutton house and ranch barn.
See the trailer below:
The promotional images also show more staged images of Harrison Ford and Helen Mirren as their characters.
Ford is in a black suit and white cowboy hat. And Mirren wears a gorgeous adorned purple dress, both in character to play the new patriarch and matriarch of the Dutton family as they grapple with many issues, including the overwhelming impacts of World War 1, Prohibition, and the Great Depression.
The pair, which last played a couple in the 1986 drama film, The Mosquito Coast, rocks era-appropriate clothes in different poses.
The first and main look depicts an affectionate Jacob Dutton kissing his partner Cara Dutton on the forehead as they embrace over a fence.
From it, one thing's for sure – the two value each other and the relationship they've built over the decades.
See our Dutton Family tree infographic on how the 1923 generation of Duttons fit in.
What Harrison Ford and Helen Mirren Have Said About 1923
Ford told Vanity Fair Jacob, and Cara have been together for around forty years, and at that point in their marriage, they mean everything to each other.
In the Vanity Fair exclusive, Mirren disclosed that John's ancestors don't have kids, which makes their strong bond even more admirable.
"They've been married a long time. They haven't had children, so they haven't had the sense of children holding them together," Mirren said.
Time has definitely been a boon for Jacob and Cara's journey, as love and lust no longer define how they relate to each other, meaning they're more discerning.
"An incredible partnership where you can be honest with each other, and your love and support of each other is total, but at the same time, you are no longer blinded by love or lust. You're much more clear-eyed about your relationship, but the relationship becomes all the stronger for that very reason." Mirren told Vanity Fair.
Two other images shone the spotlight on Ford with a gun tucked into his trousers' waistband, standing next to his horse, which is expected to be his excellent company throughout the series.
Ford described his Jacob Dutton as the "silverback" in charge of the Duttons as they live through that problem-ridden period alongside Cara.
"He's responsible for that branch of the family. These are two people with a very strong bond to each other who are facing really complicated circumstances." Ford told Vanity Fair.
And another picture gives you a chance to look at Mirren's outfit at close range as she stares off into the distance, touching her forehead.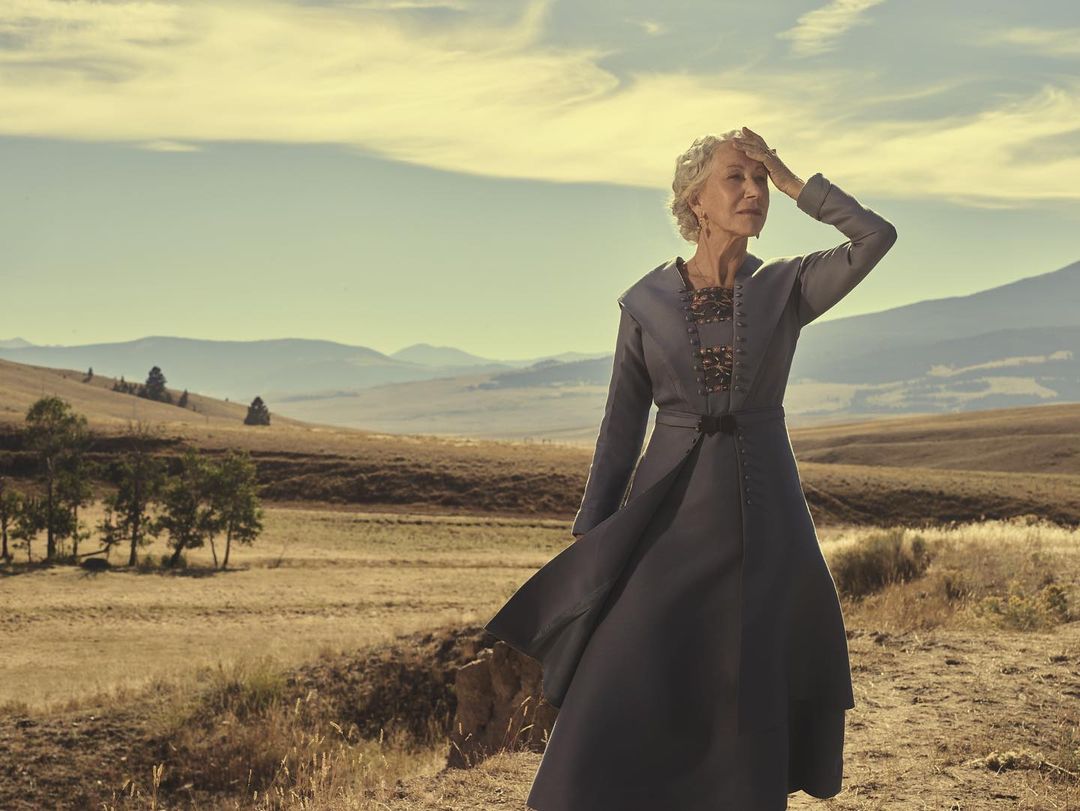 Helen Mirren said about her character Cara Dutton to Vanity Fair, "I see Cara as an immigrant. One of the things I very strongly wanted was that she would speak with an Irish accent, not with an American accent. It's always slightly annoyed me with Westerns that you have all these people speaking with modern American accents when in fact so many of them were fairly recent immigrants."
Also read: Yellowstone 1923 Cast and Where You've Seen Them Before
1923: Setting, More Cast Members and Premier Dates
The Yellowstone prequel 1923 is set a century ago in Montana, way before Kevin Costner's John Dutton III started running the Dutton Ranch. Its producers are 101 Studios and MTV Entertainment Studios, which also produce Yellowstone and 1883, 1923's predecessor, and Yellowstone's first spinoff.
Besides Ford and Mirren, the TV show's cast members include Robert Patrick, Sebastian Roché, Brandon Sklenar, James Badge Dale, Darren Mann, Aminah Nieves, Jerome Flynn, and Julia Schlaepfer.
1923 debuts on December 18 on Paramount+ in the US and Canada. The series' first episode will hit the same network on December 19 in the UK and Australia.
Also read: Where is 1923 Filmed? All Known Filming Locations