This post may contain affiliate links. We earn from qualifying purchases. Learn More
Following in the footsteps of 1883, 1923 is the next chapter of the Dutton family story. The Yellowstone prequel series follows the Yellowstone Dutton Ranch during the many challenges of the early 20th century.
1923 premiered on December 18, 2022, on Paramount+. The first season of the prequel series features eight episodes, giving us a deeper insight into the history of the Yellowstone Dutton Ranch.
The official synopsis for the series reads: "1923, a Yellowstone origin story, introduces a new generation of the Dutton family as they explore the early twentieth century when pandemics, historic drought, the end of Prohibition and the Great Depression all plague the mountain west, and the Duttons who call it home."
The series follows Jacob and Cara Dutton who took over running the ranch after the deaths of James and Margaret Dutton from 1883.
With the Duttons facing many threats to the ranch and their family, 1923 is a hard time in their history.
Below is a recap of every 1923 episode in season 1, including spoilers.
Episode 1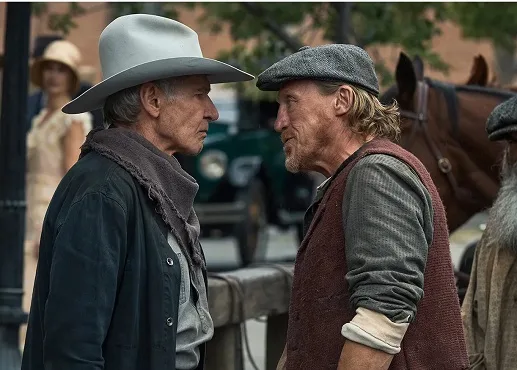 The first episode of 1923 kicks off with Cara Dutton shooting a man in the woods, though the context of their fight is unknown at the time. We then receive a narration of the Dutton family by 1883's Elsa while jumping to Spencer Dutton in Africa.
Jacob Dutton overlooks a field with dead cattle back on the ranch, as locusts and drought plague the land. Jacob and his men then way their way to town, where they attend a town meeting. Tensions run high as sheepherder Banner Creighton seeks to graze his herd on the land of others.
Jacob then meets with the board of the Montana Livestock Association and they decide to move the cattle herds to greener pastures. The trip will take a couple of weeks and will require all the help they can get.
Meanwhile, we are introduced to Teonna Rainwater who attends a government boarding school run by Catholic nuns and priests. We quickly see the abuse she undergoes at the school that tries to rid her of her culture.
Back on the ranch, Jack Dutton makes the choice to join the trip to move the cattle. However, the decision takes a toll on his personal life. In order to make the trip, Jack has to postpone his wedding to his fiancee Elizabeth Strafford.
Elizabeth is furious over Jack's decision to choose the cattle over her. However, Cara is able to calm her down after having a conversation with her about the life of a rancher's wife.
The Yellowstone Dutton Ranch crew then gears up for their trip to move the cattle to higher grazing lands. Despite previous warnings, Banner Creighton makes the decision to graze his sheep on the Dutton's land. Jack then discovers the herd of sheep, which causes Banner's men to shoot at him.
Back in Africa, Spencer takes on a job hunting a leopard that has been harassing a camp of British travelers. However, he is not made aware that there are actually two leopards stalking the camp. This leads to the death of a British woman who was attacked by a leopard before Spencer can kill it.
Episode 2
Episode 2 of 1923 opens back up with Spencer's hunt in Africa. Fellow hunter Kagiso is attacked and killed by the second leopard before Spencer kills it.
Spencer is badly injured by the attack and requires medical assistance from the camp doctor. He is furious at the man who hired him for his lack of empathy for the deaths of Catherine and Kagiso.
Back in Montana, Jack is alive but is stuck underneath his horse that fell on him after being shot. As Banner's men ride forward to kill Jack, the Yellowstone Dutton Ranch crew shows up just in time to save him.
Jacob is full of rage as Banner is trespassing on his land. After beating up Banner, Jacob makes the decision to hang him and his men.
The crew then hangs Banner and his men from a tree with their horses underneath. They then take their sheep, which they later give to the reservation, and leave their fate up to the loyalty of their horses.
Banner is able to grab a knife from his saddle bag to cut himself free from the noose. However, none of his men were able to survive being hanged.
Meanwhile, Teonna continues to undergo abuse at the boarding school. After a scuffle with a nun, Teonna is sent to a hot box for punishment.
Upon being released from her punishment, Teonna is in bad condition. She is given a bath where she is sexually assaulted by Sister Alice before being beaten by Sister Mary. Teonna's grandmother Issaxche talks to the school's superintendent to bring her home to the reservation but has no luck.
Back in Africa, Spencer Dutton meets a British woman named Alexandra. She is captivated by Spencer and informs him that he is famous.
Later, Alexandra is attending dinner with her fiance Arthur but is clearly unhappy. She leaves the room where she finds Spencer at the bar and joins him for a drink.
The next day, Alexandra makes a bold move to leave behind her fiance and runs away with Spencer. He warns her what's ahead is dangerous but she is willing to take the risk.
Also read: Who Plays Spencer Dutton in 1923? Meet Brandon Sklenar
Episode 3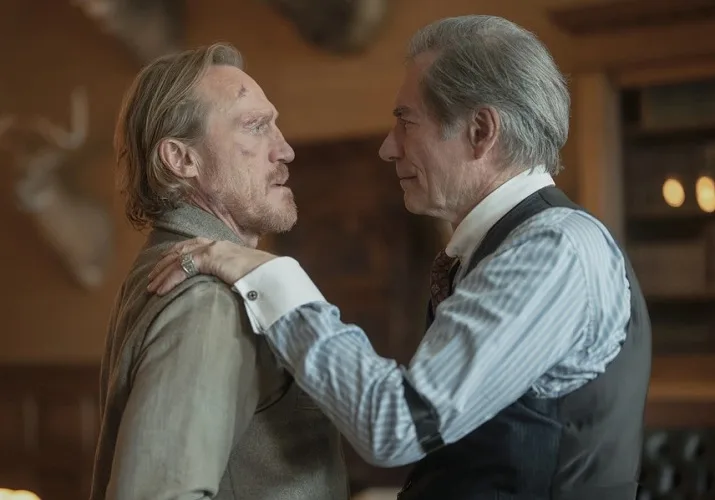 Episode 3 of 1923 begins with the return of the ranch crew arriving home. To the delight of their significant others, Jacob, John, and Jack all return safely home.
However, the Dutton men aren't the only ones to reunite with their loved ones. Banner Creighton also makes his way home after narrowing surviving being hanged.
The Duttons arrive in Bozeman for a family outing in town. While Jacob attends to business, Jack and Elizabeth let loose at a speakeasy before heading back to the hotel for a night of passion.
Meanwhile in Africa, Spencer and Alexandra begin their first adventure together. While out sightseeing, the new couple decides to waste no time and get engaged. However, their romantic outing quickly takes a turn for the worse as an elephant attacks their car, leaving them stranded.
Unable to make it back to camp before nightfall, Spencer and Alexandra seek shelter in a tree. As night comes, they are surrounded by a pride of hungry lions that attempt to climb up the tree. Alexandra is horrified but Spencer manages to keep them safe by shooting the lions.
Fortunately, other members of the camp arrive and are able to rescue the couple from their predicament. While shaken up, both Spencer and Alexandra are safe.
Shifting gears back to Montana, the Duttons along with their neighbors the Straffords make their way back home from the city. However, their happy outing quickly turns into a nightmare as they are ambushed by Banner and his men.
John Dutton and Bob Strafford, Elizabeth's dad, are killed during the attack. Elizabeth, Jack and Jacob are all left injured from the attack with their fates unknown. Cara writes to Spencer asking him to come back to the ranch as they are in dire need of help after the tragedy.
Also read: Every 1923 Character Who Has Died so Far
Episode 4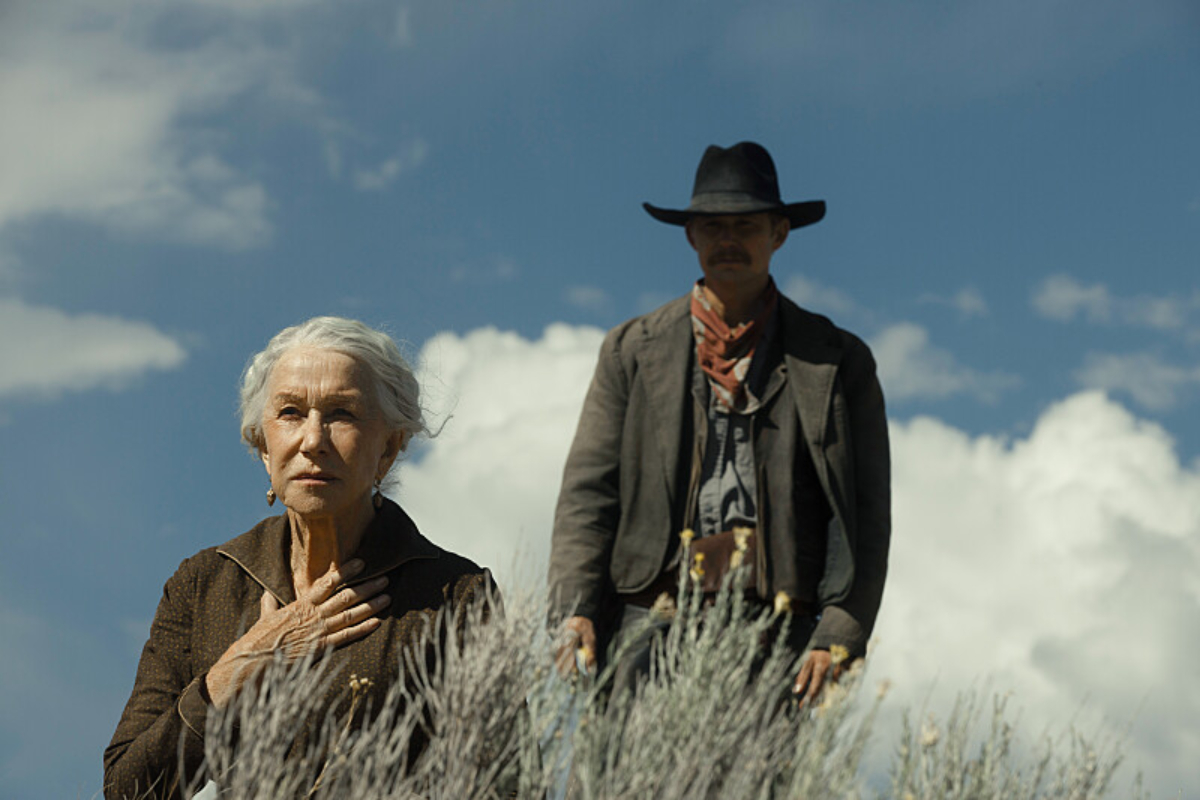 Episode 4 of 1923 starts with a bloody mess in the Dutton house, as we see the aftermath of the brutal attack led by Banner. Overwhelmed by everything that happened, Cara goes outside and screams in a moment of emotional distress.
Though Jack is recovering from being shot, it doesn't stop him from tending to his fiancee Elizabeth. Elizabeth is in bed with a fever, however, she is on the mend of getting better. Meanwhile, Jacob is bedbound but is awake and talking.
Over in Africa, Spencer and Alexandra share a romantic day together in a secluded tropical paradise. They become more intimate as they get to know each other better.
Back in Montana, Banner is plotting to form an army to take down the Duttons. He meets with businessman Donald Whitfield to form an alliance.
Believing that Jacob and Jack are dead, Banner tells Donald that he will have the ranch within six months. He agrees to lease Donald the mineral rights while he will keep the pastures for livestock.
Banner continues his antics as he steals livestock that belongs to the Duttons, killing some of their cowboys as well. After learning the news, Cara is distraught and goes to Jacob for advice, not wanting to lose any else. They decide not to retaliate until Spencer returns home.
Beverly Strafford arrives at the Dutton's home to collect her husband's body and bring home her daughter Elizabeth. However, Elizabeth has no intentions to leave as she still plans to marry Jack.
Back at the boarding school, the abuse of Teonna continues. It becomes so brutal and unbearable that she finally reaches her breaking point.
After standing up for a fellow student, Teonna gets into a fight with a nun. She is then tied up to a chair where they cut her hair and beat her.
That night, Teonna decides to escape. Before she leaves, we see her beat Sister Mary with a bag of books before strangling her to death.
With Jacob too weak to leave home, Cara attends the livestock association meeting in his place. She calls for a formation of a police force to address the ranching disputes that have been happening. After the vote is approved, she adjourns the meeting.
As we head back to Africa, Alexandra discovers a pile of letters for Spencer from his Aunt Cara. After some encouragement, they decide to read them together. Upon reading the latest letter, they learn that John is dead and the ranch desperately needs Spencer's help.
Also read: Who the 1923 Actors are Dating or Married to in Real-life
Episode 5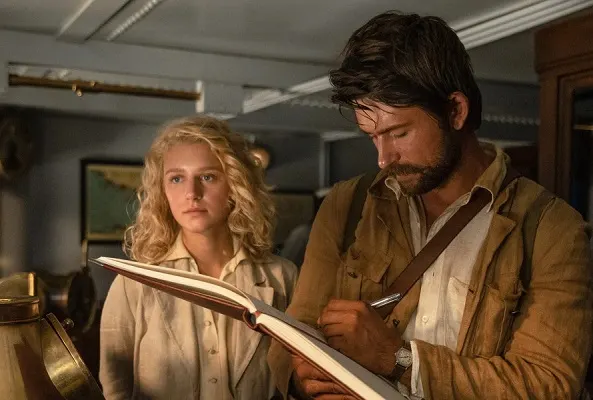 Episode 5 of 1923 starts off with Cara visiting the Post Office in hopes to have received word from Spencer. Upon returning home empty-handed she tends to Jacob's wounds.
Emma has fallen into a deep depression after losing her husband John. Cara tries to talk to her, telling her her son Jack still needs her. However, Emma says that he no longer needs her and later that night she shoots and kills herself.
Back over in Africa, Spencer and Alexandra begin their journey to America. However, finding a safe and quick passage back home proves to be tricky. After some searching around, they manage to find a tugboat captain willing to take them to the Suez Canal in exchange for working the decks.
Meanwhile, at the boarding school, the nuns discover that Teonna has escaped. They discover the bodies of Sister Mary and Sister Alice, who is found with a letter opener in her chest.
Headmaster Father Renaud gathers a posse to chase after Teonna. He begins interrogating the students for information, which results in him beating Teonna's friend Baapuxti to death.
Teonna spends the night fending off a hungry wolf and awakens to find herself surrounded by a herd of sheep. The shepherd is a man named Hank from the reservation who knows her father. He promises to help her out and send his son to find her father.
After becoming fed up with Jack spending more time obsessing about getting revenge than spending time with her, Elizabeth threatens to leave. However, the young couple talks it out and decides to do an impromptu wedding, just the two of them.
Later on, Elizabeth reveals to Cara that she is pregnant and they will need to move up the official wedding date. Cara then heads to the post office where she gets a telegram that Spencer is on the way home.
On her way back home, she is confronted by Banner and Donald, with Donald revealing that he bought the neighboring Strafford Ranch.
The episode closes off with Spencer and Alexndra's boat crashing into a ghost ship after the captain dies. The boat capsizes, leaving the couple in peril.
Also read: Will Jack or Spencer Inherit the Dutton Ranch?
Episode 6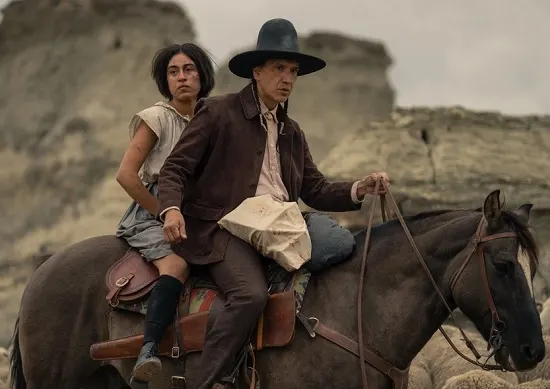 Episode 6 of 1923 kicks off with Teonna disguising as a boy protect herself. She also burns her school belongings to rid herself of any connection to the school.
A pair of law enforcement officers show up at Issaxche's house, telling her that her granddaughter is wanted for murder. They force their way into her home in search of Teaonna.
As Issaxche tries to stop them from tearing apart her home, one of the officers strikes her. She hits her head on the stove which kills her instantly.
Meanwhile, Alexandra and Spencer manage to survive the boat crash and seek refuge atop the overturned tugboat. Before the boat went down, Spencer managed to send a distress call.
Back home at the ranch, Cara seeks to hire livestock agents. While Jacob is making big steps in his recovery he is still limited in what he can do.
Desperate to protect her family and ranch, Cara informs Sheriff McDowell of Banner's attack. McDowell shows up on the ranch, telling Jacob he should have told him right away. They then make plans to arrest Banner the next morning.
While at first Jacob is mad, he later calms down realizing Cara is just looking out for her family. Jacob tells her that everything he does is for his family and land.
As things are not looking so good for Spencer and Alexandra, Alexandra awakens to the sound of a boat horn. The couple manages to flag down the ship and are taken aboard SS Lambridge.
After thanking the captain, they discuss where they are headed. The captain offers them passage to the Port of Marseilles, where they can book a ship to America.
Deep in love and knowing the journey will be easier as a married couple, Spencer and Alexandra decide to get married on the ship. The captain performs the ceremony and even generously offers Alexandra his wife's ring.
Also read: Where Is 1923 Filmed? All Known Filming Locations
Episode 7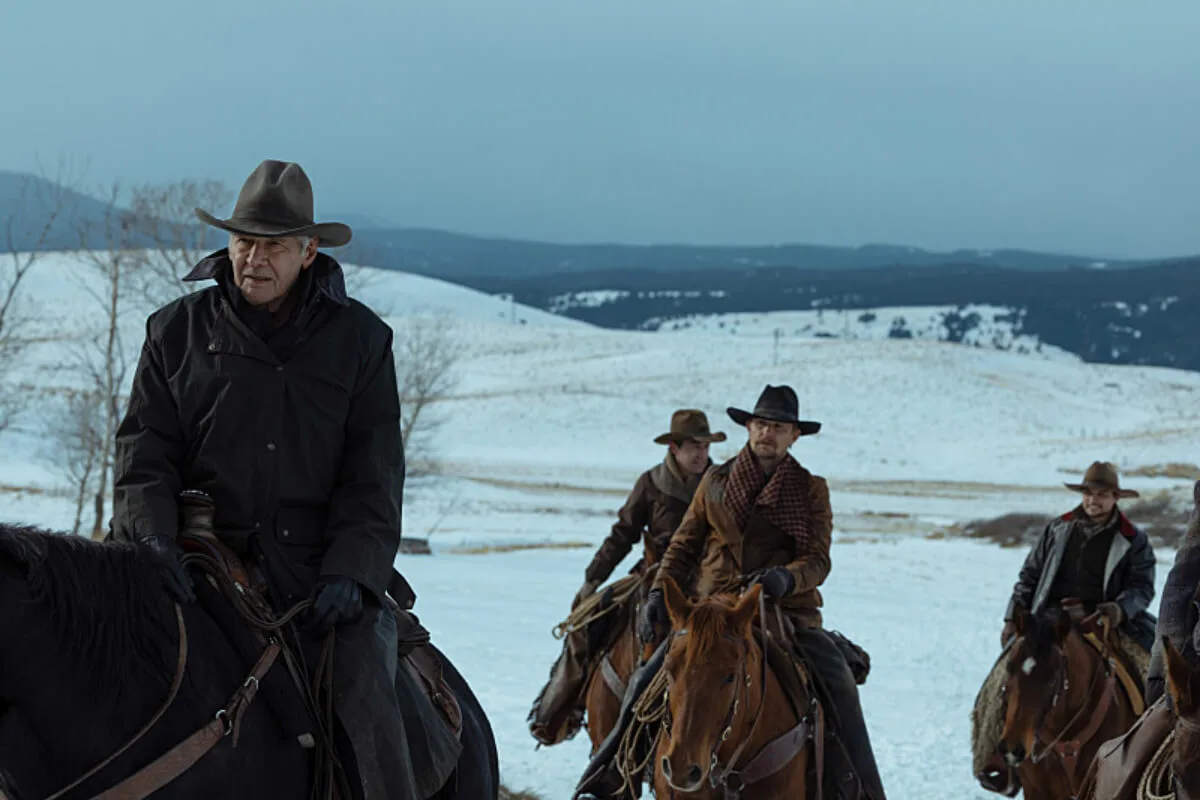 Episode 7 kicks off with Jacob and Jack heading out to arrest Banner with Sheriff McDowell. They promise Elizabeth and Cara that they will be back by supper.
Meanwhile, Banner is staying at Donald Whitfield's house where he is enjoying modern amenities and the company of hookers. He answers a knock on the door to which Sherriff McDowell informs he is under arrest for murder and attempted murder. Banner is also greeted by Jacob and Jack, who he had thought to be dead.
After learning the news of Banner's arrest, Donald sends his lawyer to visit Banner in jail. The lawyer, Chadwick Benton, ensures Banner that they will post bond once bail is set.
Later that day, Cara, Elizabeth, Jack, and Jacob are enjoying dinner together. Jack reads in the newspaper that Donald Whitfield works as vice chair for the board of mining regulations.
Back to Teonna's storyline, her father, Runs His Horse, discovers that her grandmother has died. He is then greeted by Hank's son, Pete Plenty Clouds, who informs him that Teonna has run away from the school and is in trouble.
Runs His Horse tells Pete to head out and that he will be leaving shortly. After leaving, Pete is confronted by three priests from Teonna's boarding school. After interrogating and beating him, one of the priests drags Pete away to take him back to school.
While resting for the night, Pete begins to question the priest's hypocrisy and tells him God isn't real. This infuriates the priest who attacks Pete and tells him he's better off dead.
Runs His Horse arrives just in time to kill the priest and save Pete. After taking care of the body, the two men head out, wasting no time in their search for Teonna.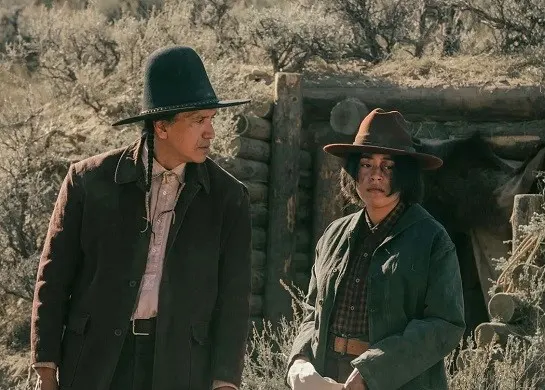 As Teonna awakens at the encampment she and Hank are staying at she is ambushed by the two other priests. At first, they don't recgonize her, believing her to be a boy. However, they grow suspicious and as Teonna tries to run away they attack her.
One of the priests jumps on Teonna and rips open her shirt. She fights back, blinding the priest in one eye, however, he continues to brutally beat her.
Hank shows up in the nick of time as Teonna is moments away from death. He shoots both priests before carrying Teonna back to their camp. However, one priest is still alive and manages to shoot and kill Hank.
The priest is now headed for Teonna, however, in a moment of hesitation as he reloads his gun, she is able to kill him with a rock.
Heading back to Alexandra and Spencer, the newlyweds arrive in Italy. Spencer books them passage for the next leg of their trip and they enjoy a meal together at a cafe. However, Alexandra is in for an unpleasant surprise as her ex-fiancee and his family show up.
Episode 8 of 1923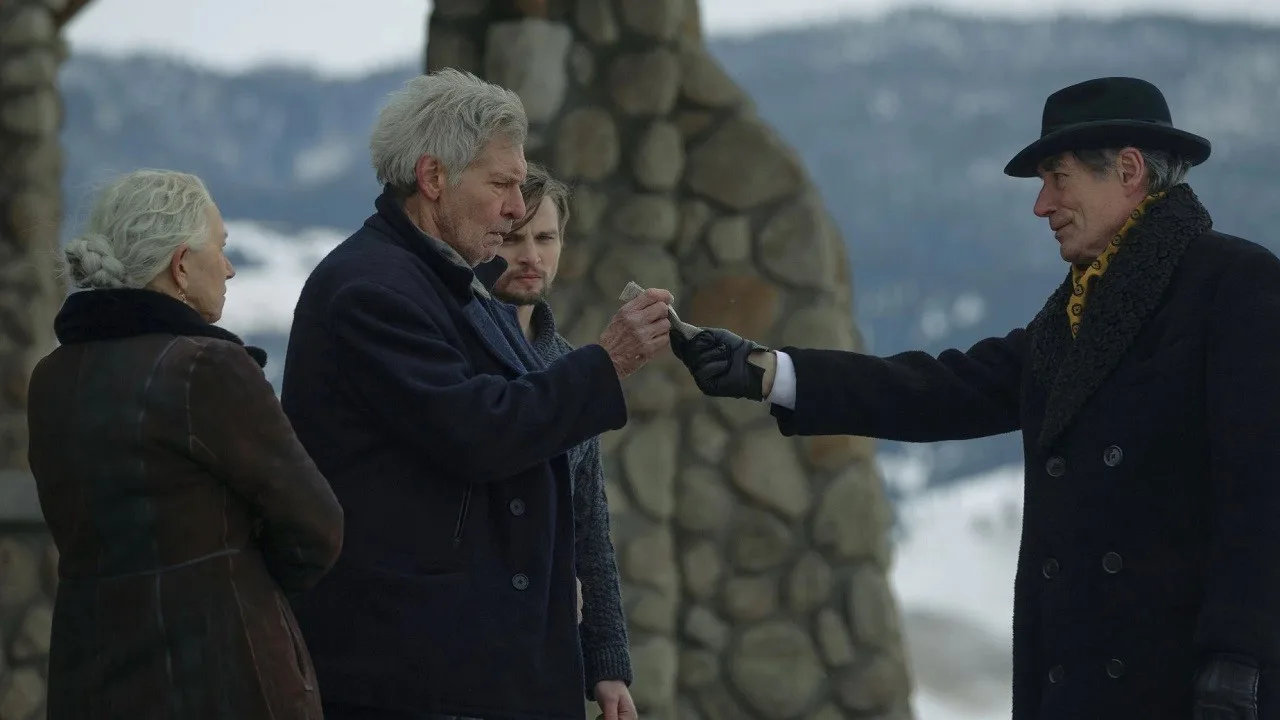 As the season finale of 1923, episode 8 had plenty of drama for the Dutton family. Not only has Spencer and Alexandra's journey been put at stake, but the future of the ranch is now in jeopardy.
Episode 8 of 1923 kicked off with Teonna reuniting with her father Runs His Horse. After Teonna reassures him that she is only sore and not injured they ride off with Pete.
Later that day, Runs His Horse decides they should travel down South to Commanche territory on the Washita River, as it will be the safest place for them. Deciding to live in the moment, Teonna flirts with Pete, giving him a kiss on the cheek.
Back in Montana, Banner Creighton undergoes his trial for murder and attempted murder. The judge allows him to go free, stating that there is not enough physical evidence to convict him at the moment.
After experiencing some pain at the ranch, Elizabeth soaks in the bath to relieve the discomfort. Upon noticing blood, the doctor comes out but sadly Elizabeth loses her baby. Elizabeth is left feeling worthless but Jack comforts her, reassuring her she is loved and has a purpose.
Donald Whitfield confronts Jacob, informing him he made the first payment of the ranch's property taxes. If the Duttons don't pay him back by the end of the year, he gets the deed to the Yellowstone Dutton Ranch.
Spencer and Alexandra run into trouble on their ship to London after Alexandra's ex-fiance Arthur challenges Spencer to a duel.
After disarming Arthur twice in the duel, Spencer walks away unarmed but Arthur lunges at him, pulling out a pistol.
In self-defense, Spencer throws Arthur overboard. Arthur's father, the Earl of Sussex, commands Spencer be removed from the ship but Alexandra must stay aboard.
With Alexandra unable to leave with Spencer, she tells him she will meet him in Montana.